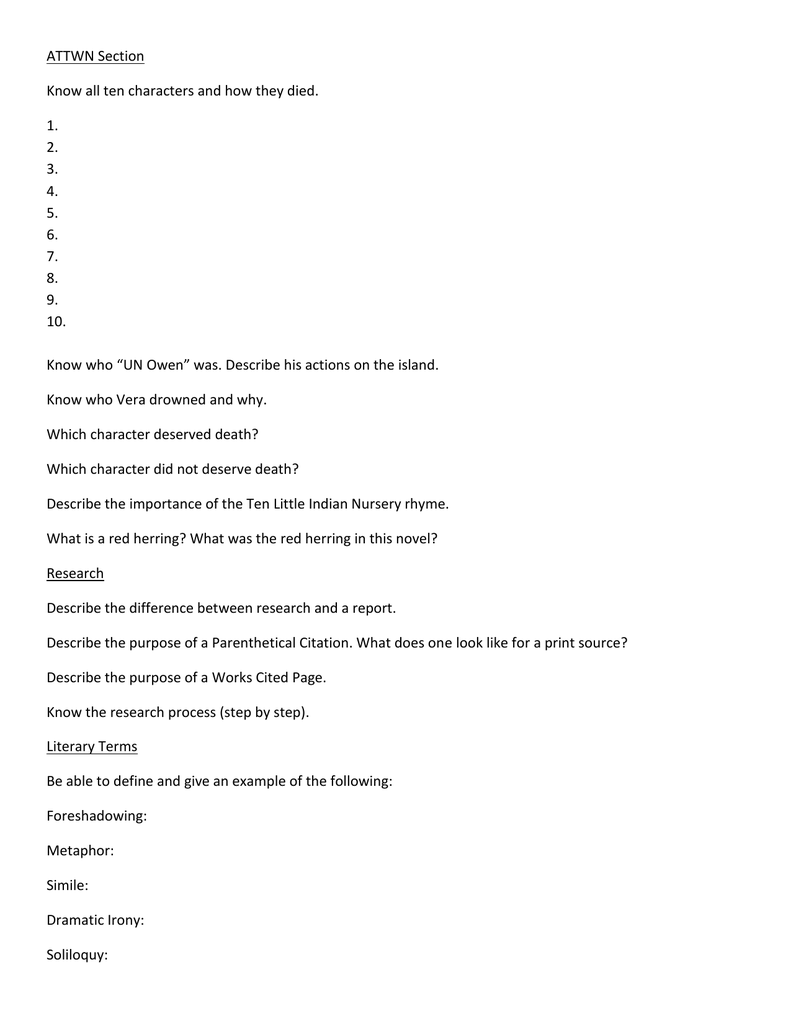 ATTWN Section
Know all ten characters and how they died.
1.
2.
3.
4.
5.
6.
7.
8.
9.
10.
Know who "UN Owen" was. Describe his actions on the island.
Know who Vera drowned and why.
Which character deserved death?
Which character did not deserve death?
Describe the importance of the Ten Little Indian Nursery rhyme.
What is a red herring? What was the red herring in this novel?
Research
Describe the difference between research and a report.
Describe the purpose of a Parenthetical Citation. What does one look like for a print source?
Describe the purpose of a Works Cited Page.
Know the research process (step by step).
Literary Terms
Be able to define and give an example of the following:
Foreshadowing:
Metaphor:
Simile:
Dramatic Irony:
Soliloquy:
Julius Caesar Section
Why does Cassius want Brutus to join the conspiracy?
Brutus believed Caesar's assassination was necessary because ____________________________________.
What did Brutus say to the people at the funeral?
What words did Antony use (sarcastically) to describe Brutus and the other conspirators during his funeral
speech?
Who said the following: "And therefore think him as a serpent's egg—Which, hatched, would as his kind grow
mischievous—And kill him in the shell."
Who said the following: "Et tu, Brute? Then fall Caesar."
What is a tragic flaw?
What is Brutus's tragic flaw?
What is logos?
What is pathos?
What is ethos?
****For the exam, you must answer with a complete sentence and restate the
question in your answer.
You will also write a Persuasive Essay about Julius Caesar.