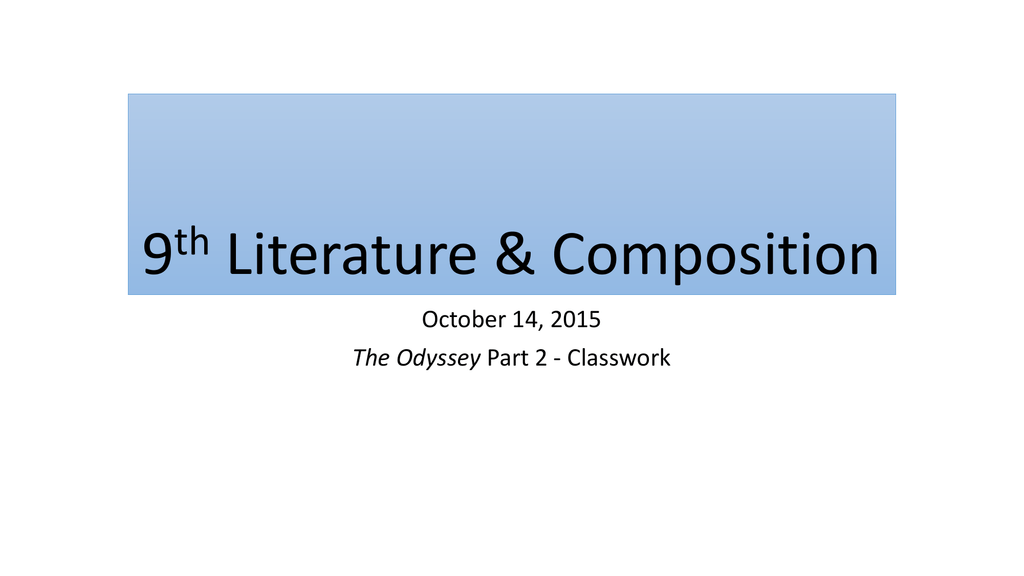 th
9
Literature & Composition
October 14, 2015
The Odyssey Part 2 - Classwork
9th Literature & Composition
October 14, 2015
Independent Reading Day!
The Odyssey – Part 2
The Return of Odysseus
In Part I of the Odyssey Odysseus and his companions
face many perils on their voyage from Troy to Ithaca.
At some moments, they are tempted to forsake their
voyage; at others, their lives are endangered by
powerful enemies, Ultimately, Odysseus' men bring
about their own destruction at the hand of Zeus
when they kill the cattle belonging to Helios.
As Part 2 begins, Odysseus is alone when he reaches
Ithaca after a twenty-year absence. What do you
predict will happen when Odysseus arrives home?
•
•
•
•
•
•
•
The Return of Odysseus
Argus
The Suitors
Penelope
The Challenge
Odysseus' Revenge
Penelope's Test
Complete the following tasks for each reading:
 Annotate text as you read.
 Answer questions in margin as you read.
 Write a summary that includes all of the main
ideas for each reading.
 Analyze Odysseus's character using evidence and
examples from the text.
 Create a story board for each of the events that
take place in part 2 of The Odyssey.