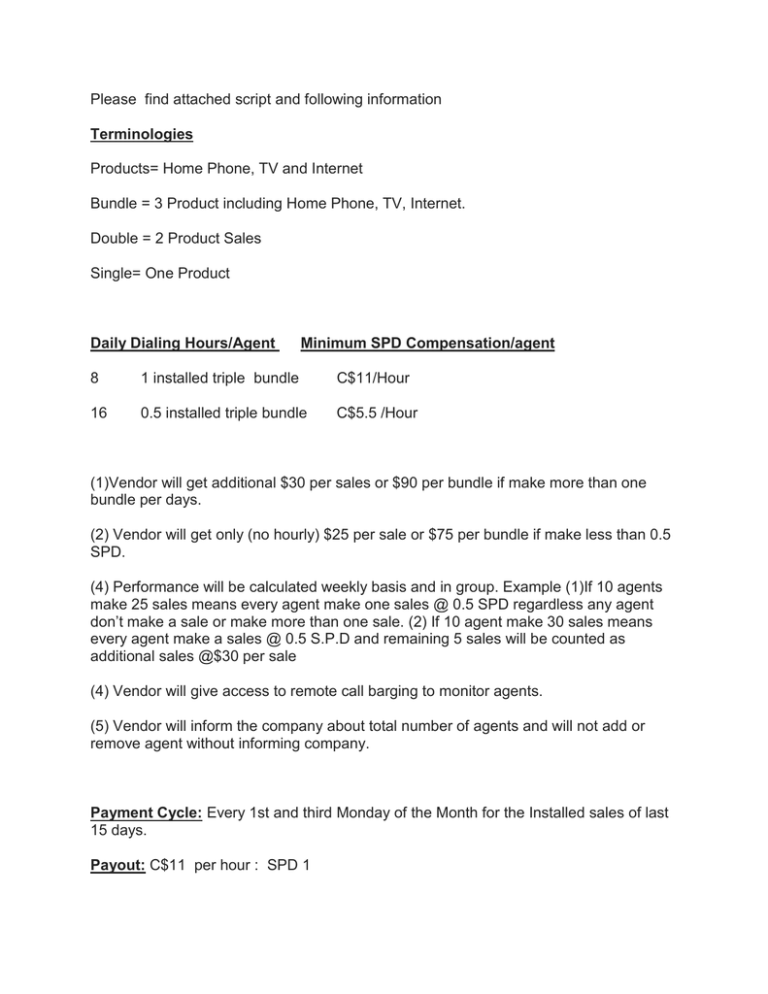 Please find attached script and following information
Terminologies
Products= Home Phone, TV and Internet
Bundle = 3 Product including Home Phone, TV, Internet.
Double = 2 Product Sales
Single= One Product
Daily Dialing Hours/Agent
Minimum SPD Compensation/agent
8
1 installed triple bundle
C$11/Hour
16
0.5 installed triple bundle
C$5.5 /Hour
(1)Vendor will get additional $30 per sales or $90 per bundle if make more than one
bundle per days.
(2) Vendor will get only (no hourly) $25 per sale or $75 per bundle if make less than 0.5
SPD.
(4) Performance will be calculated weekly basis and in group. Example (1)If 10 agents
make 25 sales means every agent make one sales @ 0.5 SPD regardless any agent
don't make a sale or make more than one sale. (2) If 10 agent make 30 sales means
every agent make a sales @ 0.5 S.P.D and remaining 5 sales will be counted as
additional sales @$30 per sale
(4) Vendor will give access to remote call barging to monitor agents.
(5) Vendor will inform the company about total number of agents and will not add or
remove agent without informing company.
Payment Cycle: Every 1st and third Monday of the Month for the Installed sales of last
15 days.
Payout: C$11 per hour : SPD 1
Unique Selling Points
1.
Very Well Known Brand All over Canada
2.
No Financial Information Required to complete sales
3.
Only need DOB and DL to make sales.
4.
No Upfront Payment Required to complete sales.
AGENT SCRIPT
Hi, may I speak to Mr. / Mrs. --------------------------Ok, this is ----------------from Rogers Communication, how are you doing Mam/Sir? (Wait for Cx
Response)
I am fine and you (I am also fine thanks for asking)
Sir/Madam, basically the reason of my call is to let you know that Rogers is offering you home
phone with crystal clear voice quality, high speed internet and the best TV services for
$92.96/mo. And the best thing is there would be no installation charges for all the three services
So may I know who is your current provider for these services like bell, cogeco, primus,
videotron??
(IF WITH OTHER PROVIDOR OFFER ALL THESE 3 SERVICES. IF USING ANY
SERVICE FROM OUR COMPANY, OFFER OTHER SERVICES)
In these prices we are offering you:
HOME PHONE
We will give you the same number that you are using right now with crystal clear voice quality,
911 Helpline Flexibility, 6 calling features of your choice and with unlimited North American
calling.
This will cost you $19.99/mo. ONGOING
INTERNET
In our internet service, you will be getting high speed internet which is 60MBPS WITH 200 GB
usage with modem built in router absolutely free it will cost you $44.99/mo. For 3 months then
57.49/mo. ONGOING (10$ FOR UNLIMITED IN A BUNDLE)
CABLE TV
With this TV SERVICE Only Rogers can give you Whole Home PVR (ONLY WITH
BUNLE) absolutely free, permanently yours to keep at no charge
TV package includes 190Channels; more than 35HD channels included free of cost popular
specialty channels like TSN, CTV News, CP24, PBS, Global HD, Teletoon Retro and Much Music.
It will cost you $27.98/mo. For 3 months
$57.98/mo. Thereafter
Book order by taking customer DOB and one of following ids (SIN Card Number, Driver Lic
Number, Canadian Passport Number, or any other government issued id except health card)
If customer ask for any other channelor any additional information, transfer the call to your
supervisor by saying this 'just hold on for few seconds I'm transferring this call to the
Supervisor,he'll guide you further regarding it' Thank you.