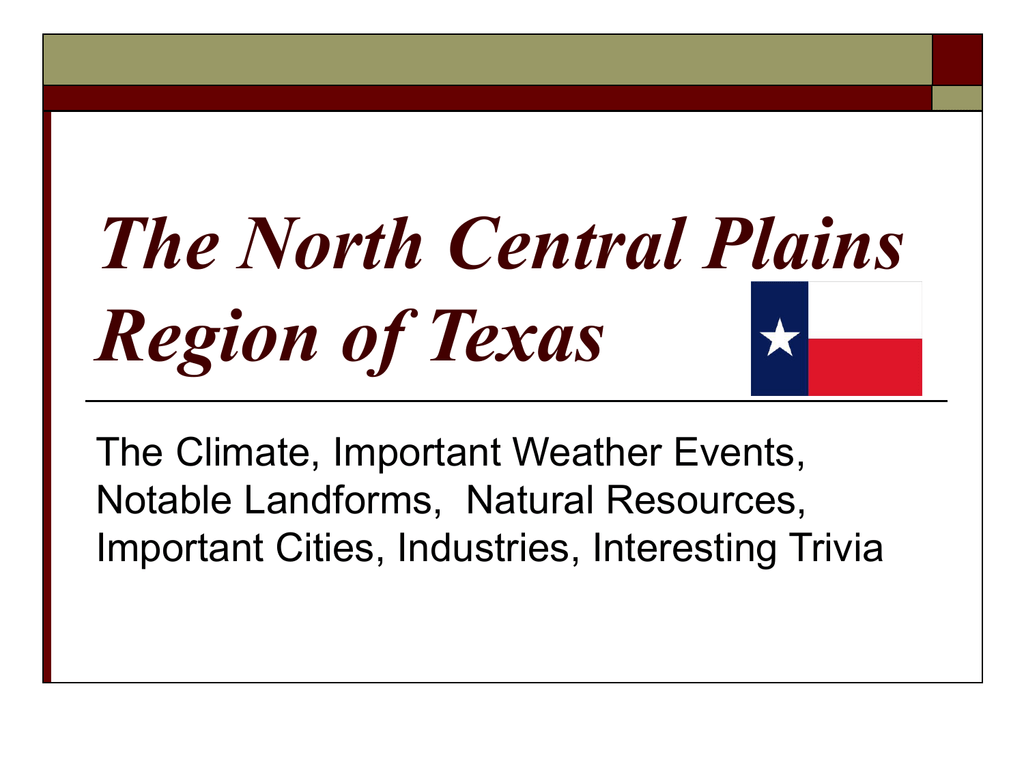 The North Central Plains
Region of Texas
The Climate, Important Weather Events,
Notable Landforms, Natural Resources,
Important Cities, Industries, Interesting Trivia
The Climate: Dude! It's Hot-It's
Cold! What's Up With This Place?




A Middle Latitude area
Warm summers and cool winters
Average annual rainfall is 33 inches
Average Winter temperature is 38º F, while in
the Summer, it is 98º F
Important Weather Events


Active region for tornadoes and hail
1979-Worst single tornado in Texas history
strikes Wichita Falls
Notable Landforms



Part of the Great Plains
Red River to the North
Brazos and Trinity Rivers flow through the
region

Includes areas known as:



Grand Prairie
Cross Timbers
Rolling Plains
Natural Resources






Oil and Gas
Hay
Peanuts
Cotton
Dairy and beef cattle
Wheat
Important Cities








Forth Worth (Industry)
Dallas (Industry)
Houston (Industry and
Port)
San Antonio (Industry)
Austin (State Capitol)
Galveston (Port)






Odessa (Oil)
Lubbock (Cotton)
Midland (Oil)
Corpus Christi (Port)
Laredo (Gateway)
Brownsville (Port)
Amarillo (Cattle)
El Paso (Gateway)
Industries







Defense
Oil and Gas
Manufacturing
Farming
Ranching
Railroad
Entertainment
Interesting Trivia




Galveston is named for Bernardo de Galvez, a
Spaniard who fought for the colonists during
the American Revolution.
Texas has three of the top ten largest cities in
North America.
Pecans are the only nut grown in Texas for
profit.
Texas has a "haunted" mountain.
Bibliography/Webliography

Brittanica.com
http://www.britannica.com
Facts about Texas

Rocha, R., and McDonald, A. (2003). Celebrating Texas. McDougal
Littell, Dallas.
So…Where did
you get all this
information,
huh?