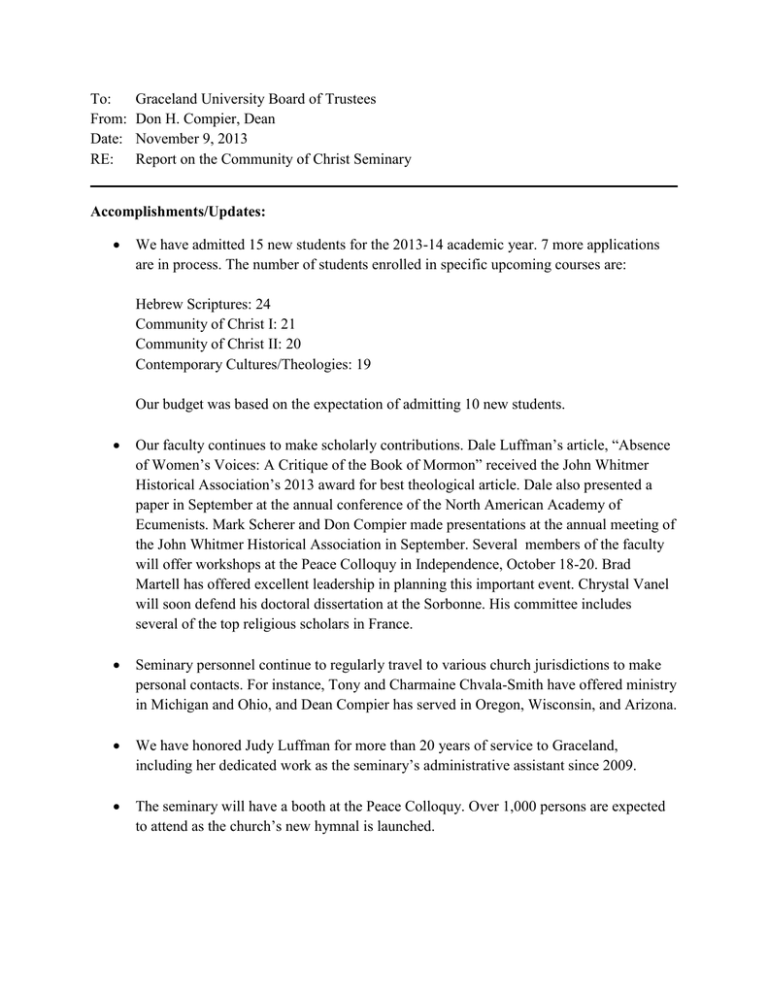 To:
Graceland University Board of Trustees
From: Don H. Compier, Dean
Date: November 9, 2013
RE: Report on the Community of Christ Seminary
______________________________________________________________________________
Accomplishments/Updates:

We have admitted 15 new students for the 2013-14 academic year. 7 more applications
are in process. The number of students enrolled in specific upcoming courses are:
Hebrew Scriptures: 24
Community of Christ I: 21
Community of Christ II: 20
Contemporary Cultures/Theologies: 19
Our budget was based on the expectation of admitting 10 new students.

Our faculty continues to make scholarly contributions. Dale Luffman's article, "Absence
of Women's Voices: A Critique of the Book of Mormon" received the John Whitmer
Historical Association's 2013 award for best theological article. Dale also presented a
paper in September at the annual conference of the North American Academy of
Ecumenists. Mark Scherer and Don Compier made presentations at the annual meeting of
the John Whitmer Historical Association in September. Several members of the faculty
will offer workshops at the Peace Colloquy in Independence, October 18-20. Brad
Martell has offered excellent leadership in planning this important event. Chrystal Vanel
will soon defend his doctoral dissertation at the Sorbonne. His committee includes
several of the top religious scholars in France.

Seminary personnel continue to regularly travel to various church jurisdictions to make
personal contacts. For instance, Tony and Charmaine Chvala-Smith have offered ministry
in Michigan and Ohio, and Dean Compier has served in Oregon, Wisconsin, and Arizona.

We have honored Judy Luffman for more than 20 years of service to Graceland,
including her dedicated work as the seminary's administrative assistant since 2009.

The seminary will have a booth at the Peace Colloquy. Over 1,000 persons are expected
to attend as the church's new hymnal is launched.
Challenges

We are already facing the good problem of large class sizes due to our enrollment
growth. If this trend continues we will need to develop plans to meet the increased
demand.