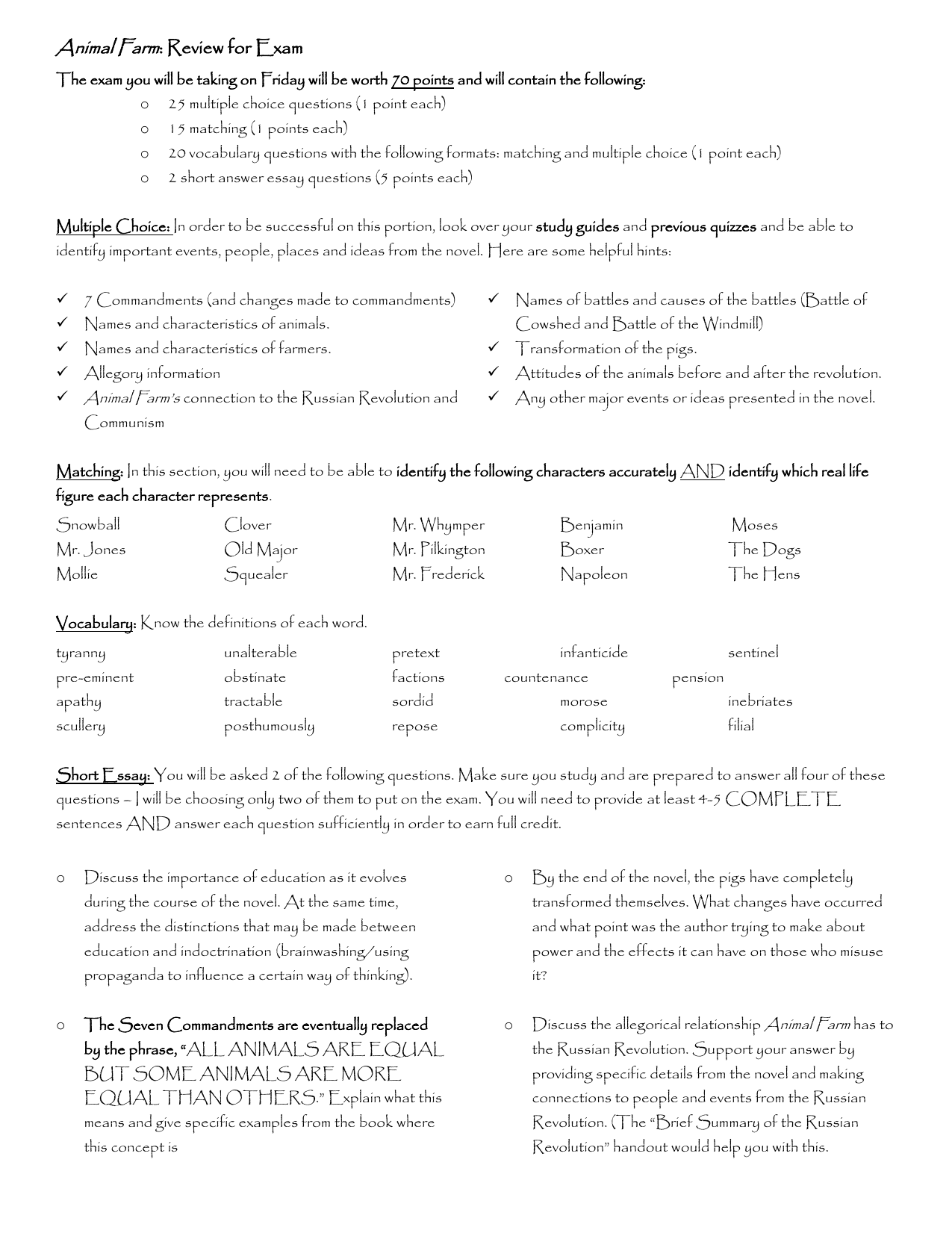 Animal Farm: Review for Exam
The exam you will be taking on Friday will be worth 70 points and will contain the following:
o
25 multiple choice questions (1 point each)
o
15 matching (1 points each)
o
20 vocabulary questions with the following formats: matching and multiple choice (1 point each)
o
2 short answer essay questions (5 points each)
Multiple Choice: In order to be successful on this portion, look over your study guides and previous quizzes and be able to
identify important events, people, places and ideas from the novel. Here are some helpful hints:

7 Commandments (and changes made to commandments)
Names of battles and causes of the battles (Battle of

Names and characteristics of animals.

Names and characteristics of farmers.

Transformation of the pigs.

Allegory information

Attitudes of the animals before and after the revolution.

Animal Farm's connection to the Russian Revolution and

Any other major events or ideas presented in the novel.

Cowshed and Battle of the Windmill)
Communism
Matching: In this section, you will need to be able to identify the following characters accurately AND identify which real life
figure each character represents.
Snowball
Clover
Mr. Whymper
Benjamin
Moses
Mr. Jones
Old Major
Mr. Pilkington
Boxer
The Dogs
Mollie
Squealer
Mr. Frederick
Napoleon
The Hens
infanticide
sentinel
Vocabulary: Know the definitions of each word.
tyranny
unalterable
pretext
pre-eminent
obstinate
factions
apathy
tractable
sordid
morose
inebriates
scullery
posthumously
repose
complicity
filial
countenance
pension
Short Essay: You will be asked 2 of the following questions. Make sure you study and are prepared to answer all four of these
questions – I will be choosing only two of them to put on the exam. You will need to provide at least 4-5 COMPLETE
sentences AND answer each question sufficiently in order to earn full credit.
o
o
Discuss the importance of education as it evolves
o
By the end of the novel, the pigs have completely
during the course of the novel. At the same time,
transformed themselves. What changes have occurred
address the distinctions that may be made between
and what point was the author trying to make about
education and indoctrination (brainwashing/using
power and the effects it can have on those who misuse
propaganda to influence a certain way of thinking).
it?
The Seven Commandments are eventually replaced
o
Discuss the allegorical relationship Animal Farm has to
by the phrase, "ALL ANIMALS ARE EQUAL
the Russian Revolution. Support your answer by
BUT SOME ANIMALS ARE MORE
providing specific details from the novel and making
EQUAL THAN OTHERS." Explain what this
connections to people and events from the Russian
means and give specific examples from the book where
Revolution. (The "Brief Summary of the Russian
this concept is
Revolution" handout would help you with this.