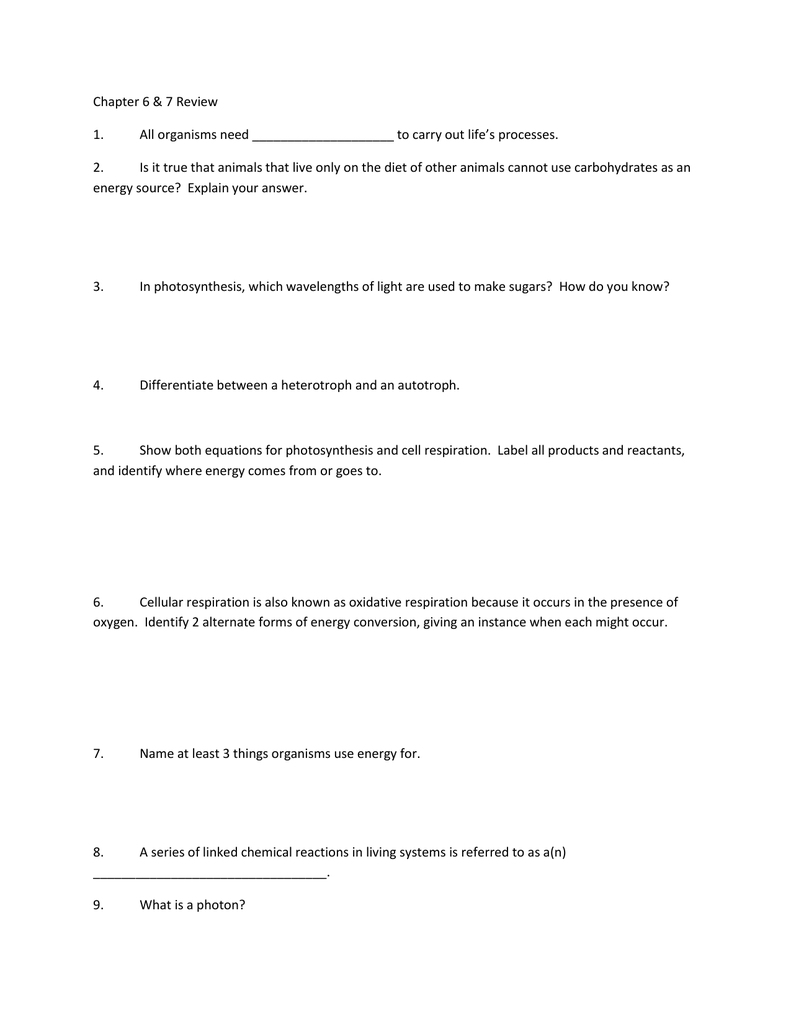 Chapter 6 & 7 Review
1.
All organisms need ____________________ to carry out life's processes.
2.
Is it true that animals that live only on the diet of other animals cannot use carbohydrates as an
energy source? Explain your answer.
3.
In photosynthesis, which wavelengths of light are used to make sugars? How do you know?
4.
Differentiate between a heterotroph and an autotroph.
5.
Show both equations for photosynthesis and cell respiration. Label all products and reactants,
and identify where energy comes from or goes to.
6.
Cellular respiration is also known as oxidative respiration because it occurs in the presence of
oxygen. Identify 2 alternate forms of energy conversion, giving an instance when each might occur.
7.
Name at least 3 things organisms use energy for.
8.
A series of linked chemical reactions in living systems is referred to as a(n)
_________________________________.
9.
What is a photon?
10.
Oxygen is produced during photosynthesis. Where does it come from?
11.
All carbon atoms in carbon-based life forms can ultimately be traced back to ______________
_________________________________________________.
12.
When cells break down food molecules, where does the chemical bond energy that is not
immediately used go?
13.
Describe ATP structure, and the ATP cycle.
14.
Do plants also carry out cellular respiration? Explain your answer.
15.
Why is the electron transport chain so important in cellular respiration? What are the end
products?
16.
Describe the structure of a chloroplast.
17.
Differentiate between chlorophyll and the carotenoids.
18.
Describe what happens in glycolysis.
19.
If oxygen is not present after glycolysis has occurred, what happens next?
20.
Critical Thinking
Refer to the illustration above. Amy wants to test the hypothesis that the rate of photosynthesis is directly
related to the light level to which plants are exposed. She has chosen the aquatic plant Elodea as her study
organism. In her experimental design, she has four different tanks in which she will place Elodea plants.
Each Elodea plant will be placed inside an inverted test tube. She plans to estimate the relative rate of
photosynthesis by measuring the amount of oxygen produced by plants placed under different light levels.
She plans on comparing the amount of oxygen gas that collects in the top of each of the test tubes. Her
experimental set-up looks like this:
Amy plans to place tank #3 next to a window in the classroom. She plans to place tank #2 ten feet away
from the window. She plans to place tank #1 twenty feet away from the window. She plans to place tank
#4 in the classroom's refrigerator, because it is the only place she can find that is dark. Analyze Amy's
experimental plan.