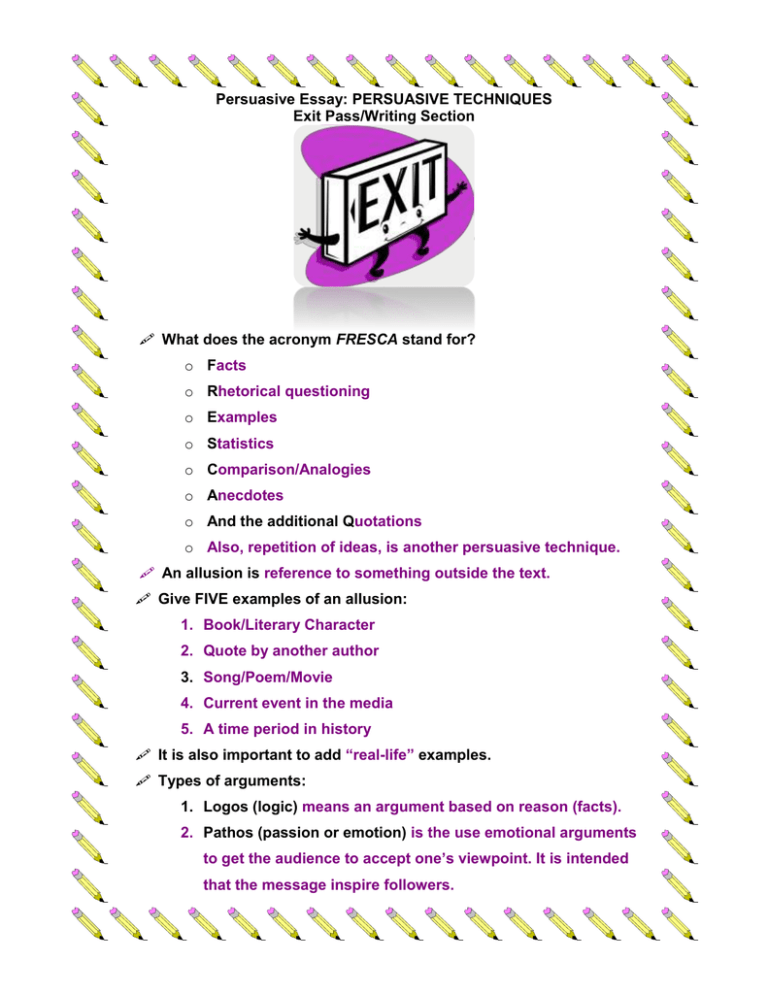 Persuasive Essay: PERSUASIVE TECHNIQUES
Exit Pass/Writing Section
 What does the acronym FRESCA stand for?
o Facts
o Rhetorical questioning
o Examples
o Statistics
o Comparison/Analogies
o Anecdotes
o And the additional Quotations
o Also, repetition of ideas, is another persuasive technique.
 An allusion is reference to something outside the text.
 Give FIVE examples of an allusion:
1. Book/Literary Character
2. Quote by another author
3. Song/Poem/Movie
4. Current event in the media
5. A time period in history
 It is also important to add "real-life" examples.
 Types of arguments:
1. Logos (logic) means an argument based on reason (facts).
2. Pathos (passion or emotion) is the use emotional arguments
to get the audience to accept one's viewpoint. It is intended
that the message inspire followers.
3. Ethos (ethics or morals) is a moral or ethical argument that
appeals to the reader's morals or values; what the reader
believes is morally or ethically right. Aristotle called it the
"moral rightness" of an argument.
 The history of rhetoric and the concepts of ethos, pathos, and logos
began in Greece.
 Who was Aristotle? A famous Greek philosopher who studied the art
of persuasion.
 Who was Plato? Aristotle's teacher
 Ethos= a moral argument
1. A speaker must establish moral credibility in the minds of the
audience at the beginning of his or her speech/essay.
2. An "ethos" argument demonstrates a moral or ethical
argument that appeals to the readers' morals or values; what
the reader believes is morally or ethically right.
 Pathos= an emotional argument
1. An effective use of "pathos" will alter the mindsets of the
audience through the use of emotional appeal.
2. Touches a nerve and compel people to not only listen, but to
also take the next step and act in the world.
3. Those who wish to persuade you will play with your emotions.
They may persuade you with fear, love, patriotism, guilt, hate
or joy.
 Logos= Logos means logic
1. Logos refers to any attempt to appeal to the intellect OR, our
brains.
2. Logos appeals to the left side of the audience's brain. The
audience relies on reasoning and facts to make its decision.
3. Numbers, polls, and statistics are also examples of the
persuasive use of logic.
 Logos Examples (read only)
1. "OnStar service inside your car is better than carrying a cell
phone because a cell phone can't call for you when you're
injured."
2. "There was no discernible difference in the ACT scores of
graduating seniors who wore school uniforms and those who
didn't."
3. "We are the only company who will roll over and save your
unused phone minutes each month."
4. "Stand firm, parents. If you say 'no' at first and then give in
later, you are only teaching your children to beg, whine and
pester you."
 Pathos Examples (read only)
1. A politician says that we have to fight the war "over" there so
that we don't have to fight it here at home.
2. A commercial offers to tell you what your friends won't.
3. A newspaper editorial for private-school vouchers states that
our public schools are dens of thieves and thugs.
4. A high school runs an article about drinking and driving with
detailed descriptions and graphic pictures of automobile
crashes.
 Ethos Examples (read only)
1. "Ask not what your country can do for you; ask what you can
do for your country." — John Fitzgerald Kennedy
2. "I have a dream that my four little children will one day live in a
nation where they will not be judged by the color of their skin
but by the content of their character." – Martin Luther King Jr.
3. "The way ahead is not easy. We shall need all the wisdom,
imagination, and courage we can muster. We must and shall
guarantee the civil rights of all our citizens." – Harry Truman
addressing the NAACP
 WE WILL REVIEW PERSUASIVE TECHNIQUES ON TUESDAY.
REMEMBER, THE QUIZ ON THE EXIT PASSES IS WEDNESDAY,
OCTOBER 31ST 2. MEET IN THE LIBRARY THIS MONDAY AND MAKE
SURE YOU HAVE YOUR USERNAME AND PASSWORD TO LOG ONTO
THE COMPUTER!!!
HOMEWORK: JOURNAL ENTRY DUE TUESDAY!
Fill an entire page of your journal (front AND back) and give a place where
you would like to go in the United States. It can be a place you have already
visited. Explain WHY you want to go there. DESCRIBE the scenery, things to
do, why it would be a good field trip (educational purposes, cost
effectiveness, etc). If you get stuck, look up this place on the internet and
pull ideas from there. Be certain to identify vivid words you could use in your
essay. Remember this is a journal entry, so you can "free write". Don't worry
about organization, spelling, grammar, etc… Worry about CONTENT!!