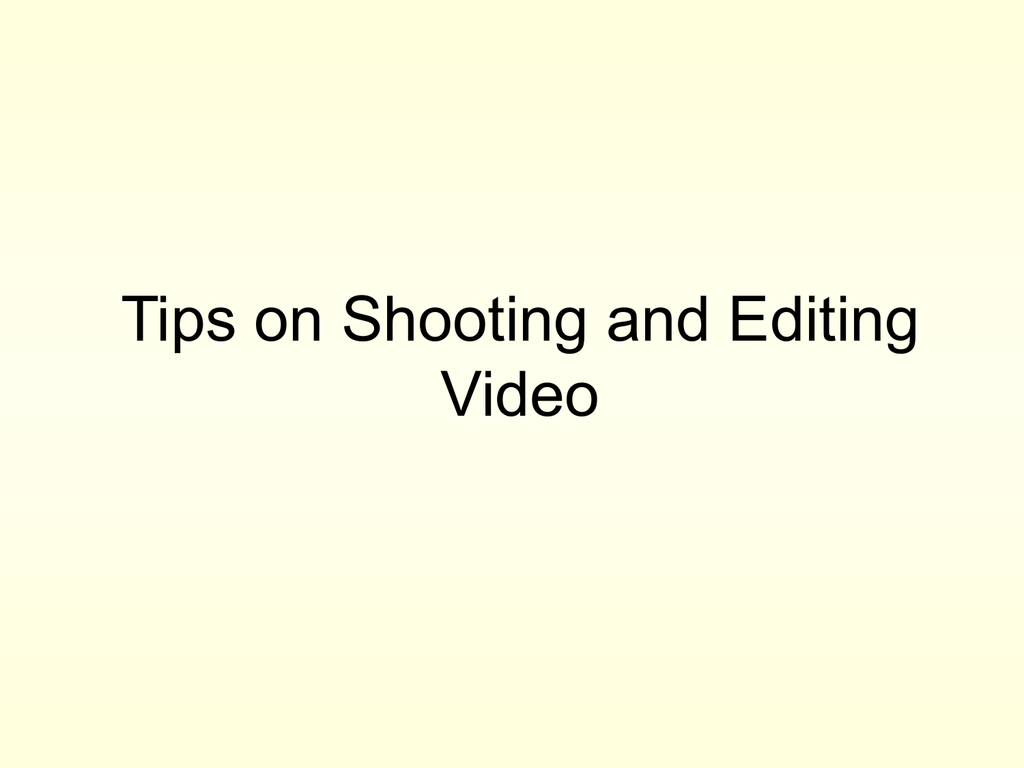 Tips on Shooting and Editing
Video
Preproduction
• Concept
– Purpose of Video.
– Constraints.
• Script
– Description of Shots and Settings.
– Written Dialogue and Narration.
Preproduction
• Storyboards
– Conceptualize shots.
– Plan flow of video.
• Equipment
– Availability.
– Flexibility, limitations.
Production
• Framing and Composition
– Be aware of your surroundings.
– Rearrange objects as needed.
• Headroom
– Don't leave excessive space above subject's
head.
– If subject is looking to the side, leave space
where he/she is looking.
Production
• Rule of Thirds
– 1/3 of the frame should be above the eyes.
– 1/3 of the frame should be face and
shoulders.
– 1/3 of the frame should be lower torso.
Production
• Lighting
– Check indoor lighting conditions first, add
more lighting if needed/possible.
– Filming outdoors? Check the time and
weather.
• Noon: Bright light, high exposure, no shadows.
• Morning/Afternoon: Direct light, heavy shadows.
• Overcast: No direct light or shadow, dull.
Production
• Sound
– Detachable microphones are desirable for
best sound quality
– Using the camera's mike?
• Check for background noise before shooting
(traffic, ventilation, nearby crowds).
• Stay close to your subject.
• Subject should speak loud and clearly.
• No noise from the crew!
Production
• Shooting
– Use a tripod for stability.
– Shoot at least 15 seconds of "dummy tape"
before and after scenes.
– Try to shoot in-sequence.
– Keep a video log of recorded scenes.
Production
• Shooting
– Use a variety of shots – multiple perspectives
and angles.
– Try multiple takes of the same scene,
adjusting the shot slightly.
– Film more than just your subject.
Production
• Things to avoid
– Breaking the 180° plane.
– Using the same composition for every shot.
– Too many differing shots and angles.
– Extreme close ups or wide shots.
– Excessive panning or zooming.
– Shooting too much.
Postproduction
• Choose your editing software of choice
– imovie (mac)
– Final Cut Pro (mac)
– Windows Movie Maker (pc)
– Premiere (pc)
Postproduction
• Walkthrough for using imovie
– http://multimedia.journalism.berkeley.edu/tutor
ials/video/imovie/
• Walkthrough for using WMM
– http://www.microsoft.com/windowsxp/using/m
oviemaker/default.mspx
Postproduction
• Editing Clips
– Know your footage. Use your video log or
create one for your raw footage.
– Avoid jump cuts. Different scenes should be
easily distinguished.
– Be tasteful in using titles and transitions.
– Adjust lighting and sound as much as
possible. Bad footage is bad footage.