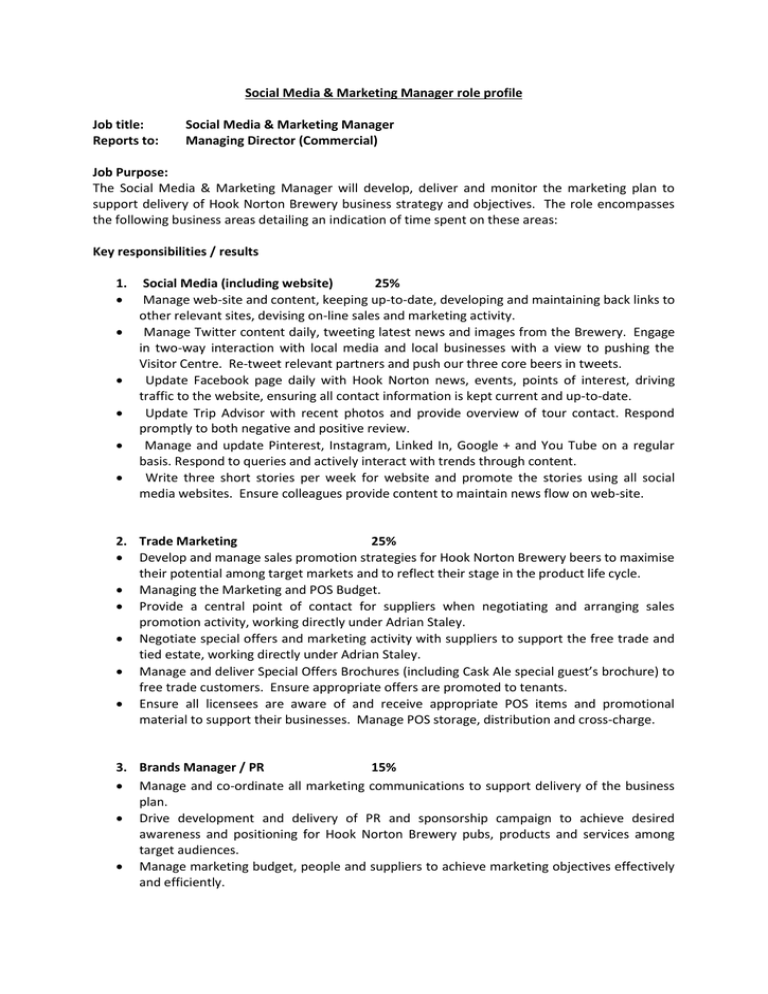 Social Media & Marketing Manager role profile
Job title:
Reports to:
Social Media & Marketing Manager
Managing Director (Commercial)
Job Purpose:
The Social Media & Marketing Manager will develop, deliver and monitor the marketing plan to
support delivery of Hook Norton Brewery business strategy and objectives. The role encompasses
the following business areas detailing an indication of time spent on these areas:
Key responsibilities / results
1.






Social Media (including website)
25%
Manage web-site and content, keeping up-to-date, developing and maintaining back links to
other relevant sites, devising on-line sales and marketing activity.
Manage Twitter content daily, tweeting latest news and images from the Brewery. Engage
in two-way interaction with local media and local businesses with a view to pushing the
Visitor Centre. Re-tweet relevant partners and push our three core beers in tweets.
Update Facebook page daily with Hook Norton news, events, points of interest, driving
traffic to the website, ensuring all contact information is kept current and up-to-date.
Update Trip Advisor with recent photos and provide overview of tour contact. Respond
promptly to both negative and positive review.
Manage and update Pinterest, Instagram, Linked In, Google + and You Tube on a regular
basis. Respond to queries and actively interact with trends through content.
Write three short stories per week for website and promote the stories using all social
media websites. Ensure colleagues provide content to maintain news flow on web-site.
2. Trade Marketing
25%
 Develop and manage sales promotion strategies for Hook Norton Brewery beers to maximise
their potential among target markets and to reflect their stage in the product life cycle.
 Managing the Marketing and POS Budget.
 Provide a central point of contact for suppliers when negotiating and arranging sales
promotion activity, working directly under Adrian Staley.
 Negotiate special offers and marketing activity with suppliers to support the free trade and
tied estate, working directly under Adrian Staley.
 Manage and deliver Special Offers Brochures (including Cask Ale special guest's brochure) to
free trade customers. Ensure appropriate offers are promoted to tenants.
 Ensure all licensees are aware of and receive appropriate POS items and promotional
material to support their businesses. Manage POS storage, distribution and cross-charge.
3. Brands Manager / PR
15%
 Manage and co-ordinate all marketing communications to support delivery of the business
plan.
 Drive development and delivery of PR and sponsorship campaign to achieve desired
awareness and positioning for Hook Norton Brewery pubs, products and services among
target audiences.
 Manage marketing budget, people and suppliers to achieve marketing objectives effectively
and efficiently.




Develop and maintain Hook Norton Brewery POS items to ensure our company and our
brands are presented effectively in the on-trade and off-trade.
Source Free Trade POS items in conjunction with Adrian Staley and distribute to Sales team.
Manage Hook Norton Brewery entry into beer competitions and any other competition that
will raise the Hook Norton Brewery profile.
Custodian of Hook Norton Brewery brands, values and Corporate Identity to ensure all
communications and packaging are on brand.
4. Events / Consumer Marketing
15%
 Organise outside events that are commercially viable, such as outdoor bars, tastings etc.
This will include festivals such as Cornbury and Craft Beer Rising.
 Be ambassador for Hook Norton Brewery at all times which will include attending events.
5.



E Commerce
10%
Target marketing across all sectors of the business including sales team support.
Manage, improve and source data.
Compile and circulate monthly newsletter.
6. Visitor Centre
10%
 Maximise the hiring of the Visitor Centre and the Boardroom, exploiting business to business
opportunities.
 The remit will focus on marketing the Visitor Centre whilst the purchasing of the stock for
the shop and the day to day running of both shop and coffee shop to remain with current
staff.
 Maintain VC Business plan for Board.
Key skills, experience and behaviours
 Competent social media operator with marketing experience.
 Excellent communicator with knowledge of the brewing, FMCG or leisure industry.
 Experienced Database Manager (preferably ACT).
 Skilled planner and project manager.
 Able to consult and influence at a senior level.
 Flexible, results focused team player.
 Creative thinker, prepared to challenge.
Key relationships
 MD (Commercial) – support MD in shaping, delivering and communicating the business
strategy.
 Senior Management Team – shaping and delivering marketing strategy to support delivery
of business plans.
 External agencies and suppliers.
 Media contacts.
 Employees and tenants.


Willing to work across all parts of the company to support delivery of Free Trade (including
National Sales) and Tied Estate business plans.
Key Board members with relevant skills and expertise.
Impact on company results
By developing and controlling marketing plans that are 100% focused on delivering the business
strategy, this role will ensure marketing budget is invested effectively and efficiently. Monitoring
results will minimise wastage and enable continuous improvement.