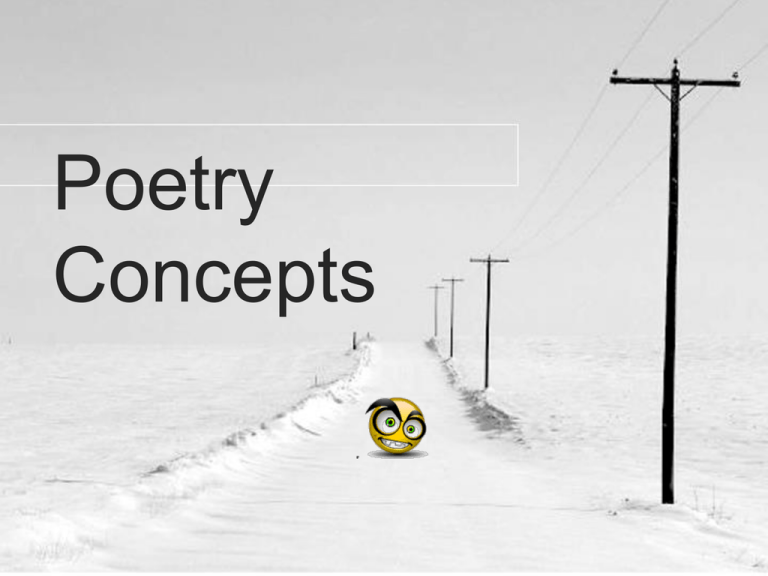 Poetry
Concepts
Key Words We Will Be
Looking At
•
•
•
•
•
•
•
•
•
•
Alliteration
Allusion
Cliché
Connotation
Couplet
Imagery
Irony
Metaphor
Mood
Oxymoron
•
•
•
•
•
•
•
•
•
•
Onomatopoeia
Persona
Personification
Pun
Refrain
Rhyme Scheme
Rhythm
Simile
Stanza
Symbol
Alliteration
• Alliteration is the repetition of consonant
sounds usually at the beginning of the
word two or more times in a line of
poetry.
• Tongue twisters are extreme examples
of alliteration
• She sells seashells by the seashore
• Tommy turned timidly toward Timmy
• It can just be two words
• Jacob just asked a good question.
• Jacob asked a good question just now.
Allusion
• Allusions are references to words,
phrases, people, etc. from
literature ,history, art, or politics.
• An allusion connects a piece of
writing to real life or to an aspect
of culture.
• Example- In The Gift of the Magi
the story and the title itself allude
to the story of the wise men from
the Bible.
Cliché
• A cliché is an overused
expression or phrase
• You mean the world to me
• You're making me crazy
• I love you more than anything
• Comparing love or beauty to
inanimate object
• Flowers and candy
Connotation
• The emotion that you associate
with a word the non-dictionary
definition
• A writer may choose to use a
particular word in order to get a
certain response from a reader.
• These are words that when you
hear them make you have an
emotional response
Couplet
• A pair of lines that rhyme
• The girl had purple hair/She acted
like she didn't care
• The internet is really really
great/I've got a fast connection so
I don't have to wait
• Chillin' out, take it slow/Then you
rock out the show
Euphemism
• A polite or less blunt way of
saying something that might be
offensive or bad.
• He's a few sandwiches short of a
picnic.
• He passed away last night.
Imagery
• Imagery is something you read
that relates to and calls upon our
five senses.
• The way things sound look smell
taste feel.
• It helps us to fully experience a
piece of writing and brings us
closer to understanding its plot (if
there is one) and the mood.
Irony
• Verbal- when you say one thing
but mean something else
(sarcasm)
• Situational- when the reader
expects one thing to happen and
then something different happens
• Dramatic- when the reader knows
something the characters do not
Metaphor
• Speaking about one thing as
though it were another unrelated
thing
• States the comparison as if it
were a fact.
• What light through yonder window
breaks It is the east and Juliet is
the sun.
Mood
• The general feeling or
atmosphere that a poem creates
• Are you supposed to feel happy,
depressed, scared, excited,
suspicious, or confused
• What does the author want you to
feel
Oxymoron
• Two words that don't seem to go
together but do to create a new
meaning.
• Jumbo shrimp
• A fine mess
• Act naturally
• Deafening silence
• Girly man
Onomatopoeia
• A word that sounds like what it
means
• Splat
• Bang
• Knock
• Burp
• Crash
• Boom
Persona
• The person who is speaking in a
poem
• Sometimes its a person an animal
a rock or anything else
• Who's telling us the information is
often times as important as the
words
Personification
• Giving something non-human,
human qualities
• The wind whistled through the
trees
• The stars blinked rapidly
• The sunset reached down and
enfolded the horizon
• Her heart broke into a thousand
pieces
Pun
• Using words that have multiple
meanings
• That's a nice gun you've got there
• There was once a cross-eyed
teacher who couldn't control his
pupils.
• To write with a broken pencil is
pointless.
Refrain
• One or more lines that are
repeated in a poem or song is
also often referred to as the
chorus
• Usually the part that gets stuck in
your head
• Quoth The Raven Nevermore.
• Maybe next time hell think before
he cheats.
Rhyme Scheme
• A pattern of rhyming sounds at the ends of lines in a poem.
Every who down in Who-ville like Christmas a lot ---------------A
But the Grinch who lived just north of Who-ville did not.-------A
The Grinch hated Christmas the whole Christmas season.---B
Now please dont ask why no one quite knows the reason.---B
It could be his head wasnt screwed on just right.----------------C
It could be perhaps that his shoes were too tight.---------------C
But I think that the most likely reason of all-----------------------D
May have been that his heart was two sizes to small.---------D
Rhythm
• Pattern of sound created by the
arrangement of stressed and
unstressed syllables in a line of
poetry
• Basically it's how the poem
sounds
• Just like songs are supposed to
be played a certain way poems
are supposed to be read a
certain way
Simile
• A simile is a figure of speech that
directly compares two different
things, usually by using the words
"like" or "as".
• It is different from a metaphor,
which compares two unlike things
by saying that the one thing is the
other thing.
• Flopping like a fish
• Dumb as a post
Symbol
• An object that represents
something else
• Usually something simple or
ordinary that represents a bigger
concept
• A heart = love
• A ring = marriage
Theme
•
•
•
•
•
•
•
The main idea of the poem
Love- Love conquers all
Death- You cant escape death
Carpe Diem- Seize the day because life is short
War- War tears families apart
Youth- Youth is impulsive
Choices- Make good choices because you have to
live with them
• Themes are the authors opinions on those
subjects.
Shakespearean Syntax
•
•
•
•
•
•
I ate the sandwich.
I the sandwich ate.
Ate the sandwich I.
Ate I the sandwich.
The sandwich I ate.
The sandwich ate I.