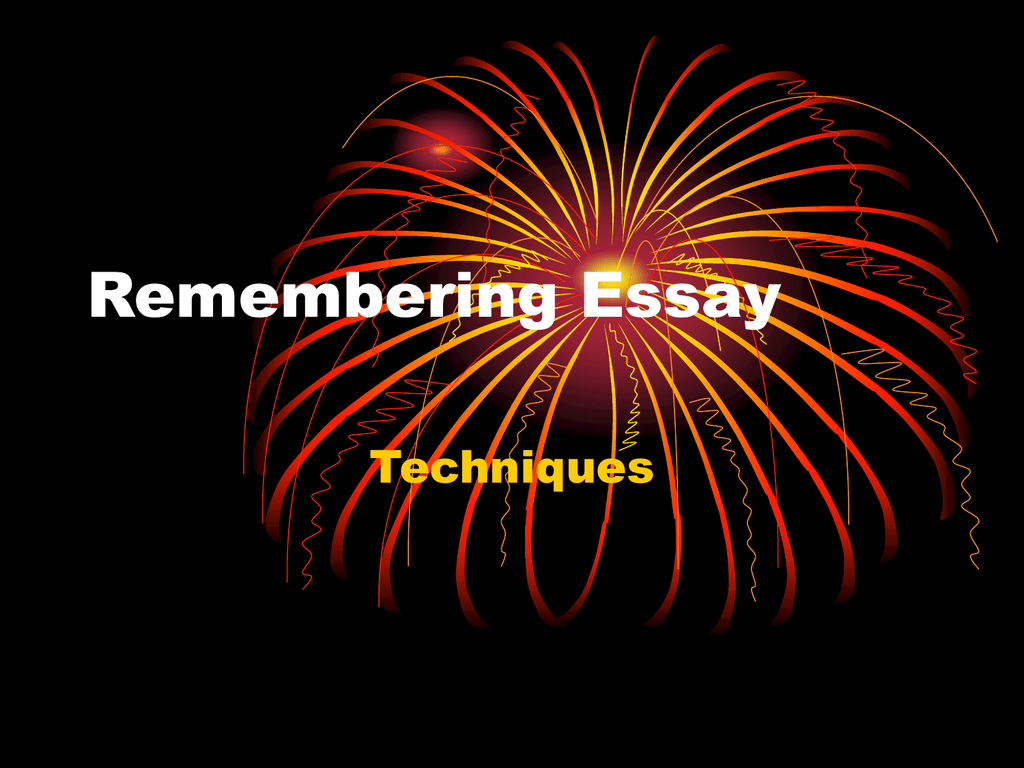 Remembering Essay
Techniques
Remembering Essay:
Writing a Focused NARRATIVE
1. Show Don't Tell—observing
techniques
2. Topic Choice—focus on occasion
and cultural context.
3. Limit and Focus—create a specific
scene in TIME and SPACE
•
•
•
Avoid monotonously summarizing
Cliches— "My life will never be the
same"
Subjective vs. Objective Details
4. Note: Changes, Contrasts &
Conflict
•
•
•
Changes—in people and places
Contrasts—between memories or
appearance vs. reality
CONFLICT = TENSION
•
•
Why is the memory important?
INDUCTIVE PATTERN
5. Connections—between past events,
people, places, and the present
6. Insight—Main Idea
Other Techniques to
Consider:
• TIME ORDER
• In medias res = "in the middle"
• Flashback
• Chronological
• POINT OF VIEW and TENSE
• First person
• Past verse Present
Topic Choices
• Avoid the dreaded "Top 40"
• Boyfriend/Girlfriend
• Spring Break
• Death
• Focus on the smaller moment,
for you can discover great
insight.
Sage Advice
• Own Your Topic—this topic happened to you, not your
friend. Do not write about "the world." Write about your
world.
• FOCUS, FOCUS—narrow your experience so you can deal
with to details. Don't tell me, show me.
• Instead of writing about the entire season or game, what
about the final 30 seconds?
• Keep "Close" Topics at Arm's Length—make sure you
have perspective on the topic. Avoid topics that are too
fresh or too painful.
• While searching for insight/discovery, steer clear of the
rocky shores of Cliché Island—we are looking for insight,
but there is no reason to resort to "I will never be the
same" or "My life was changed forever."
• Don't crash your work on the reef of boredom by "summing it
all up" in a nice, tidy, cliched box.
• Examine what you learn; it can be something small.