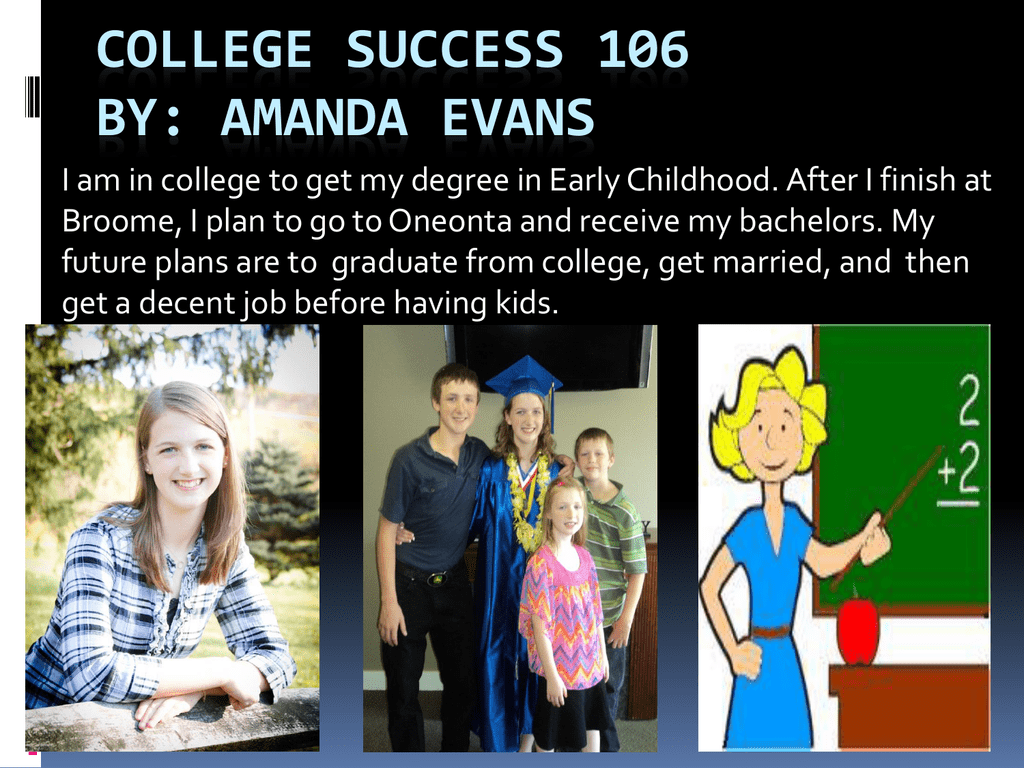 COLLEGE SUCCESS 106
BY: AMANDA EVANS
I am in college to get my degree in Early Childhood. After I finish at
Broome, I plan to go to Oneonta and receive my bachelors. My
future plans are to graduate from college, get married, and then
get a decent job before having kids.
CHAPTER 1
FIRST STEPS
 In this chapter, there was the Discovery
Wheel. I learned that I am strongest in test
taking and time management.
 This chapter also talked about how to get
motivated about learning .
 The main idea that we learned in this chapter
were the different types of intelligences.
(Visual/Spatial, Verbal/Linguistic,
Mathematical/Logical, Musical/Rhythmic,
and Interpersonal)
CHAPTER 2
TIME AND MONEY
 In this chapter, we had to keep track of what
we did for a week and write it down. It was a
good eye-opener for what I do a lot of.
 We also had to monitor our income and
expenses and figure out what we spend the
most money on.
 We also talked about what to do if we are in
financial trouble.
CHAPTER 3
MEMORY
 Mnemonic Devices  tricks to helps us
remember something
 Acronyms  NASA, ROY G. BIV, IPMAT
 Acrostics  Every Good Boy Does Fine (E, G, B, D,
F) (music notes)
 Rhymes or songs
 Loci System  creating visuals with locations
 We also learned how to keep our brain
healthy by staying physically and mentally
active
CHAPTER 4
READING
 Three Phases to Muscle Reading
 Before you read
 While you read
 After you read
 What to do when reading is touch
 How to read fast
 Move eyes faster
 Notice and release ineffective habits
 Skim
 How to use a library
CHAPTER 5
NOTES
 How to take notes
 Use key words
 Pictures and diagrams
 Use different colors
 Write a summary
 Cornell Method
 Outline
 Mind mapping
 What to do when instructor talks fast and
taking notes
CHAPTER 6
TESTS
 Form group studies
 What to do before tests
 What to do during the tests
 How to take different types of questions
 Essay
 Multiple choice
 True/false
 Short answer/ fill- in – the- blank
 How to deal with test anxiety
CHAPTER 7
THINKING
 How to become a critical thinker
 How to create ideas
 Brainstorm
 Collect and play with your ideas
 Refine ideas
 Decision making
 How to choose your major
 Overcoming stereotypes
CHAPTER 8
COMMUNICATING
 How to speak
 Reduce "you" to "I" messages
 Notice barriers to sending messages
 Speak up!
 How to develop emotional intelligence
 How to manage conflicts
 Different strategies for effective writing
 How to do public speaking
 Analyze audience
 Organize presentation
 Communicate message in three parts
CHAPTER 9
HEALTH
 Eat healthy
 Exercise daily
 Let go of tension (meditate)
 Preventing accidents
 Preventing sexual assaults
 Preventing STIs
 Preventing unwanted pregnancies
 Problems with drugs
CHAPTER 10
WHAT'S NEXT?
 How to approach our careers
 Transferable skills
 Technical skills
 How to perform these skills
 Use resumes and interviews to get an inside
look at employers
 How to choose school………AGAIN
 What Service Learning is
 What types of workplaces to join
A LITTLE ABOUT ME!
 I am:
 Visual/Spatial  which means that I have to see
things in front of me for me to really comprehend
them
 This means that I have many strengths in
classes where we get a lot of papers with
notes on them
 This also means that I am not very good in
the classes where it is all power point or
lectures.
RIGHT OR LEFT?
 I am right brained!
 I am way more creative (right brain) than I am
logical (left brain)
 This is a strength for me because most of my
classes require me to be creative.
 This is a weakness for me because it means I
do not do very good in my math and science
classes.
OUTLINING
Subfields of psychology
 Cognitive Psychologists
 Study basic mental processes
 Biological Psychologists
 Study how genes and brain chemistry are related to appearance
of mental disorders
 Personality Psychologists
 Study individuality
 Developmental Psychologists
 Study & describe changes in behavior & mental processes over
life span
 Quantitative Psychologists
 Develop & use statistical tools to analyze vast amounts of info
generated by results from all psychology's subfields
• It works for me because it lets me see everything
that is important
STUDY STRATEGIES I USE
 I use outlining as a study strategy (as I said
before)
 I also use mnemonics as a study strategy.
 In my Early Childhood Class, we are studying
SPLICE.
 S – Social
 P – Physical
 L – Language
 I – Intellectual
 C – Cognitive
 E - Emotional
TEST ANXIETY
(Ellis, 2009, p.144)
 Yell "STOP!" - when you think you are getting
too worried about tests
 Praise yourself! – when you are about to be
hard on yourself, praise yourself instead
 Consider the worst! – think about the very
worst thing that could happen
 Breathe! – just calm down and take a couple
minutes to breathe
TEST ANXIETY (CONTINUED)
(Ellis, 2009, p.144)
 Think about how your feeling!
 Exercise! – regularly exercise during the time
you are preparing for a test
 Get help! – if you need help, talk to the
professor
WHERE AM I NOW?
 As a student, I have grown since August
because I :
 Study a lot more for tests
 Take better notes
 Now know which way I learn better, so I can use it
to my advantage
 These are all positive changes.
INTERVIEWS
1ST INTERVIEW
 My boyfriend
 College student
 I chose him because he
is what I would
consider successful in
college. He is very set
in what he is going for.
He has a passion for
what he is going for as
well.
2ND INTERVIEW
 Family friend
 Scott
 Farmer
 I chose Scott because
there are not a lot of
farmers anymore who
are still going strong.
Most of them give up,
but he is still going and
he worked hard to get
where he is today.
REFERENCES
(APA)
 Ellis, D. (2009). Becoming a Master Student.
Boston, MA: Wadsworth, Cengage
Learning.