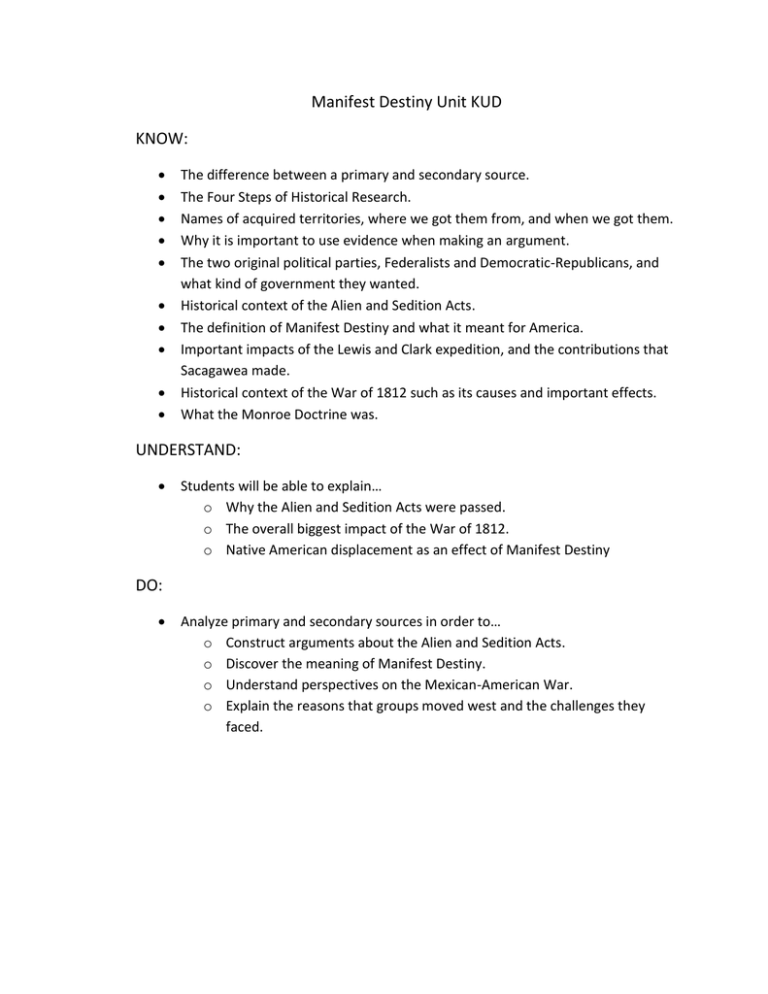 Manifest Destiny Unit KUD
KNOW:










The difference between a primary and secondary source.
The Four Steps of Historical Research.
Names of acquired territories, where we got them from, and when we got them.
Why it is important to use evidence when making an argument.
The two original political parties, Federalists and Democratic-Republicans, and
what kind of government they wanted.
Historical context of the Alien and Sedition Acts.
The definition of Manifest Destiny and what it meant for America.
Important impacts of the Lewis and Clark expedition, and the contributions that
Sacagawea made.
Historical context of the War of 1812 such as its causes and important effects.
What the Monroe Doctrine was.
UNDERSTAND:

Students will be able to explain…
o Why the Alien and Sedition Acts were passed.
o The overall biggest impact of the War of 1812.
o Native American displacement as an effect of Manifest Destiny
DO:

Analyze primary and secondary sources in order to…
o Construct arguments about the Alien and Sedition Acts.
o Discover the meaning of Manifest Destiny.
o Understand perspectives on the Mexican-American War.
o Explain the reasons that groups moved west and the challenges they
faced.