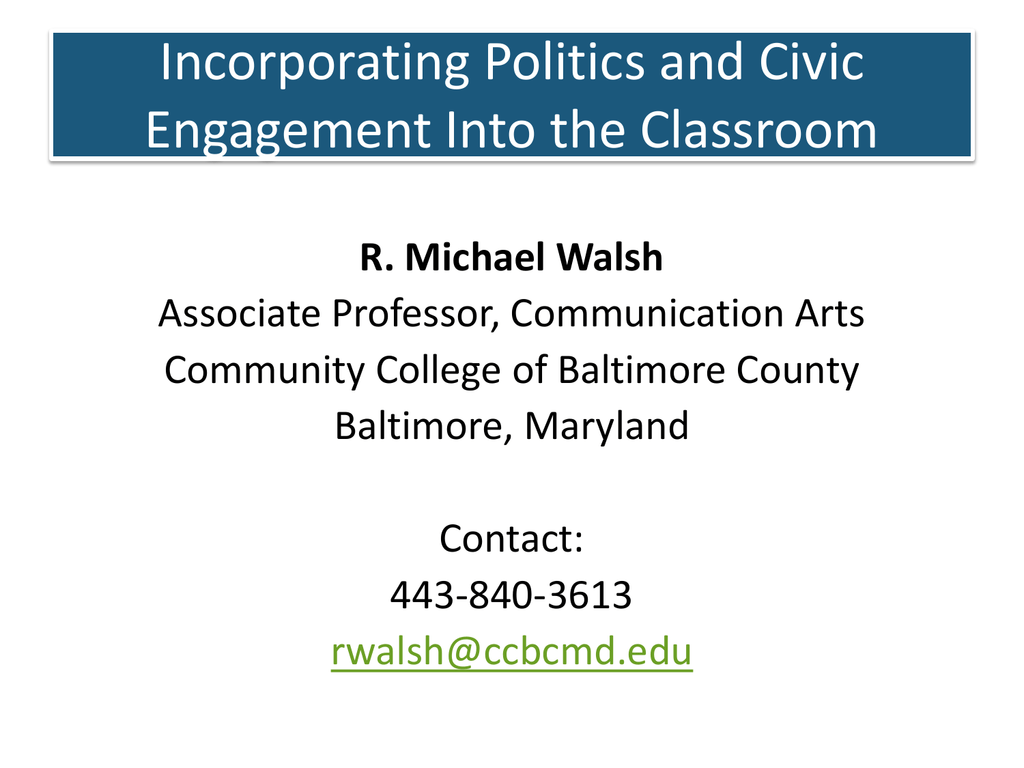 Incorporating Politics and Civic
Engagement Into the Classroom
R. Michael Walsh
Associate Professor, Communication Arts
Community College of Baltimore County
Baltimore, Maryland
Contact:
443-840-3613
[email protected]
Communications 101
The four units:
Principles of Communication
Interpersonal Communication
Small Group Communication
Public Speaking
Honors Program:
1) Promote active learning and critical thinking
2) Further develop skills in verbal and written
communication
3) Encourage independent discovery
4) Foster analytical thinking and creativity
The Honors Projects
Rock the Vote
2008 Presidential Campaign
Candidates Night
Oral History of Bethlehem Steele Mill/Turner
Station Website
Changing Our Ways: A Student Lifestyle
Experiment
Rock the Vote
Received certification from the Baltimore County
Board of Elections
Visited classrooms and gave a 5 minute speech
Collected the registrations
Organized a Rock the Vote event
250 people were registered to vote!
2008 Presidential Campaign
Researched each of the candidates
Gave presentations advocating for one of the
candidates
Participated in a panel discussion
Read Peggy Noonan's On Speaking Well
Candidates' Night
Drafted the invitations
Invited County Executive, Delegate,
Senate, County Council candidates
Organized the event
Developed and asked the
questions to panel
Read On Speaking Well
Oral History of Bethlehem Steel Mill/
Turner Station Website
Interviewed past and present Steel Mill workers
Compiled interviews into a video
Created a website for Turner Station
Organized an event
Read Immortal Life of Henrietta Lacks
Changing Our Ways: A Student Lifestyle Experiment
 Assisted with Trash Olympics at local elementary school
 Assisted in the Green House
 Gave up meat, television, water bottles for a week
 Organized event
 Read Colin Beavan's No Impact Man
 Gave presentations in class using themes from book
Additional Politically-Themed Assignment
Campaign Speech
Become a fictional person giving factual
information
Develop qualifications (work experience,
volunteer/education) appropriate for position
Investigate the position and the issues
Highlight three important issues you would
address if elected
Campaign Speech Sample Scenarios
• You are a 23 year old college graduate with no political
experience. You have the ability to be a successful
delegate in the House of Delegates.
• You are running for a position on the Board of
Education. You have been an advocate for children for
15 years, including serving as the countywide PTA
chairperson for 5 years.
• You have been a pretty successful and popular member
of the county delegation and were pulled over with a
DUI. You paid your debt and apologized to the public.
You are running for re-election and hope that the
voters will forgive you.
Campaign Speech Sample Scenarios
• You are running for re-election on the County
Council and have been recently accused of
using tax payer money to finance your
campaign. This is not true. Your opponent
will say anything to win.
• You are running for States Attorney and have
been an attorney for 15 years. Voters say that
crime is their number one concern.
Additional Environmentally-Themed Assignments
Persuasive Speech
Select a topic
Follow the issue for several weeks
Select three articles and write an article summary
using MLA format
Students will use resource guide created by the
librarian
Create a bibliography
Articles summaries will be used to develop
persuasive 7-8 minute presentation
Persuasive Speech Topics
 SB236 Septics Bill (Why we should support the SB236
bill)
 Energy Production usage (Why we should use solar
energy)
 International approach to sustainability (Select a
country and persuade us to follow their lead)
 International business (Select one business …like
WalMart…and persuade us to boycott their business
because of environmentally unfriendly practices)
 Presidential Campaign (Select a current candidate for
president and support or oppose one of his/her
environmental issues that will positively/negatively
impact the world)
 American consumerism (Why consumerism is hurting
our environment)
Supplemental Materials
Mass Communications Course
Evaluate the impact of historical and emerging
media as aesthetic art forms in the
Humanities
Explore how the media reflect and inspire
cultural, political, and ethical norms
Distinguish, discuss, and estimate the unique
effectiveness of different media formats
Group Project
Work in groups of 4-5 students
Appoint a project manager
Select an organization or issue to support
Create and implement an event designed to raise
awareness or funds
Develop a promotional campaign using three
forms of media
Develop a budget
Assess outcome of event
Give a final presentation
Issues/Organizations
Juvenile Diabetes/ADA
Toys for Tots
Haiti
Henrietta Lacks Scholarship
Earth Day/Sustainability Day
Soles for Souls
Maryland Zoo
World AIDS Day
Special Olympics
Autism Speaks
American Cancer Society
Domestic Violence
Bread and Cheese Cleanup
Stiggy's Dogs
Types of Events
Booths at the End-of-the Year Picnic
Talent Show
Small Circus for Kids
Demonstrations (self defense)
Community Events (parades, booths)
Walks and Fundraisers
Performances (musical, dance)
Creek Cleanups
Outcome
Total Raised:
$12,000
(and they learned a lot too!)
Partnerships
Dundalk Chamber of Commerce
Dundalk Renaissance Corporation
Non-profit organizations
Fleming Senior Center
Local businesses
Elementary Schools
Churches
Bread and Cheese Creek Cleanup
CCBC Student Life
Elmo!
Earth Week
Special Olympics
Maryland Zoo/Breast Cancer
Creek Cleanup/Toys For Tots
Earth Week/Speaker's Bureau
Other Great Events!
What you need to do
 Work with Student Life (budget, direction)
 Identify outside organizations willing to partner
(develop a mutually beneficial experience)
 Identify community events (easier to be a part of
then to plan from scratch)
 Determine unique aspects/issues in community
(historical, economic, lifestyle)
 Empower students but manage them (don't
assume they are fine without you)
 Plan, Plan, Plan (must be very focused and
organized)
What Students Learn
Government, Politics, Human Rights
Local, National, and International Issues
Write, Speak, Evaluate, Create, Lead
Giving back to the community
Care for others and themselves!
Thank you!