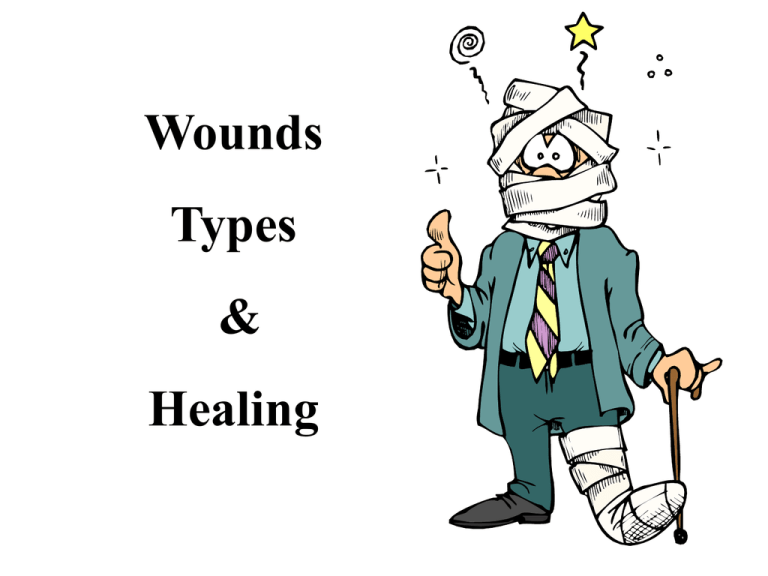 Wounds
Types
&
Healing
SKIN
• Largest organ
• Primary function – protection
• Layers
– epidermis (tough & avascular)
– dermis (thickest & vascular)
• Skin disruptions may lead to fluid loss
and/or infection
SKIN TERMINOLOGY……
• ECCHYMOSIS… large bruising
(superficial bleeding under the skin)
• HEMATOMA…collection of blood under
the skin
• ERYTHEMA…redness
• MACULE…small flat spot
• PAPULE…small bump or pimple
• PUSTULE…blister like, with pus
WOUNDS
•
•
1.
2.
3.
4.
DISRUPTION IN THE INTEGRITY OF
BODY TISSUE
CLASSIFIED AS:
OPEN or CLOSED
ACUTE or CHRONIC
ACCORDING TO SEVERITY (superficial /
deep)
ACCORDING TO RISK OF INFECTION
(clean / contaminated / infected)
PHASES OF WOUND
HEALING
INFLAMMATORY PHASE
Occurs immediately after injury and last 3-4
days.
1. Hemostasis: Cessation of bleeding - clotting
cascade, vasoconstriction / vasodilation
2. Edema: Body's defensive adaptation to tissue
injury – histamine, leukocytes .
Skin is red, edematous & warm to touch.
PHASES OF WOUND HEALING
REGENERATION OR PROLIFERATIVE
PHASE
3-4TH day post injury and lasts for 2-3 weeks.
• Collagen (protein) adds strength to wound (less
chance of separation or rupture). Raised healing
ridge may be visible.
• Other cells help to compose different epidermal
layers (granulation & re-epithelization
continues).
PHASES OF WOUND HEALING
MATURATION OR REMODELING
PHASE
• 21st day to 2 years post injury.
• Scar tissue is remodeled or reshaped.
• Scar tissue is still weaker than the tissue it
replaces (usually never greater than 80% of preinjury strength).
• Scar appears large initially, but will decrease
with time.
WOUND
CHARACTERISTICS
• SURGICAL WOUNDS – intentional, clean,
made by sharp instrument, sutures / staples /
steri-strips.
• TRAUMA WOUNDS – lacerations or
punctures, considered dirty or contaminated,
scarring more likely.
• CHRONIC WOUNDS – heals slowly, may
recur, pressure ulcers / venous stasis ulcers.
RYB CLASSIFICATION of
WOUND BED
• RED: normal granulation/ proliferative
phase/ need to protect & keep moist
• YELLOW: either fibrinous slough or
purulent bacterial exudate/ need to
remove slough
• BLACK: contain necrotic tissue/ need
debridement
WOUND DEBRIDEMENT
REMOVAL OF FOREIGN MATTER (DIRT / DEAD
TISSUE) BY:
• SHARP (SCALPEL)
• MECHANICAL (WHIRLPOOL THERAPY)
• ENZYMATIC (CHEMICALS)
• AUTOLYTIC (WOUND BED DRESSINGMAINTAINS MOISTURE)
WOUND EXUDATE
• SEROUS – clear, watery plasma (mild
inflammation).
• SANGUINEOUS – bright red (bloody or
hemorrhagic)
• SEROSANGUINEOUS – mixture of
above
• PURULENT – pus like (yellow, green,
brown)
TYPES OF WOUND HEALING
PRIMARY INTENTION
•
•
•
•
•
Wound edges "approximated"
Granulation tissue fills in wound
Occurs in first 14 days post surgery
 risk of infection
Minimal scarring – predictable movement
through phases of healing
TYPES OF WOUND HEALING
SECONDARY INTENTION
• Prolonged healing (extensive tissue loss)
• Edges cannot be approximated
• Granulation tissue must fill wound
•  Risk of infection
• May be intentionally left open
TYPES OF WOUND HEALING
TERTIARY INTENTION
DELAYED / SECONDARY CLOSURE
• Primary closure is undesirable
• Might be poor circulation or infection
• Suturing delayed until problems resolve
PRESSURE ULCERS
Patients at Increased Risk
 ACTIVITY LEVEL
INCONTINENCE
ALTERED LOC
IMPAIRED CIRCULATION
POOR NUTRITION STATUS
PRESSURE ULCERS
Characteristics
• Localized areas of tissue necrosis
• Tend to develop when soft tissue
compressed between bony prominence &
an external surface
• Due to ischemia
• Reduction of blood flow causes blanching
• Other contributors= shearing & friction
STAGES
I : Nonblanchable erythema
II: Partial – thickness loss
III: Full – thickness loss
Extends into subcutaneous tissue
IV: Full-thickness loss
Extends into muscle / bone
PROBLEMS OF WOUND HEALING
INFECTION
• Most common 36-48hrs postop; common
cause of altered wound healing
• Symptomatic 5 – 7 days
• Must monitor clients adequately
• Wound can become contaminated preop;
intraop; or postop
HEMORRHAGE
• Persistent bleeding is abnormal
• Some bleeding normal after initial trauma &
surgery
• Hemostasis within a few minutes
• Swelling around the wound & presence of
sanguinous drainage from a drain may indicate
hemorrhage
• HYPOVOLEMIC SHOCK: ↓ B/P, rapid thready
pulse, diaphoresis, restlessness, cool clammy skin
DEHISCENCE
• PARTIAL OR TOTAL SEPARATION OF WOUND
EDGES (most likely to occur 4 – 5 days postoperatively)
EVISCERATION
• PROTRUSION OF AN INTERNAL ORGAN
THROUGH THE INCISION
YOU MUST STAY CALM !
Stay with client; have MD notified immediately
Cover wound with normal saline soaked sterile dressing
SKIN INTEGRITY FACTORS
•
•
•
•
•
•
•
•
•
•
•
PERSONAL HYGIENE
NUTRITIONAL STATUS
SMOKING
SUBSTANCE ABUSE
ACTIVITY
AGE
INCONTINENCE
HYPOXEMIA
DIABETES
MEDICATIONS
INFECTION
ASSESSMENT-ASSESSMENT
•
•
•
•
THOROUGH SKIN ASSESSMENT !!
HEALTH HISTORY (client interview)
DIAGNOSTIC TESTS….
HEMOGLOBIN/SEDIMENTATION
RATE (measure of necessary tissue oxygen)
• WBC (infection)
• ALBUMIN LEVELS
• DON'T FORGET BRADEN
SCALE
NSG DX: IMPAIRED SKIN
INTEGRITY
• WHAT DO YOU DOCUMENT ??
1.
2.
3.
4.
5.
6.
7.
8.
9.
LOCATION
SIZE (in centimeters cm)
COLOR
SURROUNDING SKIN
DRAINAGE
TEMPERATURE
PAIN
WOUND CLOSURES
ODOR
WHAT ARE THE RELATED
FACTORS?
• MECHANICAL FORCES
(RESTRAINTS – PRESSURE)
•  CIRCULATION
• IMMOBILIZATION
• ALTERED SENSATION
• NUTRITIONAL STATE
• SKIN TURGOR
• SURGERY
SOME DESIRED OUTCOMES
(GOALS) MAY BE:
1. MAINTAINS ADEQUATE
NUTRITIONAL & FLUID INTAKE
2. CLIENT CAN PERFORM WOUND
CARE
3. CLIENT CAN STATE SIGNS OF
INFECTION
KNOW THE RIGHT
INTERVENTIONS!!
• MONITOR CLIENT (ASSESSMENT /
ASSESSMENT)
• SKIN CLEANSING
• NUTRITION (MULTIDISCIPLINARY
EFFORT)
• POSITIONING
• TEACHING
• WOUND CARE / SKIN PROTOCOL
WOUND CLEANSING
•IRRIGATION DEVICES
•VARIOUS SOLUTIONS …BUT.. "put
nothing in the wound that you would not put in
your eye"
NORMAL SALINE
GENERALLY..WOUND ITSELF CLEANER
THAN SURROUNDING SKIN
• MOIST WOUND BEDS –HEAL FASTER?
•More than 1300 products available for wound
& skin care
DRAINS
• PLACED IN WOUNDS BEFORE SURGICAL
INCISION CLOSED
• PREVENTS FLUID FROM COLLECTING
BETWEEN WOUND SURFACES
• USUALLY LEFT IN PLACE 3 TO 7 DAYS
PENROSE
HEMOVAC
JACKSON-PRATT
RUBBER BAND
IMPLEMENTATION
•
•
•
•
•
•
•
Ensure proper hygiene & skin care
Proper positioning
Consults as needed
Apply complementary therapies
Precautions if necessary
Specialty beds
HANDWASHING – staff & patient
EVALUATION
• If goals not met – examine interventions
& revise plan of care appropriately
• Review techniques & procedures of staff
• Review techniques of client & family
• Focus on CLIENT TEACHING !!