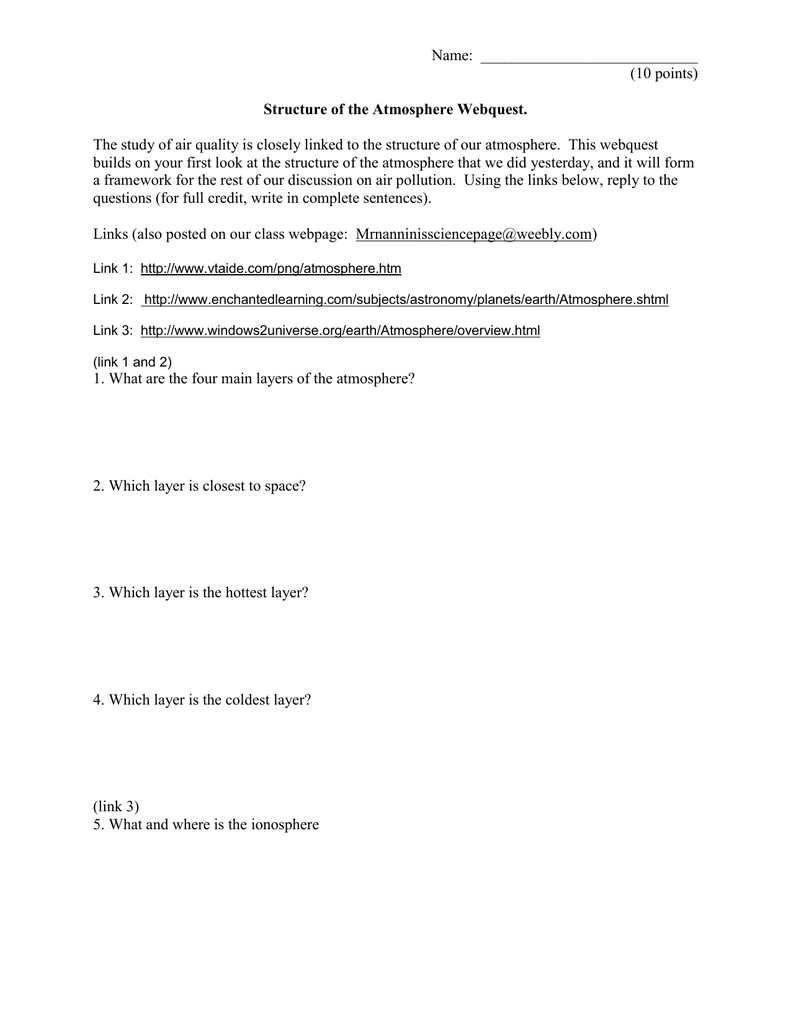 Name: ____________________________
(10 points)
Structure of the Atmosphere Webquest.
The study of air quality is closely linked to the structure of our atmosphere. This webquest
builds on your first look at the structure of the atmosphere that we did yesterday, and it will form
a framework for the rest of our discussion on air pollution. Using the links below, reply to the
questions (for full credit, write in complete sentences).
Links (also posted on our class webpage: [email protected])
Link 1: http://www.vtaide.com/png/atmosphere.htm
Link 2: http://www.enchantedlearning.com/subjects/astronomy/planets/earth/Atmosphere.shtml
Link 3: http://www.windows2universe.org/earth/Atmosphere/overview.html
(link 1 and 2)
1. What are the four main layers of the atmosphere?
2. Which layer is closest to space?
3. Which layer is the hottest layer?
4. Which layer is the coldest layer?
(link 3)
5. What and where is the ionosphere
6. Why is the atmosphere important?
7. What gases are most common in Earth's atmosphere? Give the percentages.
8. What is the greenhouse effect (describe how it works)?
9. What are the main greenhouse gases?
10. Describe how each of the gases contribute to the greenhouse effect and how do they get into
our atmosphere?