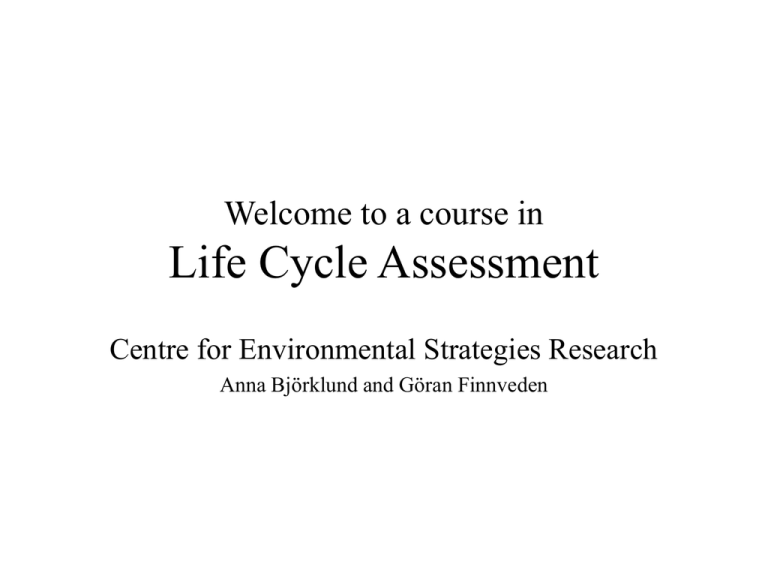 Welcome to a course in
Life Cycle Assessment
Centre for Environmental Strategies Research
Anna Björklund and Göran Finnveden
• What's the environmental impact of a PET
bottle?
• Which is better; PET bottles,glass bottles, or
aluminium cans?
Energy &
material
Emissions
Raw material
acquisition
Manufacture
Use
Waste
management
• LCA covers the entire life cycle, from "cradle-to-grave"
• LCA calculates energy and resource use, emissions,
environment and health impacts
The life cycle model
Raw material
acquisition
Process
Resources
(e.g. raw
materials,
energy,land)
Transport
Manufacture
Use
Waste
management
Emissions
to air,
water,
ground
Definition of LCA
LCA is a technique for assessing environmental aspects and
potential impacts of a product, by:
-compiling an inventory of relevant inputs and outputs of a
product system;
-evaluating potential environmental impacts associated with
those inputs and outputs;
-interpreting the results.
(ISO 14040)
Why LCA?
• System focus, avoids sub-optimization and
problem shifting.
• Structured, quantitative method to analyse
complex systems.
Short LCA history
• Waste debate and oil crisis strong incentives.
• 1969: First LCA? Resource and Environmental Profile Analysis
(REPA) of beverage packaging, commissioned by Coca Cola. (Similar
contemporary studies in UK, Germany, Sweden)
• 1980's: Growing use of LCA, applied to packaging. Mostly know to
researchers.
• 1991: The term "LCA" was defined.
• 1996: First scientific LCA journal.
• 1997: First ISO standard.
• Today: LCA finds it way to public policy, design, decision making,
education.
Applications of LCA
•
•
•
•
•
•
•
Product/process design, development, improvement.
Strategic planning (e.g. in companies, municipalities)
Public policy
Learning
Eco-labelling
Environmental produc declaration
Marketing
Some applications
• Environmental Systems Analysis of Pig Production - The Impact of
Feed Choice
• Life Cycle Assessments for Waste
• Life Cycle Assessment of a Personal Computer and its Effective
Recycling Rate
• Life Cycle Assessment of the District Heat Distribution System
• Life Cycle Assessment of the Mobile Communication System UMTS:
Towards Eco-efficient Systems
• LCA of Multicrystalline Silicon Photovoltaic Systems
• Life Cycle Assessment of Kerosene Used in Aviation
• Life Cycle Assessment of Wood Floor Coverings
LCA methodology in brief
Life cycle assessment framework
Goal
and scope
definition
Inventory
analysis
Interpretation
Impact
assessment
Source: ISO 14040
ISO 14000
Environmental management
• ISO 14040: LCA - Principles and framework
• ISO 14041: LCA - Goal and scope definition and
inventory analysis
• ISO 14042: LCA - Life cycle impact assessment
• ISO 14043: LCA - Life cycle interpretation
• ISO 14047: LCA - Examples of application of
ISO 14042
• ISO 14048: LCA - Data documentation format
• ISO 14049: LCA - Examples of application of
ISO 14041
Goal and scope definition
• Goal:
– purpose
– intended application
– intended audience
• Scope (specification of model):
–
–
–
–
studied product (or service)
system boundaries: processes to include, time, place
types of impacts
data requirements
Goal of Danish packaging LCA
• Purpose: Update LCA comparing potential environmental
impact of packaging systems.
• Application: Basis for decisions on packaging systems in
Denmark.
• Audience: General publication (external).
Scope of Danish packaging study
• Functional unit: Packaging and distribution of 1000 litres
beer or softdrink.
• System boundaries:
– Bottles or cans that are filled and sold in Denmark,
– secondary packaging (boxes, pallets, etc.),
– all processes contributing significantly to the life cycle impacts
Inventory
• Draw flow chart of product system.
• Collect data of resource use and emissions of all processes
• Data sources: LCA databases, reports, scientific papers,
on-site investigation, expert knowledge, qualified guesses
• Build system model (computerised in e.g. generic LCA
tool, Excel, other)
• Calculate resource use and emissions of studied product.
• Present results in charts and tables.
• Iterative procedure!
Inventories in
Danish packaging study
• Inventories of:
–
–
–
–
–
–
refillable glass bottles
disposable glass bottles
aluminium cans
steel cans
refillable PET bottles
disposable PET bottles
Process tree glass bottle
Retail
Filling
w. soda
Manufacture
glass bottle
Prod.
soda
Prod.
lime
Prod.
sand
Raw
material
extract.
Raw
material
extract.
Raw
material
extract.
Use
Waste management
Recycling
Landfill
Impact assessment
• Classification: Sorts inventory parameters according to
type of environemtal impact.
• Characterisation: Translates inventory results (emissions,
resource use) to potential environmental impact.
• Example: Global warming potential (according to
EDIP)
1 CH4 = 25 CO2 equivalents
1 N2O = 320 CO2 equivalents
1 CO = 2 CO2 equivalents
Impact assessment in Danish
packaging study
• EDIP (Danish method)
–
–
–
–
–
–
–
–
–
–
Global warming
Ozone depletion
Acidification
Eutrophication
Photochemical smog
Ecotoxicity: water chronic/acute, soil
Human toxicity: air, water, soil
Waste: bulk, hazardous, radioactive
Slags/ashes
Resources
Optional steps
• Normalisation: Relates each impact of the product system
to impacts of society as a whole. Gives perspective of
relative importance.
• Weighting: Relates different impacts to each other, based
on subjective values.