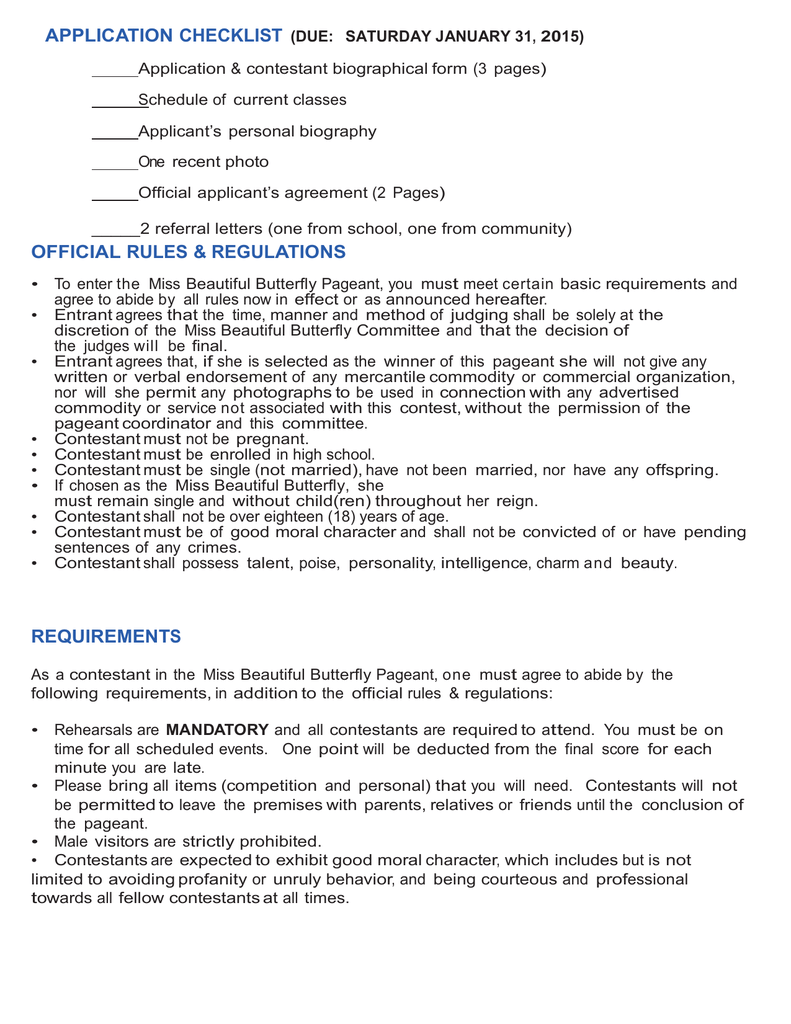 APPLICATION CHECKLIST (DUE: SATURDAY JANUARY 31, 2015)
Application & contestant biographical form (3 pages)
Schedule of current classes
Applicant's personal biography
One recent photo
Official applicant's agreement (2 Pages)
_____2 referral letters (one from school, one from community)
OFFICIAL RULES & REGULATIONS
•
•
•
•
•
•
•
•
•
•
To enter the Miss Beautiful Butterfly Pageant, you must meet certain basic requirements and
agree to abide by all rules now in effect or as announced hereafter.
Entrant agrees that the time, manner and method of judging shall be solely at the
discretion of the Miss Beautiful Butterfly Committee and that the decision of
the judges will be final.
Entrant agrees that, if she is selected as the winner of this pageant she will not give any
written or verbal endorsement of any mercantile commodity or commercial organization,
nor will she permit any photographs to be used in connection with any advertised
commodity or service not associated with this contest, without the permission of the
pageant coordinator and this committee.
Contestant must not be pregnant.
Contestant must be enrolled in high school.
Contestant must be single (not married), have not been married, nor have any offspring.
If chosen as the Miss Beautiful Butterfly, she
must remain single and without child(ren) throughout her reign.
Contestant shall not be over eighteen (18) years of age.
Contestant must be of good moral character and shall not be convicted of or have pending
sentences of any crimes.
Contestant shall possess talent, poise, personality, intelligence, charm and beauty.
REQUIREMENTS
As a contestant in the Miss Beautiful Butterfly Pageant, one must agree to abide by the
following requirements, in addition to the official rules & regulations:
•
Rehearsals are MANDATORY and all contestants are required to attend. You must be on
time for all scheduled events. One point will be deducted from the final score for each
minute you are late.
• Please bring all items (competition and personal) that you will need. Contestants will not
be permitted to leave the premises with parents, relatives or friends until the conclusion of
the pageant.
• Male visitors are strictly prohibited.
• Contestants are expected to exhibit good moral character, which includes but is not
limited to avoiding profanity or unruly behavior, and being courteous and professional
towards all fellow contestants at all times.
CATEGORIES
PRESENTATION
•
•
The presentation will be evaluated on the overall attractiveness, poise, personality and selfexpressive introduction to the judges and audience.
Points will not be deducted or awarded on the actual production itself; however,
contestants should display enthusiasm and pleasure in presenting themselves.
TALENT
•
•
•
•
•
A contestant must possess and display a routine of TALENT IN NOT MORE THAN THREE
(3) MINUTES.
The routine must be presented live and not by way of video. This requirement does not
apply to vocal or instrumental recording used in conjunction with the live presentation.
This talent may be singing, dancing, dress designing, monologue, etc.
NO FIRE, WATER or ANIMAL ACTS ARE PERMITTED!!!
Any props needed for your talent routine must be dictated on your application and
biographical form.
EVENING GOWN
•
•
Contestants are required to wear a FORMAL EVENING GOWN.
The gown should represent personal taste of color and style.
 We will have a dress rehearsal to view the gown on each contestant prior to the day of the pageant.
QUESTION AND RESPONSE
•
•
Contestants will be asked 2 – 3 impromptu questions and provide a personal response.
The personal response should not exceed two (2) minutes. If this time limit is exceeded,
contestants will receive ZERO POINTS for their responses.
SCORING CRITERIA
•
•
•
•
The Miss Beautiful Butterfly Pageant Judging Committee is designed to promote, diversity,
individuality, unity and awareness among all contestants.
All judges have been educated about the pageant judging system and represents a
variety of professional sectors within their communities. One panel of judges will score all
categories of the Pageant.
Judges will score the individual contestant immediately following each phase of the
competition.
Contestants may receive additional points (maximum of 25) based on the sales of
advertisements in excess of the $500 minimum ad sales requirement according to the
following levels:
$550 – $649
$650 – $749
$750 – $849
$850 – $949
$950 – $1,000
5 Points
10 Points
15 Points
20 Points
25 Points
•
•
Fifty (50) points will be deducted from a contestant's final score, if the minimum ad sales
requirement of $500 is not met. NO EXCEPTIONS!
Contestants are scored on a total 0 – 100 points scale per judge. Within each category,
more than one contestant may receive the same score. The judges' scores are compiled to
attain a composite score for each respective category.
PRESENTATION (Maximum of 10 points per judge)
•
•
Creativity and personal introduction
Overall appearance/demeanor
TALENT (Maximum of 20 points per judge)
•
•
•
•
Stage presence
Talent originality
Totality of all required facets (costume, prop(s), voice, choreography and use of body)
Overall performance
EVENING GOWN (Maximum of 20 points per judge)
•
•
•
Overall first impression (style of gown, movement and compliment)
Sense of confidence and attractiveness (hair, make-up, accessories)
Stage presence (poise, grace and style)
QUESTION AND RESPONSE (Maximum of 10 points per judge)
•
•
Personal response is in context to the question and with correct speech and grammar
Displays emotional control
TIEBREAKER (If needed)
•
In the event of a tie between the final scores of two or more contestants, an additional
question from The Question and Response category will be asked.
MISS BEAUTIFUL BUTTERFLY PAGEANT APPLICATION &
BIOGRAPHICAL FORM
Please type or print legibly.
Complete Birth Name
Local Address
City
State
Zip Code
State
Zip Code
Permanent Address
City
Phone
Age
E-mail
Birth Date
Birthplace
Emergency Contact
Relationship to You
Phone
Education
High School Name
Location
Current GPA _____
Graduation_
Philosophy on Life
Attach additional pages if necessary.
Clubs and Organizations
Attach additional pages if necessary.
Hobbies and Interests
Attach additional pages if necessary.
Specify Talent Routine
Attach additional pages if necessary.
Personal Biography
Attach additional pages if necessary.