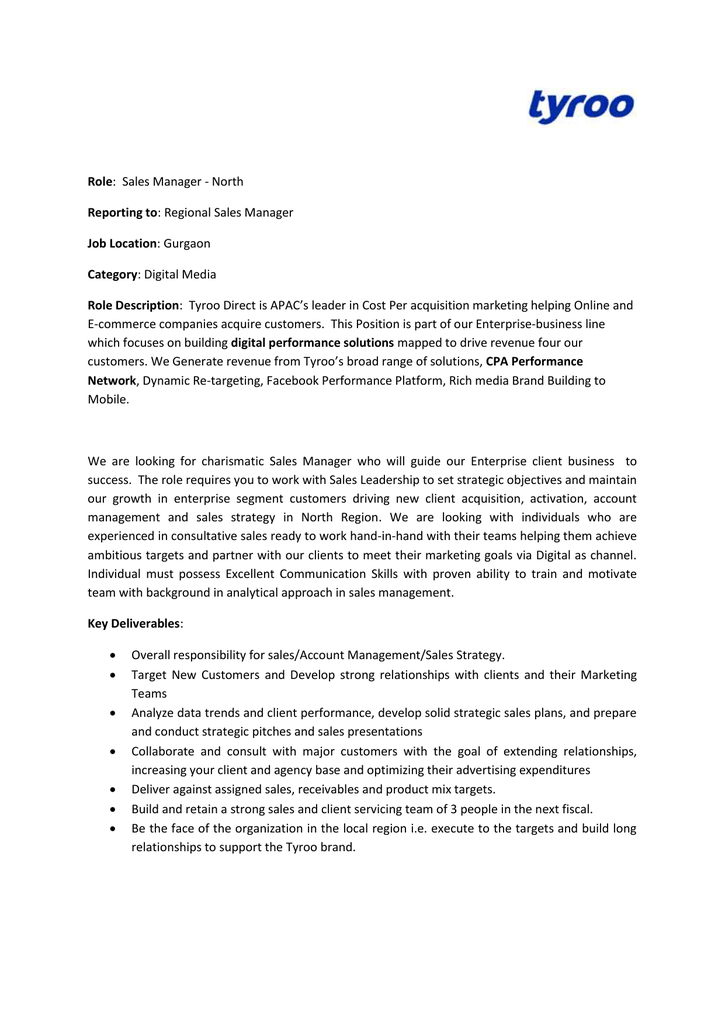 Role: Sales Manager - North
Reporting to: Regional Sales Manager
Job Location: Gurgaon
Category: Digital Media
Role Description: Tyroo Direct is APAC's leader in Cost Per acquisition marketing helping Online and
E-commerce companies acquire customers. This Position is part of our Enterprise-business line
which focuses on building digital performance solutions mapped to drive revenue four our
customers. We Generate revenue from Tyroo's broad range of solutions, CPA Performance
Network, Dynamic Re-targeting, Facebook Performance Platform, Rich media Brand Building to
Mobile.
We are looking for charismatic Sales Manager who will guide our Enterprise client business to
success. The role requires you to work with Sales Leadership to set strategic objectives and maintain
our growth in enterprise segment customers driving new client acquisition, activation, account
management and sales strategy in North Region. We are looking with individuals who are
experienced in consultative sales ready to work hand-in-hand with their teams helping them achieve
ambitious targets and partner with our clients to meet their marketing goals via Digital as channel.
Individual must possess Excellent Communication Skills with proven ability to train and motivate
team with background in analytical approach in sales management.
Key Deliverables:







Overall responsibility for sales/Account Management/Sales Strategy.
Target New Customers and Develop strong relationships with clients and their Marketing
Teams
Analyze data trends and client performance, develop solid strategic sales plans, and prepare
and conduct strategic pitches and sales presentations
Collaborate and consult with major customers with the goal of extending relationships,
increasing your client and agency base and optimizing their advertising expenditures
Deliver against assigned sales, receivables and product mix targets.
Build and retain a strong sales and client servicing team of 3 people in the next fiscal.
Be the face of the organization in the local region i.e. execute to the targets and build long
relationships to support the Tyroo brand.
Education:

MBA preferred
Profile:






5+ years of overall working experience and 3+ years in online media sales
Should have handled a team of sales executives
Excellent verbal + written skills to effectively communicate with various stakeholders
Excellent analytical skills to interpret data and other technical information, solve problems,
evaluate systems, and create solutions
Ability to handle ambiguity and multi-task effectively
Strong working knowledge of Microsoft Word, Excel and PowerPoint
What is Tyroo Media?
Tyroo Media -Tyroo was started in 2007 and is India's leading digital media company that reaches
over 20 Mn unique users in the country representing over 50% reach of India Internet.
It is represented by its businesses Tyroo Direct and Tyroo Audience. Tyroo Direct is the leader
In Digital performance media. It works with almost all major ecommerce and Internet based
Businesses in India to drive results using its performance network of over 1000 publishers and
dynamic Re-targeting on display.
Tyroo Audience is a leader in digital rich media display advertising. It works with major digital
Advertising brands and agencies.
Tyroo has worked with over 400 unique brands and 1800 campaigns.
Tyroo is headquartered in Gurgaon and have offices in Mumbai, Bangalore.