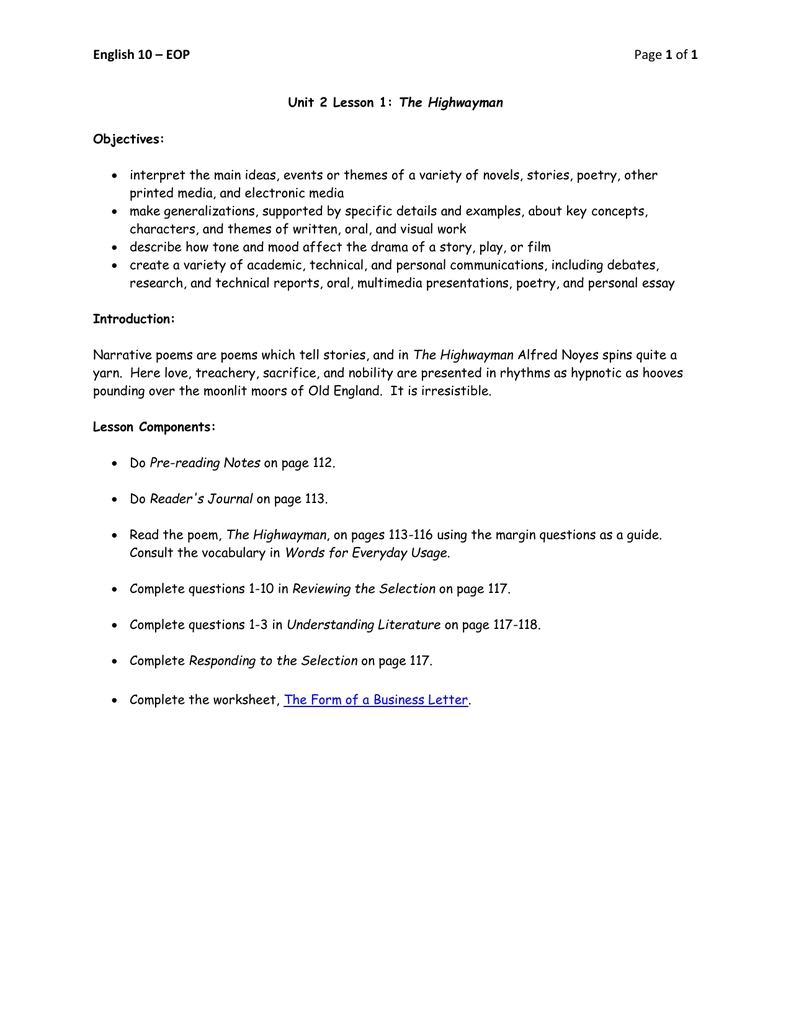 English 10 – EOP
Page 1 of 1
Unit 2 Lesson 1: The Highwayman
Objectives:
 interpret the main ideas, events or themes of a variety of novels, stories, poetry, other
printed media, and electronic media
 make generalizations, supported by specific details and examples, about key concepts,
characters, and themes of written, oral, and visual work
 describe how tone and mood affect the drama of a story, play, or film
 create a variety of academic, technical, and personal communications, including debates,
research, and technical reports, oral, multimedia presentations, poetry, and personal essay
Introduction:
Narrative poems are poems which tell stories, and in The Highwayman Alfred Noyes spins quite a
yarn. Here love, treachery, sacrifice, and nobility are presented in rhythms as hypnotic as hooves
pounding over the moonlit moors of Old England. It is irresistible.
Lesson Components:
 Do Pre-reading Notes on page 112.
 Do Reader's Journal on page 113.
 Read the poem, The Highwayman, on pages 113-116 using the margin questions as a guide.
Consult the vocabulary in Words for Everyday Usage.
 Complete questions 1-10 in Reviewing the Selection on page 117.
 Complete questions 1-3 in Understanding Literature on page 117-118.
 Complete Responding to the Selection on page 117.
 Complete the worksheet, The Form of a Business Letter.