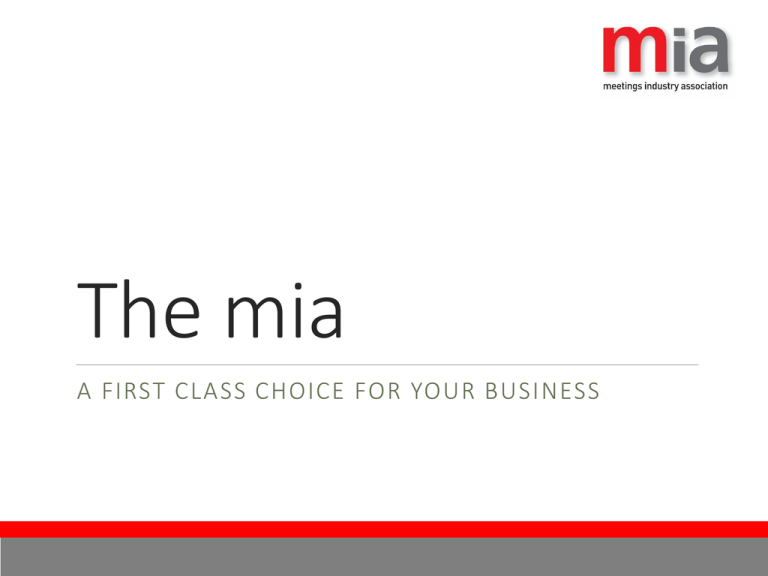 The mia
A FIRST CLASS CHOICE FOR YOUR BUSINESS
Who we are and what we do
• The association for organisations in the meetings, conference and events
sector
• Created and led by the industry
• With a Board and Council of elected members
• Supported by a professional secretariat
• Operating as a not-for-profit
• Remit to share industry intelligence, best practice and raise standards
• Committed to delivering education, networking and business opportunities
• The creators, owners and keepers of AIM, the industry's accreditation
scheme
• Delivering tangible benefits
Our members
530 accredited members
Representing every sector:
• Hotel groups
• Independent hotels
• Historic venues
• Educational establishments
• Institutes
• Sporting venues
• Conference centres
• Booking agents
• Online lead generators
• Destinations
• AV suppliers
AIM
Features of the AIM Scheme:
• Identifies quality and professionalism
• Provides a third party assurance to buyers
• Offers continuous improvement through a three level scheme:
• AIM Entry Level
• AIM Silver
• AIM Gold
• It's a commitment to service excellence
• All members of the mia are accredited with AIM
at entry level
What does AIM mean for customers?
It means:
 doing business with venues and suppliers that care and have integrity
events and meetings where commitment to service excellence is paramount
hosting an event where the facilities and event spaces are fit for purpose and
operated at the highest standard
accountability through an ethical code of conduct
knowing every element of costs in advance
industry-approved contracts and terms and conditions
doing business with credible, legally compliant venues and suppliers
standardisation of best practice
procurement boxes ticked
stress free venue and supplier selection
total peace of mind
AIM Expert for Agents
Recognition that a booking agent has:
Appointed an AIM Champion
Included AIM awareness training in staff induction
Included AIM in RFP and enquiry processes
And can:
 Talk knowledgably to their corporate clients about AIM
Benefits of being an mia member
Traditional support
• Industry advice
• Business support
• Documents library
• Lobbying
Tangible benefits
• Research
• Accreditation
• Promotional tools
• Networking
• Learning & development
•
•
•
•
•
•
•
•
•
•
Monthly benchmarking
Reviews rate and demand
Compares regionally and nationally
Compares by type and size
An invaluable business planning tool
Accessed through your own secure portal
Free of charge to participating venue members
Free of charge report each quarter provided to suppliers
£600 per annum to non participating venue members
£1200 per annum to non members – participation essential
Educational events
• Workshops and training
- Enhancing your brand
- Venue contracts workshop
- Show rounds to conversions
- Selling the wedding dream
• Seminars with guest speakers
- Social media
- AIM Expert for venues
- Smarter procurement
Peer group networking
Business breakfast masterclasses covering topics such as:
- Industry research
- Social media
- Branding
Leaders lunches with guest speakers
- Strategic thinkers
- Financial gurus
- Futurists
Annual events
miaHub
• Dozens of 'dip in' workshops
• Networking with peers and customers.
miaList
• The event of the year
• Recognising excellence in individuals and teams
Events with extra opportunities
Agent Connect Days
• Relaxed networking with booking agents
• Relationship building
• Informative and fun
Agent Hosted Dinners
• Business dinners with a purpose
• Networking with agents
• Learn about your customers
• An evening of opportunity
Exhibitions
Live marketing and stand sharing opportunities at
national events including:
• International Confex
• The Meetings Show UK
• Office*
Exhibitions – Confex Offer
As an MIA member achieve a 15% discount at Confex 2016
Terms:
• To receive the discount you must clearly display the
AIM brand on your stand.
• The discount will be applied retrospectively
for exhibitors already booked at rate card price.
Discount on a stand priced at £5000 =£750
Average price of MIA membership £650!
Promotional tools – AIM website
A resource for buyers which
includes:
• Detailed venue search powered
by VenueDirectory.com
• Featured venues
• Banner advertising
• Special offers and news
• Jobs in events
Promotional tools -Eshots
Opportunities to send
emarketing material to
the mia database of
>5000 corporate,
agency and
government buyers
PR opportunities
Regular articles and features in relevant press reaching
- Executive PA's
- Professional trainers
- Professional conference and event organisers
- Government buyers
Directory of accredited members in two formats
- Digital
- DL pocket size exhibition give away
Social media
Members website
The place to go for all of your membership
information including:
 Events calendar
 Documents Library
 Association news
 Industry news
 AIM updates
 Marketing opportunities
Members newsletter
Monthly newsletter 'Meeting Minutes' delivered to your desk:
• Updates
• Industry news
• Industry Campaigns
• Exhibition news
• People news
• Jobs news
For more information on membership benefits
available telephone 0845 230 550 and speak to any
of the mia team.