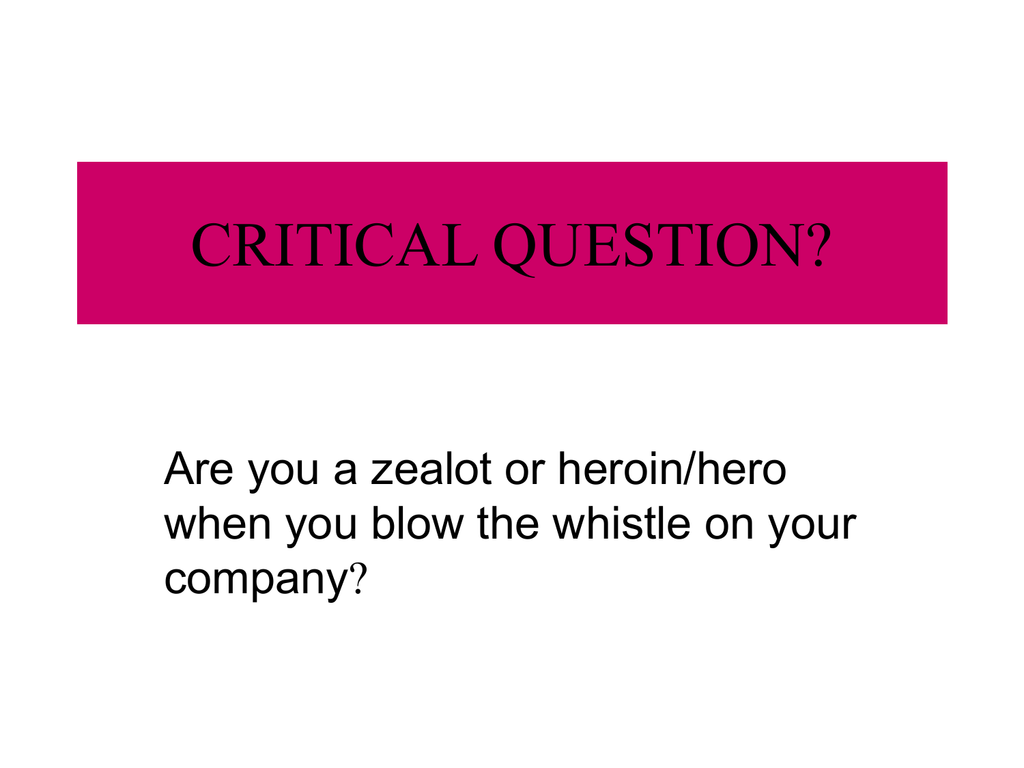 CRITICAL QUESTION?
Are you a zealot or heroin/hero
when you blow the whistle on your
company?
Whistle Blowing and Professional
Responsibility
Sissela Bok
• High stakes for Individual
– Reassignment, legal
costs, downgrades at
work, work with
responsibility,
constructive
harassment, starting
over
– Organization
• Mutual Suspicion,
hiding behind
executive privilege or
national security
• QUESTIONS TO BE ANSWERED
– Level of harm to public (imminent threat tied to
accused)?
– Level of loyalty to firm and other employees?
– How will action be perceived (disgruntled
worker, financial gain - book deal)?
– How accurate is the information?
– Am I acting out of religious or dogmatic
positions?
– Am I articulate enough to create a following?
– Are the issues legitimately private?
CRITICAL QUESTION?
Do you own your job?
Employment at Will and Due Process
Werhane and Radin
• "Employment at Will
– an employee may quit
their job for any reason
or no reason and the
employer may terminate
an employee for any
reason or no reason
that does not violate
the law.
WORK AND WORKERS
• Union Workers
– Pay for protections through wage concessions
• Public Workers
– Protected by law from political terminations
• Private Employees/Due Process
– A procedure including a hearing of facts, trial,
grievance procedure, or appeal of a work
related decision.
– When cases involved just cause for termination
or violation of public interests employees won
67% of cases
ARGUMENTS
• Support
– Property rights of
employer to make a
profit
– Both parties free to
quit
– Taking a job implies
termination at will
– Further government
involvement will harm
business
• Against
– Line between public and
private worker is
blurring
– Public has a right to
have stable employment
– Due process is a moral
imperative if
organizations are
allowed into a society
In Defense of the Contract at Will
Doctrine
Richard A. Epstein
• FAIRNESS
– Freedom to Contract is an aspect of personal
liberty
– It favors utility in that it allows for adjustments
without litigation
• DISTRIBUTION
– Allows for the free exchange of labor. Only
people strongly in favor are lawyers and
interests groups who administer the new laws
TEST TWO
PAGES 159 - 323
Employment Security
Rosabeth Moss Kanter
• Clash between job-tenure ideal in the past
and job-insecurity realities of 2000.
• How realistic is Kanter's New Policy
– Page 323-324.