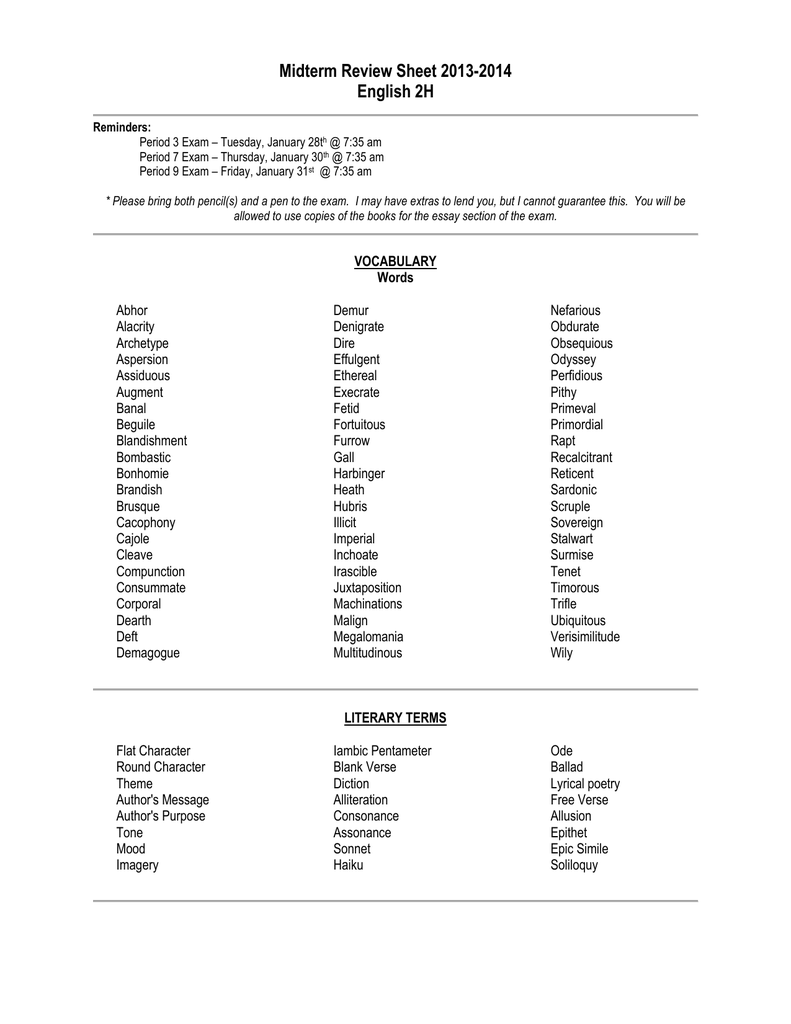 Midterm Review Sheet 2013-2014
English 2H
Reminders:
Period 3 Exam – Tuesday, January 28th @ 7:35 am
Period 7 Exam – Thursday, January 30th @ 7:35 am
Period 9 Exam – Friday, January 31st @ 7:35 am
* Please bring both pencil(s) and a pen to the exam. I may have extras to lend you, but I cannot guarantee this. You will be
allowed to use copies of the books for the essay section of the exam.
VOCABULARY
Words
Abhor
Alacrity
Archetype
Aspersion
Assiduous
Augment
Banal
Beguile
Blandishment
Bombastic
Bonhomie
Brandish
Brusque
Cacophony
Cajole
Cleave
Compunction
Consummate
Corporal
Dearth
Deft
Demagogue
Demur
Denigrate
Dire
Effulgent
Ethereal
Execrate
Fetid
Fortuitous
Furrow
Gall
Harbinger
Heath
Hubris
Illicit
Imperial
Inchoate
Irascible
Juxtaposition
Machinations
Malign
Megalomania
Multitudinous
Nefarious
Obdurate
Obsequious
Odyssey
Perfidious
Pithy
Primeval
Primordial
Rapt
Recalcitrant
Reticent
Sardonic
Scruple
Sovereign
Stalwart
Surmise
Tenet
Timorous
Trifle
Ubiquitous
Verisimilitude
Wily
LITERARY TERMS
Flat Character
Round Character
Theme
Author's Message
Author's Purpose
Tone
Mood
Imagery
Iambic Pentameter
Blank Verse
Diction
Alliteration
Consonance
Assonance
Sonnet
Haiku
Ode
Ballad
Lyrical poetry
Free Verse
Allusion
Epithet
Epic Simile
Soliloquy
WRITING SKILLS



Proper direct and extended citation formatting
Parenthetical citation format
Works Cited formatting
POETRY UNIT



Identify literary terms in a poem
Reading comprehension questions on given poems
Read and respond to open ended questions about big ideas and themes in poetry
THE ODYSSEY


Reading section – answer reading comprehension questions
Comparative section – compare section(s) of the Odyssey to other passages
MACBETH

Reading passages – answer comprehension questions and possibly short answer questions.
ESSAY SECTION
You will be required to write at least one complete essay.