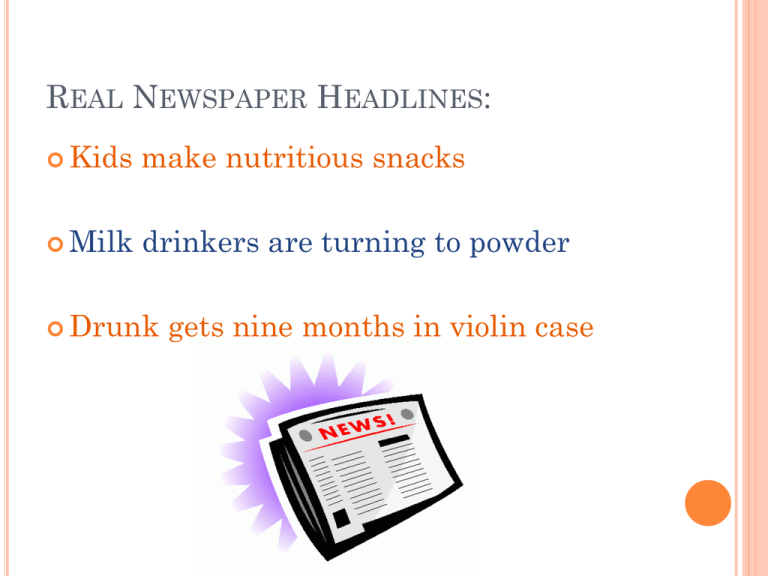 REAL NEWSPAPER HEADLINES:
 Kids
make nutritious snacks
 Milk
drinkers are turning to powder
 Drunk
gets nine months in violin case
AMBIGUOUS WORDS AND PHRASES!
IMAGES AND DETAILS ARE POWERFUL, DO
NOT WEAKEN THEM!
Use
active voice where
possible and appropriate
More is not always better.
INCOMPLETE COMPARISON

Helium is a lighter
gas.
Lighter than what?

Helium is a lighter
gas than oxygen.
INDEFINITE REFERENCE
 The
waiter messed up the order
and he didn't care.
 Is the "he" talking about the waiter
or a male patron?
DEADWOOD
 Has
space in a sentence, but
does not add to the meaning.
 I must tell you that, according to
a lot of research, lack of sleep
and proper diet contribute to an
unhealthy lifestyle.
FLOWERY LANGUAGE
 The
gorgeous beauty of the
Great Barrier Reef is
fantastically displayed in
color formations in its
wonderful, wide variety of
fish.
JARGON

Lexicon/phrases used
in a certain profession
or group of people.
Differentiation in the
classroom is essential.
Is equal to:
 Catering to abilities of
each student in a
classroom is essential.


Computers: IM, hard
drive, Mac/ PC
REDUNDANCY AND CLICHES
Red in color
 Close proximity
 Enter into
 Repeat again

Put your best foot
forward!
 Think outside the box!
 Cross that bridge when
we come to it.

OVERUSED!
Very, quiet, loud,
happy, things ,stuff,
everything, ect.