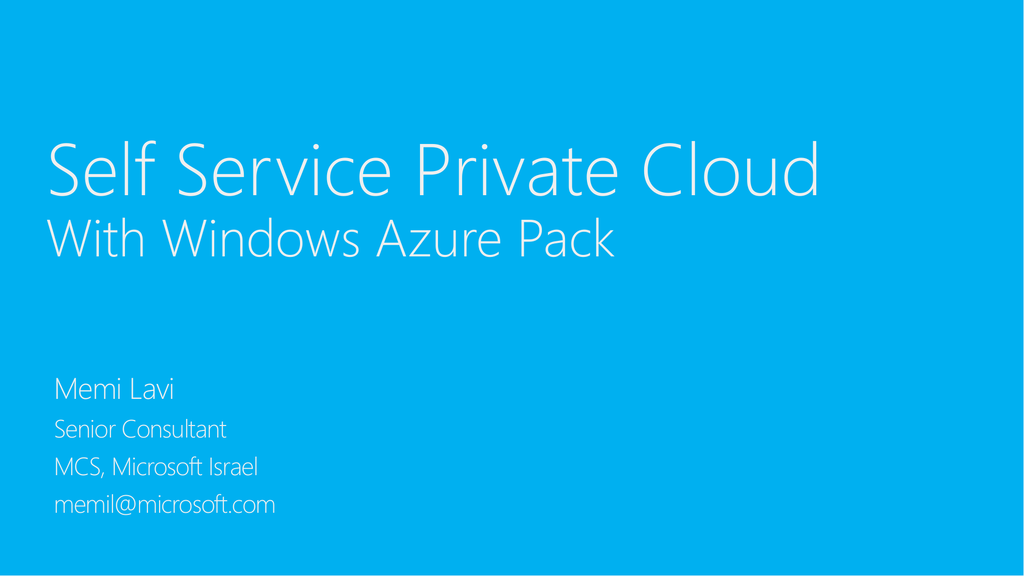 Self Service Private Cloud
With Windows Azure Pack
Memi Lavi
Senior Consultant
MCS, Microsoft Israel
[email protected]
A consistent service model amongst Windows Server, System
Center and Windows Azure for composing, deploying and
scaling virtualized applications and workloads
Portal user
experience
Deployment
artifacts
Management
APIs
On-premises,
hosted clouds,
Windows
Azure
Consistent experiences across the Cloud OS
ON-PREMISES
1
CONSISTENT
PLATFORM
MICROSOFT
SERVICE PROVIDER
WEB SITES
VIRTUAL
MACHINES
SERVICE BUS
SERVICE MGMT
PORTAL & API
Web Application PaaS
IaaS - Elastic Tiers
Reliable Messaging
Azure Consistent
Highly Scalable
Virtual Networks
Standards Based
Federated Identities
Dev-ops optimized
Window and Linux
Cross Cloud
Active Directory
Integrated SCC
Gallery of apps
Fully self-service
Standards Based
Fully self-service
Fully self-service
Device Friendly
15
Finished Services
Service Management Portal
Service Management API
Web Sites
Controller
(Web farm framework)
Web Farm
High density and
Front-end/Workers
scalable
(Application Request Routing/Dynamic
Windows Process Activation Service )
Easy deployment and
administration
Windows Server
Fully self-service
Web Sites
Virtual Machines
Service Bus
Service Provider Foundation API
Gateway
Offer Center
preconfigured
System
ReliableBroker
Messaging
Message
Service
workloads
(Virtual Machine Manager Component)
Windows and Linux
Standards based
Windows Server
Fully self-service
Windows
Server
Virtual Machines
Service Bus
Fully self-service
Cloud OS Consistent Experiences
Windows Azure
Web Sites
Apps
Database
VMs
Customer
Subscriber
Self-Service
Portal
Self Service Portal
Moves On-Premises
Service
Plans
Users
Provider
Portal
Service Provider
Web Sites
Apps
Database
VMs
Consumer
Self-Service
Portal
Common Mgt.
Experience
Worker
Role
Web
Sites
VMs
SQL
Other
Service
Caching Services
CDN.
Bus
Media,, etc.
Cloud-Enabled Services
Move On-Premises
Web
Sites
VMs
SQL
Service
Bus
Future
Services
R2 w/ Service Provider Foundation
Workloads
R2
Consistent Dev.
Experience
Service Consumers
Service Providers
Consume infrastructure and apps
from service providers as "off the shelf" solutions
Offer and administer services
that are provided to customers
self-service administration
extreme focus on cost
acquire capacity on demand
maximize per-customer profit
empowered operations
hardware efficiency
predictable costs
automate everything
get up & running quickly
differentiate on SLAs
Cloud Offerings for Service
Consumers
Web Sites
Build highly scalable web applications
Iterate with integrated source control
Manage your app with real-time
telemetry
Scale up with one click
Support for .Net, Node.js, PHP, Python
Support for TFS, GitHub,
BitBucket, DropBox
Service Bus
Messaging service for cloud apps
Guaranteed message delivery
Publish-subscribe messaging patterns
Standard protocols (REST, AMQP, WS*)
Interoperability (.NET, Java/JMS, C/C++)
Now integrated with management portal
Virtual Machines
Windows Azure-consistent IaaS
- User Experience & API
Virtual Machine Roles
- Portable
- Elastic
- Gallery
- Windows and Linux Support
Virtual Networks
- Site to Site connectivity
- Tenant supplied IP addresses
Additional Services
Identity
- Active Directory
- ADFS Federation
- Co-administrators
Database Services
- SQL Server
- MySQL
Custom services from provider
Programmatic access to cloud services
- Windows Azure Consistent REST APIs
Enabling Service Providers
Administration
Offer Services to Tenants via
Plans
Provide Add-ons to
subscriptions
Manage subscriptions
Administer Services
Extend and customize
Automation
Optimize and extend services
using runbooks
Powershell workflows
Web-based runbook authoring
Manage runbooks and jobs
Integrates with other systems
including System Center
Usage and Reporting
Continuous usage metering
per tenant subscription
Per-subscription Billing APIs
IaaS Data Warehouse
Server Inventory Reports
Windows Azure Pack
Demo
Summary
Azure Pack offers an Azure-like user experience for Private
Cloud
Supports IaaS, PaaS, Service Bus, DB as a Service
Will support more and more features from Azure
Supports non-MS technologies (PHP, Linux)
Builds on Windows Server 2012R2, System Center 2012R2
Is FREE!
Q&A
©2013 Microsoft Corporation. All rights reserved. Microsoft, Windows, Office, Azure, System Center, Dynamics and other product names are or may be registered trademarks and/or
trademarks in the U.S. and/or other countries. The information herein is for informational purposes only and represents the current view of Microsoft Corporation as of the date of this
presentation. Because Microsoft must respond to changing market conditions, it should not be interpreted to be a commitment on the part of Microsoft, and Microsoft cannot guarantee
the accuracy of any information provided after the date of this presentation. MICROSOFT MAKES NO WARRANTIES, EXPRESS, IMPLIED OR STATUTORY, AS TO THE INFORMATION IN
THIS PRESENTATION.