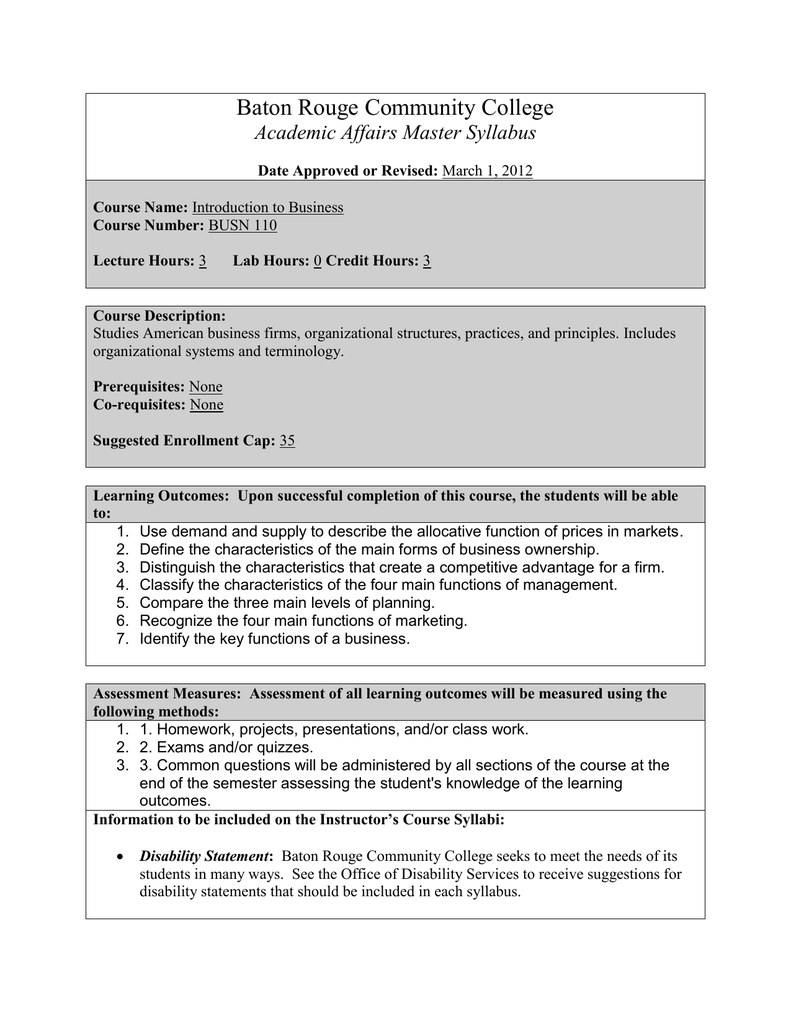 Baton Rouge Community College
Academic Affairs Master Syllabus
Date Approved or Revised: March 1, 2012
Course Name: Introduction to Business
Course Number: BUSN 110
Lecture Hours: 3
Lab Hours: 0 Credit Hours: 3
Course Description:
Studies American business firms, organizational structures, practices, and principles. Includes
organizational systems and terminology.
Prerequisites: None
Co-requisites: None
Suggested Enrollment Cap: 35
Learning Outcomes: Upon successful completion of this course, the students will be able
to:
1. Use demand and supply to describe the allocative function of prices in markets.
2. Define the characteristics of the main forms of business ownership.
3. Distinguish the characteristics that create a competitive advantage for a firm.
4. Classify the characteristics of the four main functions of management.
5. Compare the three main levels of planning.
6. Recognize the four main functions of marketing.
7. Identify the key functions of a business.
Assessment Measures: Assessment of all learning outcomes will be measured using the
following methods:
1. 1. Homework, projects, presentations, and/or class work.
2. 2. Exams and/or quizzes.
3. 3. Common questions will be administered by all sections of the course at the
end of the semester assessing the student's knowledge of the learning
outcomes.
Information to be included on the Instructor's Course Syllabi:

Disability Statement: Baton Rouge Community College seeks to meet the needs of its
students in many ways. See the Office of Disability Services to receive suggestions for
disability statements that should be included in each syllabus.

Grading: The College grading policy should be included in the course syllabus. Any
special practices should also go here. This should include the instructor's and/or the
department's policy for make-up work. For example in a speech course, "Speeches not
given on due date will receive no grade higher than a sixty" or "Make-up work will not
be accepted after the last day of class."

Attendance Policy: Include the overall attendance policy of the college. Instructors may
want to add additional information in individual syllabi to meet the needs of their
courses.

General Policies: Instructors' policy on the use of things such as beepers and cell phones
and/or hand held programmable calculators should be covered in this section.

Cheating and Plagiarism: This must be included in all syllabi and should include the
penalties for incidents in a given class. Students should have a clear idea of what
constitutes cheating in a given course.

Safety Concerns: In some programs this may be a major issue. For example, "No
student will be allowed in the safety lab without safety glasses." General statements such
as, "Items that may be harmful to one's self or others should not be brought to class."

Library/ Learning Resources: Since the development of the total person is part of our
mission, assignments in the library and/or the Learning Resources Center should be
included to assist students in enhancing skills and in using resources. Students should be
encouraged to use the library for reading enjoyment as part of lifelong learning.
Expanded Course Outline:
I: THE BUSINESS ENVIRONMENT.
A. Business Now: Change is the Only Constant.
B. Economics: The Framework for Business.
C. The World Marketplace: Business without Borders.
D. Business Ethics and Social Responsibility: Doing Well by Doing Good.
E. Business Communication: Creating and Delivering Messages that Matter.
II: CREATING A BUSINESS.
A. Business Formation: Choosing the Form that Fits.
B. Small Business and Entrepreneurship: Economic Rocket Fuel.
III: FINANCING A BUSINESS.
A. Accounting: Decision Making By the Numbers.
B. Finance: Acquiring and Using Funds to Maximize Value.
C. Financial Markets: Allocating Financial Resources
IV: MARKETING A BUSINESS.
A. Marketing: Building Profitable Customer Connections.
B. Product and Promotion: Creating and Communicating Value.
C. Distribution and Pricing: Right Product, Right Person, Right Place, Right Price.
V: MANAGING A BUSINESS.
A. Management Motivation and Leadership: Bringing Business to Life.
B. Human Resource Management: Building a Top-Quality Workforce.
C. Managing Information and Technology: Finding New Ways to Learn and Link.
D. Operations Management: Putting it All Together.