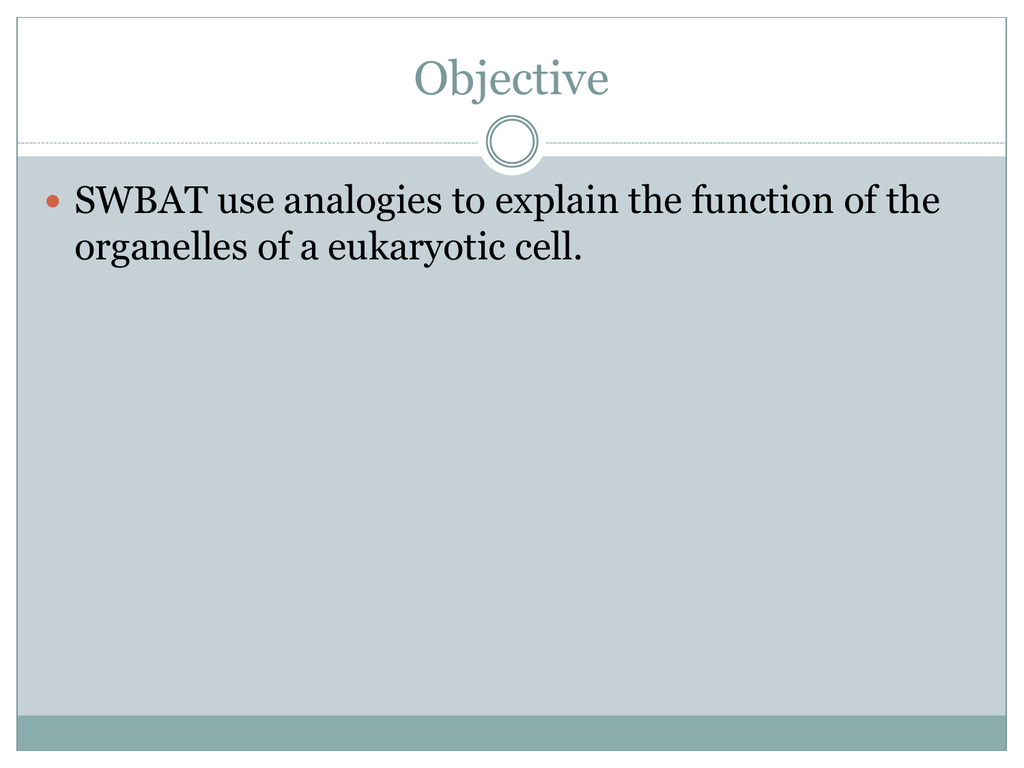 Objective
 SWBAT use analogies to explain the function of the
organelles of a eukaryotic cell.
DO NOW: WHAT DOES DISNEY LAND NEED TO FUNCTION?
"Where Dreams Come
True"
What Does DisneyLand need to Work?
 energy
 protective barrier
 information center
 waste removal
 transport throughout
Eukaryotic Cells:
Animals and Plants
UNIT 1: CELL BIOLOGY
Cells Rap Video
 http://www.youtube.com/watch?v=-zafJKbMPA8
Who has Eukaryotic cells?
 Animals
 Plants
 Fungi
Cell Organelles – Structure and Function
 Each cell is made up of different parts called
organelles.
 Each organelle has a specific job to do and
all the organelles work together like a city to
get their job done.
Cell membrane
 Responsible for the movement of substances
into and out of the cell
Eukaryotic Cell
CELL MEMBRANE
(aka Plasma membrane)
Cytoplasm
 Fluid-like environment that all of the organelles float
in
Eukaryotic Cell
cytoplasm
Cytoplasm
Eukaryotic Cell
Nucleus
 the Control center for the cell
 Contains DNA
 STUDENT VOLUNTEER TO BE THE NUCLEUS…
Ribosomes
 Ribosomes make proteins!!
STUDENT VOLUNTEER TO BE A RIBOSOME …..
ENDOPLASMIC RETICULUM
STUDENT VOLUNTEER TO TRAVEL THROUGH THE ER …
Endoplasmic Reticulum
 The endoplasmic reticulum is made up of channels
that transport things through the cell!
 THERE ARE TWO KINDS OF endoplasmic
reticulum (ER):
 - SMOOTH (no ribosomes!)
 - ROUGH (with ribosomes!)
Mitochondria
 The "Power House" of the cell
 Creates energy for the cell
Golgi Apparatus
 Modify, package and ship proteins –
 STUDENT VOLUNTEER TO BE THE GOLGI
APPARATUS?
LYSOSOMES
VOLUNTEER TO BE A
LYSOSOME?
Gets rid of the waste products of
the cell!!
Vacuole
 Space that holds food, water and other materials.
 FOUND IN PLANT CELLS!!!
Chloroplast
 Absorbs energy from the sun to make food (glucose)
USING WHAT PROCESS?!
Cell Wall
 Surrounding of the plant cell that is responsible for
support, structure, and protecting the cell
Animal Cells and Plant Cells are different!!!
 Even though plants and animals both have
eukaryotic cells, their cells are not exactly the same!
 The differences between plant and animal cells are
mostly caused by the different ways plants and
animals capture and breakdown energy.
Complete Exit Slips
 Movement/Voices: Silent and sitting still.
 Instructions: Answer the questions at the bottom
of your guided notes that say "exit slip."
 Materials: A lined piece of paper with the Valor
Heading
 Voices/Movement: silent and sitting still.
 Explain how the Organelles work together to
keep a cell alive (also include why this information
is important for keeping you alive!)
 Paragraph starter: A cell is kept alive because its
organelles (parts) work together. The cell
membrane helps the cell…
Cell Analogies: Discussion
 Movement/Voices: Sitting still, restaurant voices.
 Instructions: Create analogies for the organelles in
your grid by comparing them to city structures.
 FOR EXAMPLE: The nucleus controls the functions
of the cell, so it might be the GOVERNMENT or
CITY HALL.
Cell Brochures
 Materials: Cell Brochure Handout, Notes,
textbooks
 Voices/Movement: "restaurant" voices, sitting
still.
 Instructions: Fold a piece of paper into a brochure
format, and read the instructions on your handout!
3D Cell Project Introduction
 Materials: 3-D Cell Model Handout
 Voices/Movement: speaking only when called on,
sitting still
 Instructions: Read aloud project description and
go over rubric for grading.
3D Cell Project Introduction
 DUE DATE: THIS PROJECT IS DUE ON
THURSDAY, OCTOBER 3rd! WRITE THAT DOWN!
 THREE PARTS:
 1) FILL OUT ATTACHED GRID
 2) "LONG ANSWER": WRITE A PARAGRAPH
 3) 3D CELL MODEL ITSELF
 ** For extra credit, you can make a prokaryotic cell
model. See me for details!