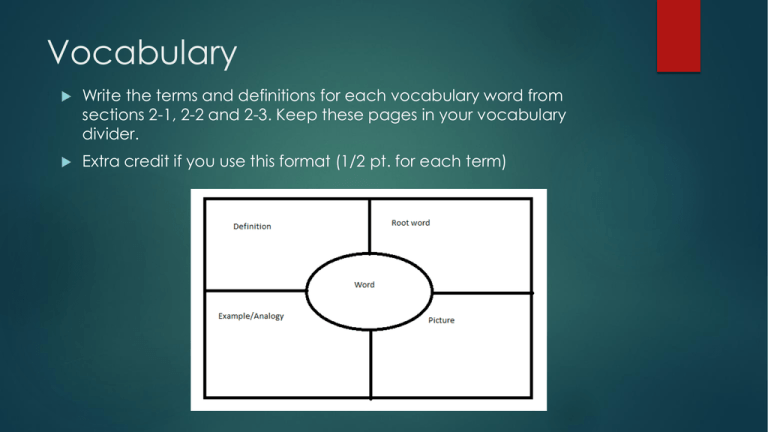 Vocabulary

Write the terms and definitions for each vocabulary word from
sections 2-1, 2-2 and 2-3. Keep these pages in your vocabulary
divider.

Extra credit if you use this format (1/2 pt. for each term)
Chapter 2
The Chemistry of Life
2-1: THE NATURE OF MATTER
Atoms

KeyC#1: What three
subatomic particles make up
atoms?

The subatomic particles that
make up atoms are protons,
neutrons and electrons.

Atom: basic unit of matter

Protons: (+) charge

Neutrons: no charge (neutral)

Electrons: (-) charge

How small is an atom??

http://ed.ted.com/lessons/justhow-small-is-an-atom

Sketch figure 2-1 in your lecture
notes.
Elements and Isotopes

What are elements?

Let's look at the periodic table of
elements. (Appendix G)



KeyC#2: How are all the isotopes
of an element similar?
Because they have the same
number of electrons, all isotopes of
an element have the same
chemical properties.

Facts to know about elements:

Atomic number = # of protons

Atomic mass = sum of protons &
neutrons

Isotopes differ in the number of
neutrons

Some isotopes are radioactive
Let's practice with some of the
elements…
Chemical Compounds
What is a chemical
compound?
 What are some examples
of chemical compounds?
 Physical and chemical
properties of a
compound are usually
very different from those
of the elements from
which it is formed. (i.e. Na
& Cl)

Chemical Bonds

What holds atoms together?

What is the key player in these
bonds?


KeyC#3: What are the two main
types of chemical bonds?

Ionic and covalent bonds

Ionic bonds: transfer of electrons

Covalent bonds: sharing of
electrons

Let's look at figures 2-3 & 2-4

What are molecules?

What does sharing electrons
mean?

Electrons will travel in both orbits

2 electrons = single bond

4 electrons = double bond
Van der Waals forces: oppositely
charged regions of molecules
attract each other (intermolecular
attraction)
Chapter 2
The Chemistry of Life
2-2 PROPERTIES OF WATER
The Water Molecule

How is water neutral?

Why are polar molecules attracted to
each other?

KeyC#1: Why are water molecules
polar?

What is the difference between
COHESION and ADHESION?

What are some examples of each?

http://ed.ted.com/lessons/how-polaritymakes-water-behave-strangelychristina-kleinberg#watch

Uneven distribution of electrons
between the hydrogen and oxygen
atoms.

Oxygen (-)

Hydrogen (+)

Let's draw!
Solutions and Suspensions

What is a mixture? Give me some
examples of mixtures.

Physically mixed, but not
chemically combined

Solution: solutes evenly distributed
throughout the solvent (i.e. salt
water)

Solute is diluted

Solvent is the disSOLVEr

Suspensions: materials that do not
dissolve but are suspended (i.e.
blood)
Acids, Bases, and pH

What is the range of the pH
scale?

What is an acid?


What is a base?


Substance with more H+ ions than
pure water. pH < 7
Substance with lower
concentrations of H+ than pure
water. pH > 7
What do buffers do?