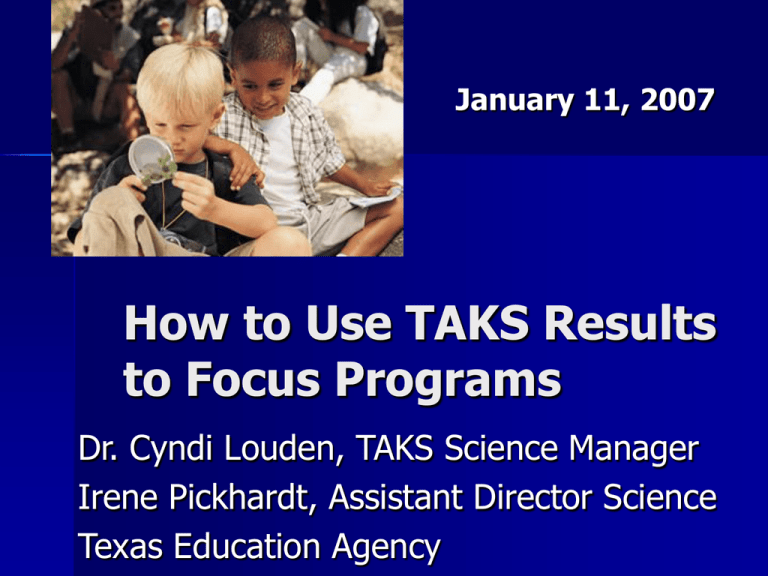 January 11, 2007
How to Use TAKS Results
to Focus Programs
Dr. Cyndi Louden, TAKS Science Manager
Irene Pickhardt, Assistant Director Science
Texas Education Agency
Why Look at TAKS
Results?
TAKS provides
information about
student knowledge of
the TEKS
A New Resource is
Available
Access is provided through the
Pearson Educational Measurement
Texas Assessment website located at
http://k12testing.tx.ncspearson.com/
Using this System


Select "Assessment Results"
Decide whether you want:
– Statewide
– Regional by the 20 ESC's
– District-wide
– By school (when interpreting data at the
school-level, be aware that numbers
under 5 students are 'masked'
Directions


Select "April TAKS 3-10 and Exit Level
(English) "
Select a subject and grade (e.g.
science is tested at Grades 5, 8, 10
and Exit Level at Grade 11).
Example: Let's select
Burnet MS in Austin ISD

P. 1 Select Phase In Report
– Look at how well "All Students" did at two
Standard Errors of Measurement (SEMS)
below the passing standard
– What percentage of students would have
met the standard at the Panel
Recommendation cut score?
– Compare the performance of males and
females
Summary Report All
Students-p.14


Examine how well students did in each
of the 5 objectives at Gr. 8 Science
If you have any questions about what
TEKS are included in each objective,
go to the TAKS Information Booklets
at
http://www.tea.state.tx.us/student.ass
essment/taks/booklets/index.html
Questions?


If you have any questions about
accessing the website or the reports,
please call Pearson Educational
Measurement's Austin Operations
Center at 800-252-9186 or
send an e-mail to
mailto:[email protected]
Let's look at the April 2006
Science TAKS Results for
Region XIII
What do these results tell us?

What do they not tell us?
Item Analysis Summary
Report 04/06

Which questions did the students have
the most difficulty with?
Your Task



Working in a group of 3-4,
Identify One (1) area of need in a school
or district you work with. For example,
reading comprehension at Gr. 3 is weak;
e.g. the Life Science objective at Grade 5
Science is an area of weakness.
Suggest one Resource or Workshop your
TEEAC program can offer to this school.
What are the
Implications?


There is a need for support with the earth
sciences.
Students and teachers needs to obtain
conceptual understanding more than the
factoids.
– This exact question will not show up again.
– But the concept of the processes and forces that
form the earth's surface probably will.
TEA's Assessment Page

http://www.tea.state.tx.us/student.assessme
nt/reporting/


Spending a little time here will inform you
of the challenges in your area.
Target your programs more accurately to
what students need.
Who to Contact:
Curriculum Division
512-463-9581
Chris Castillo-Comer
Director of Science
[email protected]
Assessment Division
Science Specialists:
512-463-9536
Dr. Cynthia Louden
[email protected]
Shannon Miller
[email protected]
Magda Wolk
[email protected]
Irene Pickhardt
Janine Samer
Assistant Director of Science
[email protected]
Robert Bingham
[email protected]
[email protected]
Copyright and Terms of Service Copyright © Texas Education Agency, 2002.
These materials are copyrighted © and trademarked ™ as the property of the Texas
Education Agency and may not be reproduced without the express written permission of
the Texas Education Agency, except under the following conditions:
1) Texas public school districts, charter schools, and Education Service Centers
may reproduce and use copies of the Materials and Related Materials for the
districts' and schools' educational use without obtaining permission from the Texas
Education Agency;
2) Residents of the state of Texas may reproduce and use copies of the Materials
and Related Materials for individual personal use only without obtaining written
permission of the Texas Education Agency;
3) Any portion reproduced must be reproduced in its entirety and remain unedited,
unaltered and unchanged in any way;
4) No monetary charge can be made for the reproduced materials or any document
containing them; however, a reasonable charge to cover only the cost of
reproduction and distribution may be charged.
Private entities or persons located in Texas that are not Texas public school districts or
Texas charter schools or any entity, whether public or private, educational or noneducational, located outside the state of Texas MUST obtain written approval from the
Texas Education Agency and will be required to enter into a license agreement that may
involve the payment of a licensing fee or a royalty fee. Contact TEA Copyrights with any
questions you may have.