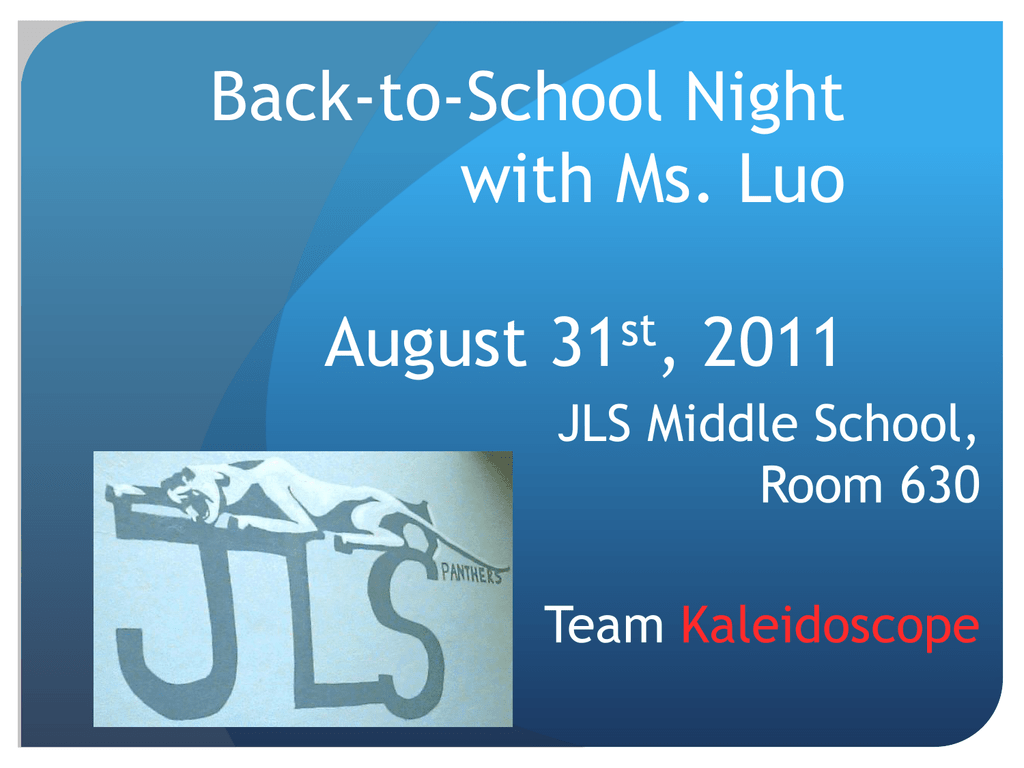 Back-to-School Night
with Ms. Luo
August
st
31 ,
2011
JLS Middle School,
Room 630
Team Kaleidoscope
A "Snapshot" of Ms. Luo
 Ms. Linda (Qin Qing) Luo
 A Bay area native (attended
Los Altos High School)
 Graduated from UC Davis
with a B.S. in Biochemistry
and Molecular Biology,
Minor in Communications
 Graduated from Stanford
with a M.A. in Education
and Single Subject teaching
credential
Contact information
Periods 1/2/3/5 (7th grade: Per. 7)
Email Address: [email protected] (24
hour policy)
Phone Number: 856-5152 (48 hour
policy)
Class Website: Schoology Course
page/ http:lqluo.wordpress.com
Course Overview
Year-long course with four major units:
 Nature of Science (Scientific Inquiry)
 Chemistry
 Physics
 Astronomy
Course Objectives
 Understanding the concepts covered by
state and district standards in each unit
 Developing scientific processing skills
 Promoting scientific literacy
 Based on 8th grade California Curriculum
Standards and PAUSD standards
Unit 1: What is Science?
Until Mid-Sept
 Science vs. Pseudoscience
 Scientific Method/Inquiry
 The Metric System
 Project: Independent Research
Project (IRP may lead to Science Fair
project during 2nd semester)
Unit 2: Chemistry
Mid Sept.-Dec.
 Properties of Matter
•The Periodic Table
 Physical & Chemical
Changes
•Elements & Compounds
 Atoms & Molecules
•Project: Element
history, facts and Atomic
T-Shirt
Unit 2: Physics
Jan.-Mid-April
 Linear Motion
 Newton's Laws of Motion
 Work and Power
 Forces
 Energy
 Current Event Presentations
ongoing
Unit 4: Astronomy
June
May-
 Stellar Bodies
 Star Cycles
 The Solar System
 Seasons
 Earth & its Moon
(Eclipses)
•Project: Invent an
Alien that could live
on a planet or moon
within our Solar
System
•Current Event
Presentations ongoing
Textbook & Homework
Textbook used:
Focus on Physical Science, Prentice Hall, 2008
Homework:
Usually begin or review it in class (~1-1.5 hours/week)
3 ways to find it:
1. Copied into Binder Reminder
2. W-2 form (beginning of the week)
3. Schoology website
Extension passes on daily homework and projects only.
Grading
•Grades break down to the following approximations: Tests and
Quizzes (60%), Projects(25%), Science Notebook/Homework (15%)
•Students and parents can check their grade progress online
through Infinite Campus
•Based on the following grading scale:
•A+= 100
A= 93-99
•B+ = 87-89 B= 83-86
•C+= 77-79 C= 73-76
•D+ = 67-69 D= 63-66
•Below 60= F
A-= 90-92
B-= 80-82
C-= 70-72
D- = 60-62
•Students will receive an invitation from teacher to discuss strategies to
improve academic performance when in the C- range
Thanks for coming!
Questions?