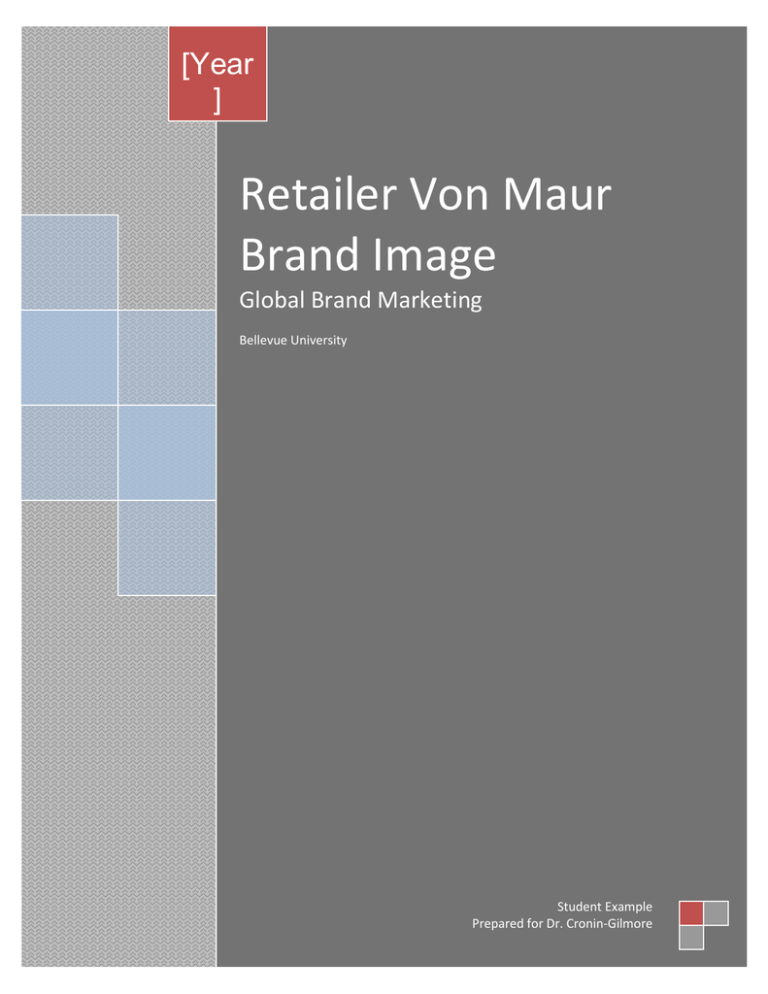 [Year
]
Retailer Von Maur
Brand Image
Global Brand Marketing
Bellevue University
Student Example
Prepared for Dr. Cronin-Gilmore
Introduction
Brands pay special attention to brand associations, as well as channel distribution
strategy because of the importance of these and other related elements to the brand itself. One
of these elements is which retailers a brand will allow (or not allow) its products to be
distributed. There are powerful associations between brands, products and retailers (Keller,
2008). For example, Wal-Mart is known for its low prices. Because of this association,
consumers may view specific brands and products sold at Wal-Mart to be lower quality than
certain department stores, or even its rival, Target. For this reason, some more expensive and
high end brands may not allow its products to be distributed at Wal-Mart and risk a lower quality
perception of the brand and associated products. Retailers, on the other hand, have brand
image strategies to help align the store with the brands and products offered. Important areas of
focus for retailers when it comes to brand image dimensions include access, store atmosphere,
price and promotion, cross-category assortment and within-category assortment (Keller, 2008).
This paper analyzes the in-store and online experience of retailer Von Maur in each of the
categories listed above. Von Maur is a higher-end retail store located throughout the Midwest.
Access
Von Maur store fronts are located within popular shopping malls in various Midwest
locations. The biggest locations include Omaha and the Chicago metro area. In addition,
consumers from around the country can access Von Maur's website to purchase most items
online. According to the text, the most important factors when considering access of a retail
location include the distance consumers must travel to get to the store, as well as the specific
location of the store (Keller, 2008). The Von Maur store visited in Cedar Falls, Iowa, is located
on one of the most popular streets in the city, University Avenue. It is located within the only
mall in the city. The mall also houses two popular restaurants in the city, Old Chicago and
HuHot. These two restaurants help draw consumers to the mall, especially during peak dining
hours where there might be a wait for a table. In this case, many consumers browse the mall
during the waiting period. As for Von Maur's specific location within the mall, the storefront is
centrally located and visible from the main entrance, which is where Old Chicago, HuHot and
the mall's food court are located. This area is the most popular area of the mall. In addition, Von
Maur offers its own back entrance for consumers that go to the mall specifically for the store and
that want to get a better parking spot than at the main entrance. In the Cedar Falls location, Von
Maur grants very good access to its customers. In addition, Von Maur sells most of its items
online, which is convenient for customers who do not want to venture out in order to purchase
items. Von Maur offers free shipping on every online order, so customers do not have to pay
more in order to shop online.
Store Atmosphere
Von Maur creates a unique in-store experience for its customers because of its store
atmosphere strategy. Store atmosphere strategy is important for a retail store's brand image
because a store that is more inviting, plays certain music, displays certain colors and isn't
crowded because displays and departments have ample space are more comfortable for
customers and create a sense of higher-quality items. This perception encourages customers to
stay longer, purchase more items and become a loyal customer to the store (Keller, 2008). Von
Maur's store atmosphere is very clean, designed and decorated for each season and includes a
grand piano with a paid pianist playing season-appropriate music. This atmosphere gives the
store high credibility and customers are more likely to have positive, high quality associations
with the Von Maur brand, as well as with brands distributed at Von Maur. In addition, the store
atmosphere makes it easy for customers to purchase items from multiple departments, browse
multiple departments in order to match an outfit to a pair of shoes, shop for the entire family and
even purchase items for the home. In addition, Von Maur has nice restroom suites and a large
customer service area to accommodate free gift shipping of in-store purchases, as well as free
gift wrapping. Lastly, the store atmosphere is inviting to families. The children's section includes
a table train set for children to play with, a television with children's programming and chairs for
both children and adults to sit. This atmosphere attracts children to want to shop with parents,
as well. All in all, the store atmosphere at Von Maur is inviting, easy to get around and even
convenient for families with small children. Because of the store's focus on customer services
that are above and beyond most retail stores, especially in Cedar Falls, Iowa, Von Maur enjoys
loyal customers who are willing to pay higher prices in order to enjoy the many conveniences
that the store offers.
Price and Promotion
Although Von Maur's regular prices tend to be higher than other retail stores, it offers
services that customers are drawn to. Price and promotion are important in a retailer's brand
image because a customer must be willing to pay for the extra amenities a store offers such as
free shipping, gift wrap, atmosphere and high quality perception (Keller, 2008). Otherwise, a
customer will simply price shop until he/she finds the lowest price. Because of the high quality
associated with the brands and products that Von Maur sells, the store's brand image is not one
of the lowest cost retailer. For the brands and products that Von Maur sells, the store is fairly
competitive, but it sells higher end brands such as Coach, Burberry, Seven for all Mankind and
Lacoste. Von Maur has a sale room for its shoes department, which offers high quality brands at
marked down prices. It also features a sales rack for every department of the store that
customers are drawn to. Customers feel good when he/she gets a high-end brand at a low-end
brand price. For this reason, Von Maur marks down the tags with a red marker, so the customer
can see the original retail price of the product. A very unique strategy that Von Maur executes in
the pricing and promotion category is an interest-free credit card. This makes shopping at Von
Maur for the high-end brands a reality for some customers who need to break payments up over
several months without paying outrageous interest rates and other fees. In addition, the card
does not come with a spending limit. A customer's monthly payment is a pre-determined
amount based on card balance. Balances over $1,500 require a monthly payment of one-fifth of
the card balance. For this reason, even customers that can afford to pay for a purchase in full
up front may opt to hold a Von Maur charge chard in order to maximize his/her individual cash
flow.
Cross-Category Assortment
Von Maur offers a variety of items for its customers within a defined set of departments.
A customer is not able to get every household or grocery item at the store, however in terms of
clothing, shoes, cosmetics and accessories, there are items for the entire family. In those areas,
Von Maur has its customers covered. The departments in the store include shoes, cosmetics,
jewelry, fragrances, menswear, women's wear, juniors, children, baby, intimate apparel,
accessories including sunglasses, handbags, hosiery, etc., coats, formal wear, gifts and home
items. For effective brand imaging, a retail store must offer an appropriate assortment of items
in different categories in order to best appeal to the target customer (Keller, 2008). Von Maur
does a nice job of offering a variety of categories for its customers that cover an entire family, as
well as gifts for holidays, birthdays and other special occasions.
Within-Category Assortment
As far as the assortment of items that Von Maur offers within each of the store's
departments, Von Maur also does a nice job of offering a variety of brands to give its customers
choices when shopping at the store. Von Maur offers high end brands in every department and
the brands differ according to which department a customer is shopping in. This is because of
the importance of offering the brands of choice for customers without offering an overwhelming
number of brands (Keller, 2008). This encourages customers to visit the store again and again
knowing he/she will always find the brands of choice in a particular category and in-season
items will be available when released. For example, Von Maur offers Coach, Burberry, Jessica
Simpson, Michael Kors and Juicy Couture hand bags. For children's clothing, however, it does
not offer Coach or Burberry, but it offers Nike, Puma, Ralph Lauren and Under Armour. The
same is the case for junior clothing vs. women's clothing. The junior's department offers the
latest, trendiest brands, while women's wear offers brands like Calvin Klein and other more
formal clothing brands. Von Maur knows its target customers well and the brands he/she is
looking for in each department. Its buying strategy reflects this knowledge and in return, loyal
customers are satisfied with the brands and products offered in each department.
Conclusion
Overall, Von Maur is very effective in its brand image dimension strategies, as the store
has a defined customer persona it is trying to attract. It also has secondary personas it attracts
through unique services such as free shipping, free gift wrapping and an interest-free charge
card. These strategies benefit the brands that are distributed and sold at Von Maur stores and
on the Von Maur website. High-end brands are in a place that customers perceive as higher end
and high quality. When marked down, customers feel awarded with a great price for a great
brand. Von Maur creates an atmosphere that feels like home for customers and children want to
go back because they also enjoy the store. It is not a jam-packed feel nor does the atmosphere
rush customers out. The value added services that Von Maur offers its customers make it truly
unique and the high service levels keep Von Maur customers very loyal.
References
Keller, K.L. (2008). Strategic Brand Management (3rd ed.). Upper Saddle River,
New Jersey: Pearson Education.