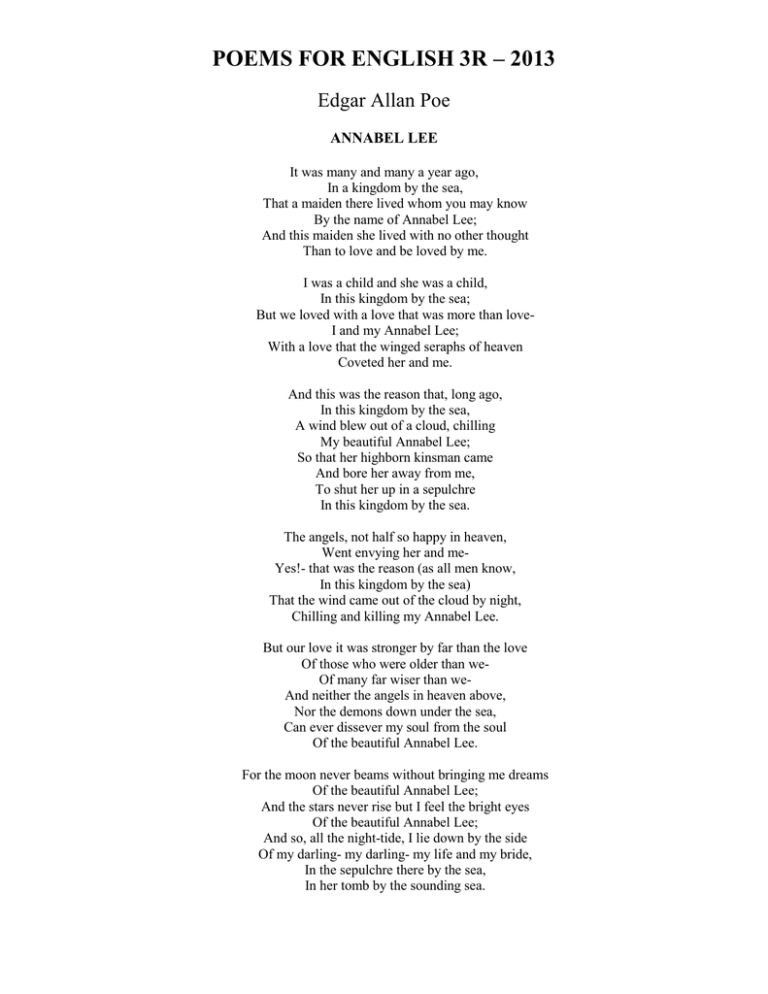 POEMS FOR ENGLISH 3R – 2013
Edgar Allan Poe
ANNABEL LEE
It was many and many a year ago,
In a kingdom by the sea,
That a maiden there lived whom you may know
By the name of Annabel Lee;
And this maiden she lived with no other thought
Than to love and be loved by me.
I was a child and she was a child,
In this kingdom by the sea;
But we loved with a love that was more than loveI and my Annabel Lee;
With a love that the winged seraphs of heaven
Coveted her and me.
And this was the reason that, long ago,
In this kingdom by the sea,
A wind blew out of a cloud, chilling
My beautiful Annabel Lee;
So that her highborn kinsman came
And bore her away from me,
To shut her up in a sepulchre
In this kingdom by the sea.
The angels, not half so happy in heaven,
Went envying her and meYes!- that was the reason (as all men know,
In this kingdom by the sea)
That the wind came out of the cloud by night,
Chilling and killing my Annabel Lee.
But our love it was stronger by far than the love
Of those who were older than weOf many far wiser than weAnd neither the angels in heaven above,
Nor the demons down under the sea,
Can ever dissever my soul from the soul
Of the beautiful Annabel Lee.
For the moon never beams without bringing me dreams
Of the beautiful Annabel Lee;
And the stars never rise but I feel the bright eyes
Of the beautiful Annabel Lee;
And so, all the night-tide, I lie down by the side
Of my darling- my darling- my life and my bride,
In the sepulchre there by the sea,
In her tomb by the sounding sea.
Robert Frost
STOPPING BY WOODS ON A SNOWY EVENING
Whose woods these are I think I know.
His house is in the village though;
He will not see me stopping here
To watch his woods fill up with snow.
My little horse must think it queer
To stop without a farmhouse near
Between the woods and frozen lake
The darkest evening of the year.
He gives his harness bells a shake
To ask if there is some mistake.
The only other sound's the sweep
Of easy wind and downy flake.
The woods are lovely, dark and deep.
But I have promises to keep,
And miles to go before I sleep,
And miles to go before I sleep.
THE ROAD NOT TAKEN
Two roads diverged in a yellow wood,
And sorry I could not travel both
And be one traveler, long I stood
And looked down one as far as I could
To where it bent in the undergrowth;
Then took the other, as just as fair,
And having perhaps the better claim,
Because it was grassy and wanted wear;
Though as for that the passing there
Had worn them really about the same,
And both that morning equally lay
In leaves no step had trodden black.
Oh, I kept the first for another day!
Yet knowing how way leads on to way,
I doubted if I should ever come back.
I shall be telling this with a sigh
Somewhere ages and ages hence:
Two roads diverged in a wood, and II took the one less traveled by,
And that has made all the difference.
Langston Hughes
MOTHER TO SON
Well, son, I'll tell you:
Life for me ain't been no crystal stair.
It's had tacks in it,
And splinters,
And boards torn up,
And places with no carpet on the floor -Bare.
But all the time
I'se been a-climbin' on,
And reachin' landin's,
And turnin' corners,
And sometimes goin' in the dark
Where there ain't been no light.
So boy, don't you turn back.
Don't you set down on the steps
'Cause you finds it's kinder hard.
Don't you fall now -For I'se still goin', honey,
I'se still climbin',
And life for me ain't been no crystal stair.
I, TOO, SING AMERICA
HARLEM
What happens to a dream deferred?
Does it dry up
like a raisin in the sun?
Or fester like a sore And then run?
Does it stink like rotten meat?
Or crust and sugar over like a syrupy sweet?
Maybe it just sags
like a heavy load.
Or does it explode?
I am the darker brother.
They send me to eat in the kitchen
When company comes,
But I laugh,
And eat well,
And grow strong.
Tomorrow,
I'll be at the table
When company comes.
Nobody'll dare
Say to me,
"Eat in the kitchen,"
Then.
Besides,
They'll see how beautiful I am
And be ashamed I, too, am America.
THEME FOR ENGLISH B
The instructor said,
Go home and write
a page tonight.
And let that page come out of you--Then, it will be true.
I wonder if it's that simple?
I am twenty-two, colored, born in Winston-Salem.
I went to school there, then Durham, then here
to this college on the hill above Harlem.
I am the only colored student in my class.
The steps from the hill lead down into Harlem
through a park, then I cross St. Nicholas,
Eighth Avenue, Seventh, and I come to the Y,
the Harlem Branch Y, where I take the elevator
up to my room, sit down, and write this page:
It's not easy to know what is true for you or me
at twenty-two, my age. But I guess I'm what
I feel and see and hear, Harlem, I hear you:
hear you, hear me---we two---you, me, talk on this page.
(I hear New York too.) Me---who?
Well, I like to eat, sleep, drink, and be in love.
I like to work, read, learn, and understand life.
I like a pipe for a Christmas present,
or records---Bessie, bop, or Bach.
I guess being colored doesn't make me NOT like
the same things other folks like who are other races.
So will my page be colored that I write?
Being me, it will not be white.
But it will be
a part of you, instructor.
You are white--yet a part of me, as I am a part of you.
That's American.
Sometimes perhaps you don't want to be a part of me.
Nor do I often want to be a part of you.
But we are, that's true!
As I learn from you,
I guess you learn from me--although you're older---and white--and somewhat more free.
This is my page for English B
Countee Cullen
SATURDAY'S CHILD
Some are teethed on a silver spoon,
With the stars strung for a rattle;
I cut my teeth as the black racoon—
For implements of battle.
Some are swaddled in silk and down,
And heralded by a star;
They swathed my limbs in a sackcloth gown
On a night that was black as tar.
For some, godfather and goddame
The opulent fairies be;
Dame Poverty gave me my name,
And Pain godfathered me.
For I was born on Saturday-"Bad time for planting a seed,"
Was all my father had to say,
And, "One mouth more to feed."
Death cut the strings that gave me life,
And handed me to Sorrow,
The only kind of middle wife
My folks could beg or borrow.
Carl Sandburg
CHICAGO
Hog Butcher for the World,
Tool Maker, Stacker of Wheat,
Player with Railroads and the Nation's Freight Handler;
Stormy, husky, brawling,
City of the Big Shoulders:
They tell me you are wicked and I believe them, for I
have seen your painted women under the gas lamps
luring the farm boys.
And they tell me you are crooked and I answer: Yes, it
is true I have seen the gunman kill and go free to
kill again.
And they tell me you are brutal and my reply is: On the
faces of women and children I have seen the marks
of wanton hunger.
And having answered so I turn once more to those who
sneer at this my city, and I give them back the sneer
and say to them:
Come and show me another city with lifted head singing
so proud to be alive and coarse and strong and cunning.
Flinging magnetic curses amid the toil of piling job on
job, here is a tall bold slugger set vivid against the
little soft cities;
Fierce as a dog with tongue lapping for action, cunning
as a savage pitted against the wilderness,
Bareheaded,
Shoveling,
Wrecking,
Planning,
Building, breaking, rebuilding,
Under the smoke, dust all over his mouth, laughing with
white teeth,
Under the terrible burden of destiny laughing as a young
man laughs,
Laughing even as an ignorant fighter laughs who has
never lost a battle,
Bragging and laughing that under his wrist is the pulse.
and under his ribs the heart of the people,
Laughing!
Laughing the stormy, husky, brawling laughter of
Youth, half-naked, sweating, proud to be Hog
Butcher, Tool Maker, Stacker of Wheat, Player with
Railroads and Freight Handler to the Nation.
FOG
The fog comes
on little cat feet.
It sits looking
over harbor and city
on silent haunches
and then moves on.
HAPPINESS
I asked the professors who teach the meaning of life to
tell
me what is happiness.
And I went to famous executives who boss the work of
thousands of men.
They all shook their heads and gave me a smile as
though
I was trying to fool with them
And then one Sunday afternoon I wandered out along
the Desplaines river
And I saw a crowd of Hungarians under the trees with
their women and children and a keg of beer and an
accordion.
Maya Angelou
STILL I RISE
You may write me down in history
With your bitter, twisted lies,
You may trod me in the very dirt
But still, like dust, I'll rise.
Does my sassiness upset you?
Why are you beset with gloom?
'Cause I walk like I've got oil wells
Pumping in my living room.
Just like moons and like suns,
With the certainty of tides,
Just like hopes springing high,
Still I'll rise.
Did you want to see me broken?
Bowed head and lowered eyes?
Shoulders falling down like teardrops.
Weakened by my soulful cries.
Does my haughtiness offend you?
Don't you take it awful hard
'Cause I laugh like I've got gold mines
Diggin' in my own back yard.
You may shoot me with your words,
You may cut me with your eyes,
You may kill me with your hatefulness,
But still, like air, I'll rise.
Does my sexiness upset you?
Does it come as a surprise
That I dance like I've got diamonds
At the meeting of my thighs?
Out of the huts of history's shame
I rise
Up from a past that's rooted in pain
I rise
I'm a black ocean, leaping and wide,
Welling and swelling I bear in the tide.
Leaving behind nights of terror and fear
I rise
Into a daybreak that's wondrously clear
I rise
Bringing the gifts that my ancestors gave,
I am the dream and the hope of the slave.
I rise
I rise
I rise.
W. H. Auden
FUNERAL BLUES
Stop all the clocks, cut off the telephone,
Prevent the dog from barking with a juicy bone,
Silence the pianos and with muffled drum
Bring out the coffin, let the mourners come.
Let aeroplanes circle moaning overhead
Scribbling on the sky the message He Is Dead,
Put crepe bows round the white necks of the public doves,
Let the traffic policemen wear black cotton gloves.
He was my North, my South, my East and West,
My working week and my Sunday rest,
My noon, my midnight, my talk, my song;
I thought that love would last for ever: I was wrong.
The stars are not wanted now: put out every one;
Pack up the moon and dismantle the sun;
Pour away the ocean and sweep up the wood.
For nothing now can ever come to any good.
ee cummings
maggie and milly and molly and may
went down to the beach (to play one day)
and molly was chased by a horrible thing
which raced sideways while blowing bubbles; and
and maggie discovered a shell that sang
so sweetly she couldn't remember her troubles, and
may came home with a smooth round stone
as small as a world and as large as alone.
milly befriended a stranded star
whose rays five languid fingers were;
For whatever we lose (like a you or a me)
it's always ourselves we find in the sea
~~~~~~~~~~~~~~~~~~~~~~~~~~~~~~~~~~~~~~~~~~~~~~~~~~~~~~~~~~~~~~~~~~~~~~~~~~~~~~~~~~~~~~~~
anyone lived in a pretty how town
(with up so floating many bells down)
spring summer autumn winter
he sang his didn't he danced his did
Women and men(both little and small)
cared for anyone not at all
they sowed their isn't they reaped their same
sun moon stars rain
children guessed(but only a few
and down they forgot as up they grew
autumn winter spring summer)
that noone loved him more by more
when by now and tree by leaf
she laughed his joy she cried his grief
bird by snow and stir by still
anyone's any was all to her
someones married their everyones
laughed their cryings and did their dance
(sleep wake hope and then)they
said their nevers they slept their dream
stars rain sun moon
(and only the snow can begin to explain
how children are apt to forget to remember
with up so floating many bells down)
one day anyone died i guess
(and noone stooped to kiss his face)
busy folk buried them side by side
little by little and was by was
all by all and deep by deep
and more by more they dream their sleep
noone and anyone earth by april
wish by spirit and if by yes.
Women and men(both dong and ding)
summer autumn winter spring
reaped their sowing and went their came
sun moon stars rain
Sylvia Plath
MIRROR
I am silver and exact. I have no preconceptions.
Whatever I see, I swallow immediately.
Just as it is, unmisted by love or dislike
I am not cruel, only truthful –
The eye of a little god, four-cornered.
Most of the time I meditate on the opposite wall.
It is pink, with speckles. I have looked at it so long
I think it is a part of my heart. But it flickers.
Faces and darkness separate us over and over.
Now I am a lake. A woman bends over me.
Searching my reaches for what she really is.
Then she turns to those liars, the candles or the moon.
I see her back, and reflect it faithfully
She rewards me with tears and an agitation of hands.
I am important to her. She comes and goes.
Each morning it is her face that replaces the darkness.
In me she has drowned a young girl, and in me an old woman
Rises toward her day after day, like a terrible fish.
William Carlos Williams
LANDSCAPE WITH THE FALL OF ICARUS
According to Brueghel*
when Icarus fell
it was spring
a farmer was ploughing
his field
the whole pageantry
of the year was
awake tingling
near
the edge of the sea
concerned
with itself
sweating in the sun
that melted the wing's wax
unsignificantly
off the coast
there was
a splash quite unnoticed
this was
Icarus drowning
* A Flemish Renaissance painter and printmaker known for his landscapes and peasant scenes
THE GREAT FIGURE
Among the rain
and lights
I saw the figure 5
in gold
on a red
fire truck
moving
tense
unheeded
to gong clangs
siren howls
and wheels rumbling
through the dark city
Rita Dove
MY MOTHER ENTERS THE WORK FORCE
The path to ABC Business School
was paid for by a lucky sign:
Alterations, Qualified Seamstress Inquire Within.
Tested on Sleeves, hers
never puckered -- puffed or sleek,
Leg o' or Raglan -they barely needed the damp cloth
to steam them perfect.
Those were the afternoons. Evenings
she took in piecework, the treadle machine
with its locomotive whir
traveling the lit path of the needle
through quicksand taffeta
or velvet deep as a forest.
And now and now sang the treadle,
I know, I know....
And then it was day again, all morning
at the office machines, their clack and chatter
another journey -- rougher,
that would go on forever
until she could break a hundred words
with no errors -- ah, and then
no more postponed groceries,
and that blue pair of shoes!
Billy Collins
INTRODUCTION TO POETRY
I ask them to take a poem
and hold it up to the light
like a color slide
I want them to waterski
across the surface of a poem
waving at the author's name on the shore.
or press an ear against its hive.
But all they want to do
is tie the poem to a chair with rope
and torture a confession out of it.
I say drop a mouse into a poem
and watch him probe his way out,
or walk inside the poem's room
and feel the walls for a light switch.
They begin beating it with a hose
to find out what it really means.
TAKING OFF EMILY DICKINSON'S CLOTHES
First, her tippet made of tulle,
easily lifted off her shoulders and laid
on the back of a wooden chair.
And her bonnet,
the bow undone with a light forward pull.
Then the long white dress, a more
complicated matter with mother-of-pearl
buttons down the back,
so tiny and numerous that it takes forever
before my hands can part the fabric,
like a swimmer's dividing water,
and slip inside.
You will want to know
that she was standing
by an open window in an upstairs bedroom,
motionless, a little wide-eyed,
looking out at the orchard below,
the white dress puddled at her feet
on the wide-board, hardwood floor.
The complexity of women's undergarments
in nineteenth-century America
is not to be waved off,
and I proceeded like a polar explorer
through clips, clasps, and moorings,
catches, straps, and whalebone stays,
sailing toward the iceberg of her nakedness.
Later, I wrote in a notebook
it was like riding a swan into the night,
but, of course, I cannot tell you everything –
the way she closed her eyes to the orchard,
how her hair tumbled free of its pins,
how there were sudden dashes
whenever we spoke.
What I can tell you is
it was terribly quiet in Amherst
that Sabbath afternoon,
nothing but a carriage passing the house,
a fly buzzing in a windowpane.
So I could plainly hear her inhale
when I undid the very top
hook-and-eye fastener of her corset
and I could hear her sigh when finally it was
unloosed,
the way some readers sigh when they realize
that Hope has feathers,
that reason is a plank,
that life is a loaded gun
that looks right at you with a yellow eye.