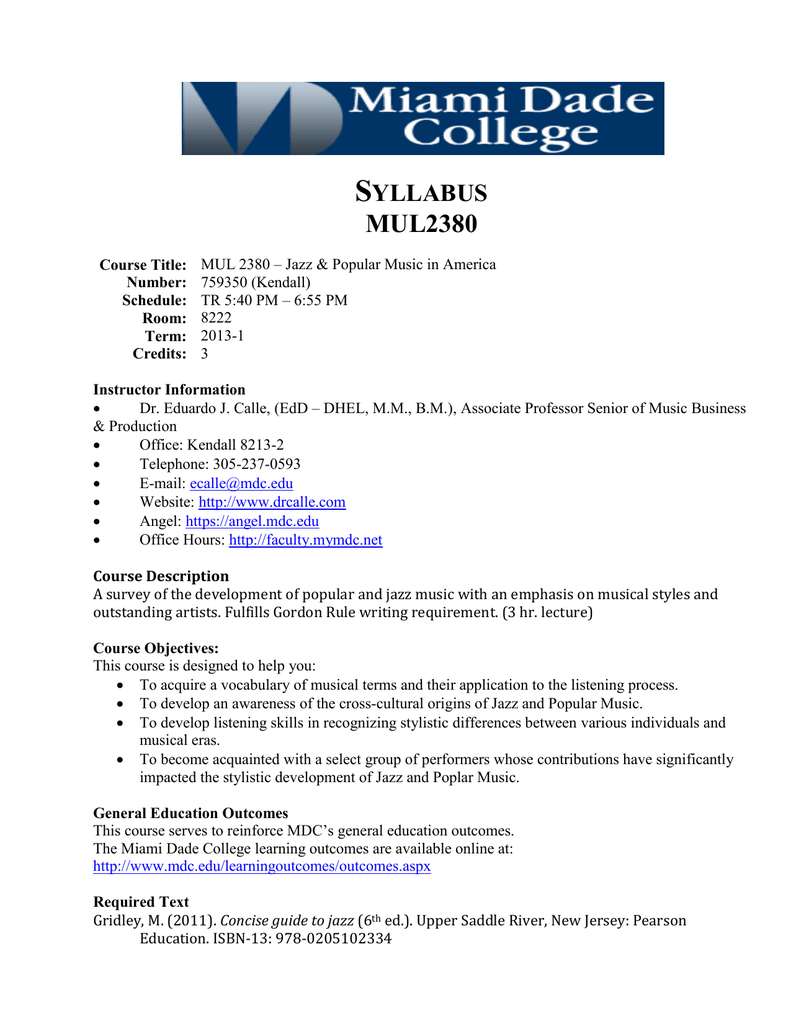 SYLLABUS
MUL2380
Course Title:
Number:
Schedule:
Room:
Term:
Credits:
MUL 2380 – Jazz & Popular Music in America
759350 (Kendall)
TR 5:40 PM – 6:55 PM
8222
2013-1
3
Instructor Information

Dr. Eduardo J. Calle, (EdD – DHEL, M.M., B.M.), Associate Professor Senior of Music Business
& Production

Office: Kendall 8213-2

Telephone: 305-237-0593

E-mail: [email protected]

Website: http://www.drcalle.com

Angel: https://angel.mdc.edu

Office Hours: http://faculty.mymdc.net
Course Description
A survey of the development of popular and jazz music with an emphasis on musical styles and
outstanding artists. Fulfills Gordon Rule writing requirement. (3 hr. lecture)
Course Objectives:
This course is designed to help you:
 To acquire a vocabulary of musical terms and their application to the listening process.
 To develop an awareness of the cross-cultural origins of Jazz and Popular Music.
 To develop listening skills in recognizing stylistic differences between various individuals and
musical eras.
 To become acquainted with a select group of performers whose contributions have significantly
impacted the stylistic development of Jazz and Poplar Music.
General Education Outcomes
This course serves to reinforce MDC's general education outcomes.
The Miami Dade College learning outcomes are available online at:
http://www.mdc.edu/learningoutcomes/outcomes.aspx
Required Text
Gridley, M. (2011). Concise guide to jazz (6th ed.). Upper Saddle River, New Jersey: Pearson
Education. ISBN-13: 978-0205102334
2
Supplies
 Students are required to bring a writing instrument and notebook or paper to each and every class
meeting.
 Students are expected to have access to a computer and the Internet.
Resources
 www.drcalle.com
 www.youtube.com
 www.allmusic.com
 www.ascap.com
 www.bls.gov (U.S. Department of Labor, Bureau of Labor Statistics)
 www.bmi.com
 www.cia.gov (Central Intelligence Agency)
 www.copyright.gov (U.S. Copyright Office)
 www.ethics.org (Ethics Resource Center)
 http://www.digidesign.com/index.cfm?langid=100&navid=54&itemid=22942 (Pro Tools manual)
 www.drcalle.com
 www.harryfox.com
 www.irs.gov
 www.mdc.edu
 https://mycourses.mdc.edu (Angel learning portal)
 www.nces.ed.gov (U.S. Department of Education, National Center for Education Statistics)
 www.sba.gov (Small Business Administration)
 www.soundexchange.com
 www.sunbiz.org (Florida Division of Corporations)
 www.usdol.gov (U.S. Department of Labor)
 www.uspto.gov (U.S. Patent and Trademark Office)
Course Requirements
 Schedule of assignments (all assignments will be posted on Angel)
o Week 2: Quiz 1 (20% of final grade)
o Week 4: Quiz 2 (20% of final grade)
o Week 6: Midterm (20% of final grade)
o Week 8: Written concert review due
o Week 10: Written concert review corrections due (20% of final grade)
o Week 12: Final Exam (20% of final grade)

The MDC academic calendar is available at:
http://www.mdc.edu/main/academics/academic_calendar.asp
Course Evaluation/Grading Policy/Assessment Methods/Schedule
Course grading scale:
A: 90 – 100
B: 80 – 89
C: 70 – 79
D: 60 – 69
F: 59 or lower
3
Tests: All tests will be issued and graded via Angel.
Assignments: All assignments will be issued and graded via Angel.
Grading policy: Scores for each test or assignments will be calculated by dividing the number of points
earned by the number of possible points. The percentage grades for each test and assignment will be
totaled and computed into a final a grade in accordance with the course grading scale.
Policies

Attendance is mandatory. Every absence will result in a one percent deduction from the
overall grade. In other words, if your average is 92 and you missed four courses, your overall
average will be 88.

Lateness is discouraged. Please be on time.

Class participation is encouraged.

Missed assignments can only be made up in cases involving excused absences.

Illness/emergencies should be reported to the professor via E-mail.

Students are expected to observe the academic honesty policies detailed in the MDC publication
outlining student rights and responsibilities. This document is available at
http://www.mdc.edu/policy/student_rights_and_responsibilities.pdf

Students with special needs should contact the instructor or the appropriate college department.

In case of emergency, the class will exercise college-mandated emergency procedures.
Available Support Services

The Kendall MIDI lab is located in room 8111.

The Kendall computer courtyard is located in building 3.

The Kendall music lab is located in room M-335.

Disability Services – please contact student services.

ACCESS Department - students who experience learning difficulties or have disabilities are urged
to visit an ACCESS advisor to determine if eligible for any special services.