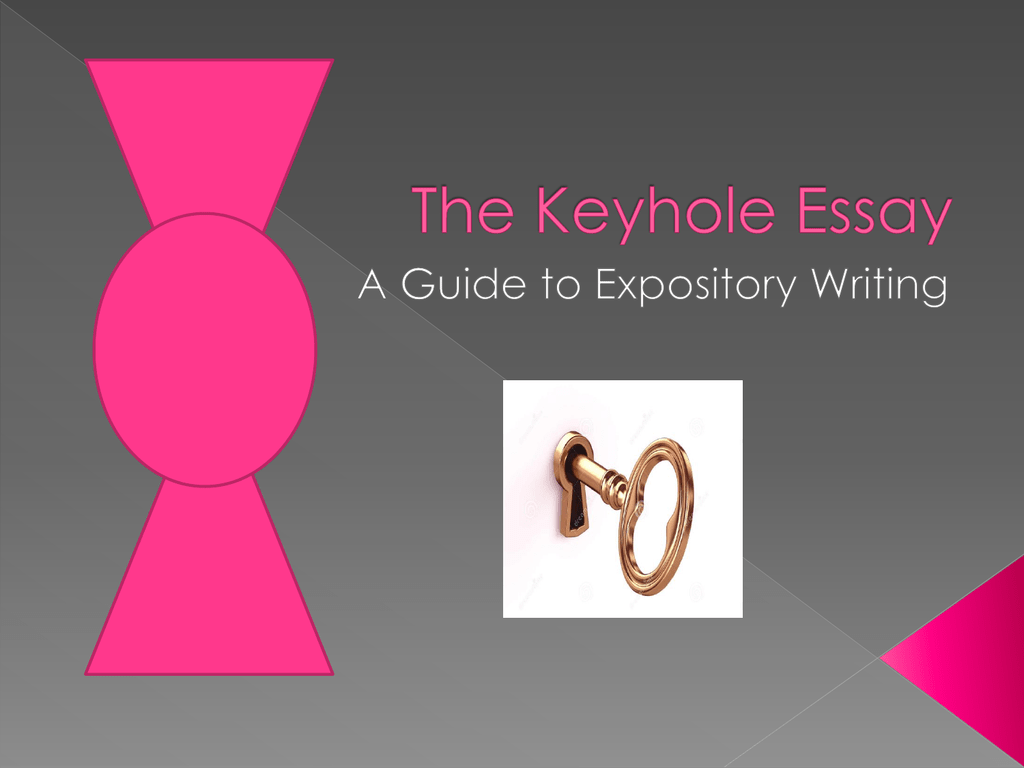 
Method of organizing expository writing
› [used to explain, describe, inform]

Forces writers to be
› Focused
› Organized
› Clear

Remember
this image?
Two
Keyholes…
one upside
down and
the other
normal.
When you put them together
and overlap the circle, you
get an image to help you
remember essay writing.
Starts
general
Becomes (hook)
more
specific
Body
ParagraphsVery specific
Becomes
more
general
Intro Paragraph
Thesis Statement
Conclusion
Paragraph

ALL THE TIME
› In class essays
› PARCC
› Literary analysis
› Argumentative
pieces
› Persuasive pieces

Formal
› Third person point of view (no "I")
› No slang, clichés, or fragments (unless it is
quoted)

Clear
› Make assertions, not suggestions
 Not "I think," "I believe," "In my opinion,"
"Maybe," "Probably," etc.
 [Write as if there is only one answer and it's
yours]
› Do not make the reader guess your meaning

Can start with a broad, general statement
› In the novel/short story/autobiography by
__(author's name____ the reader
sees/learns/experiences…

Can start with a Hook, which grabs the reader's
attention
› Hook starters:
 Imagine (usually three statements beginning with Imagine)…
 Example: Imagine a hand cut off for stealing a piece of
bread. Imagine an innocent person being killed because of a
mistake. Imagine being sentence to death for trying to save
another's life.
 A general statement relating to the experience/s of character/s
or situation
 Example: Laws are in place to protect the people of a society.

Begin to narrow focus
› Connect hook/opening to essay topic
› DO THIS BY:
 Introduce title of novel/short story/info piece
 Introduce author
 Use words from the prompt

Thesis statement: assertion that you will prove in
the body of the text
› It is the answer to the essay question
› Must be arguable
› Can be written two ways:
1) Hammurabi's laws proved to be too harsh, showed social
class inequities, and restricted religious freedom.
2) Hammurabi's philosophy on laws that should govern a
society proved to be unjust in many ways.

Overall function:
› to support thesis
statement

Overall format:
› Three main points=
three main paragraphs
(this can be adjusted
depending on type of
writing)
› Each paragraph
focuses on a specific
piece of evidence that
supports your thesis

Topic sentence (TS): first sentence of
each paragraph
› Identifies and clarifies main point
› Provides focus and organization

Transition: connection between previous
main point and current main point
› In addition to harsh laws, Hammurabi's laws
also had social class inequities.

Support your main point with evidence
› Start by using your own words
 Give a general overview of the main point
› Use specific examples from the text
 2 or 3 in each paragraph
 THIS COMES IN THE FORM OF QUOTES
 Explain why that quote/s support your main point and
thesis through analysis
 Do not summarize the whole plot,
rather give the necessary
background knowledge a reader
needs to understand why your
quote proves your point.

Closing statement: neatly ties up your
main point for that paragraph
› Refocuses the reader
› Aids in organization and clarity

Thesis echo: reworded, simplified version of
thesis
› Refocuses reader
› Aids in organization
 It is apparent that Hammurabi's laws were too extreme
for society because the laws restricted equality and
certain freedoms afforded to the people.

Briefly revisit main points used in body
paragraphs
› Aids in organization, clarity, and focus

Close should broaden the focus as did the
hook
› Connect topic to life (NOT YOURS), world,
human nature in general
› Strong, concise, memorable
 Although Hammurabi's laws are not in practice today,
the governing of modern society is based on these
ideas.