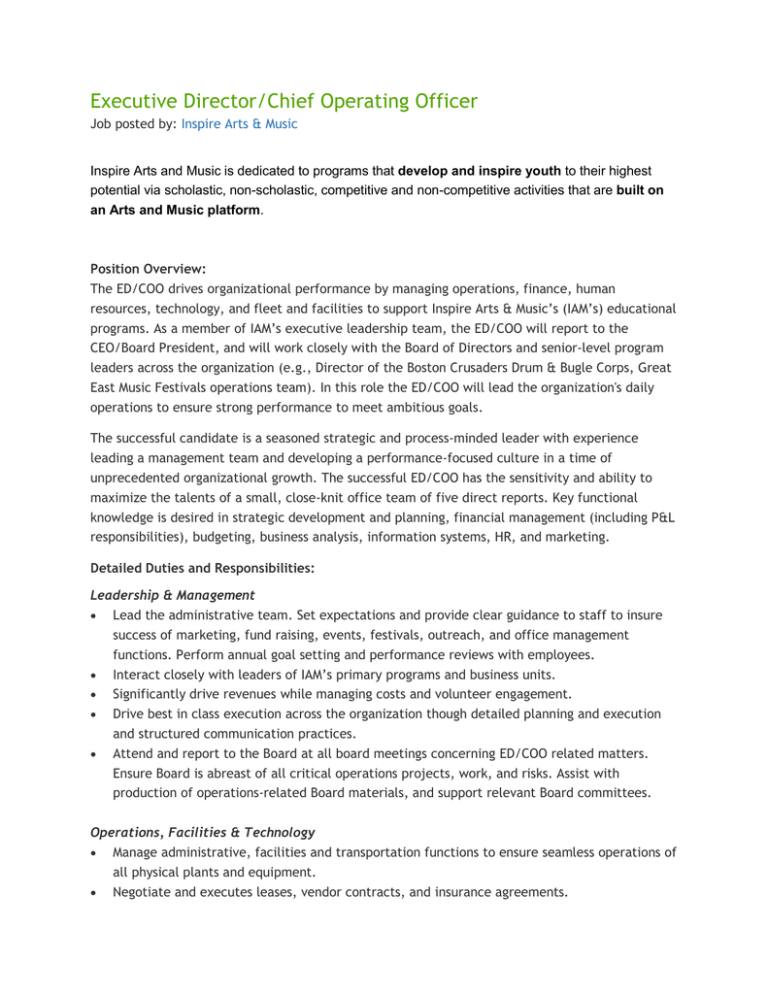 Executive Director/Chief Operating Officer
Job posted by: Inspire Arts & Music
Inspire Arts and Music is dedicated to programs that develop and inspire youth to their highest
potential via scholastic, non-scholastic, competitive and non-competitive activities that are built on
an Arts and Music platform.
Position Overview:
The ED/COO drives organizational performance by managing operations, finance, human
resources, technology, and fleet and facilities to support Inspire Arts & Music's (IAM's) educational
programs. As a member of IAM's executive leadership team, the ED/COO will report to the
CEO/Board President, and will work closely with the Board of Directors and senior-level program
leaders across the organization (e.g., Director of the Boston Crusaders Drum & Bugle Corps, Great
East Music Festivals operations team). In this role the ED/COO will lead the organization's daily
operations to ensure strong performance to meet ambitious goals.
The successful candidate is a seasoned strategic and process-minded leader with experience
leading a management team and developing a performance-focused culture in a time of
unprecedented organizational growth. The successful ED/COO has the sensitivity and ability to
maximize the talents of a small, close-knit office team of five direct reports. Key functional
knowledge is desired in strategic development and planning, financial management (including P&L
responsibilities), budgeting, business analysis, information systems, HR, and marketing.
Detailed Duties and Responsibilities:
Leadership & Management
 Lead the administrative team. Set expectations and provide clear guidance to staff to insure
success of marketing, fund raising, events, festivals, outreach, and office management
functions. Perform annual goal setting and performance reviews with employees.
 Interact closely with leaders of IAM's primary programs and business units.
 Significantly drive revenues while managing costs and volunteer engagement.
 Drive best in class execution across the organization though detailed planning and execution

and structured communication practices.
Attend and report to the Board at all board meetings concerning ED/COO related matters.
Ensure Board is abreast of all critical operations projects, work, and risks. Assist with
production of operations-related Board materials, and support relevant Board committees.
Operations, Facilities & Technology
 Manage administrative, facilities and transportation functions to ensure seamless operations of
all physical plants and equipment.
 Negotiate and executes leases, vendor contracts, and insurance agreements.



Oversee the purchasing and maintenance of technology equipment and implementation of
technology training. Ensure organization has sufficient and reliable technology infrastructure
to meet operational needs of programs, effective disaster recovery systems and backup, and
data security to meet all needs.
Oversee internal information systems including accounting (Intaact), CRM (Salesforce), student
membership (Charms), and ecommerce (Shopify); and processes to manage integration and
information flows between systems.
Ensure organization-wide compliance with health, safety and employment laws.
Finance






Provide strategic direction and overall functional financial leadership to the organization.
Collaborate with the finance committee to develop the annual budget, meet budget goals,
review financial performance, and improve program budgeting and reporting practices.
Maintain financial controls. Manage resource allocation according to budget, and provide
approvals.
Ensure timely execution of monthly financial reports, financial estimates, and forecasts, for
presentation to the Board of Directors.
Manage financial staff to deliver on payroll process and all phases of internal accounting work
including A/R, A/P, and accounts reconciliation.
Oversee, in coordination with the staff and board Audit & Finance Committee, year-end
audits, reporting, and financial statement preparation.
BASIC/MINIMUM QUALIFICATIONS:
Education
BS in Business; Accounting or Finance preferred. Master's Degree preferred.
Geography
Must live in the Boston metropolitan area
Experience
 Minimum of 5 years of operations management experience.
 Background in or knowledge of the musical pageantry arts whether though competitive drum



corps (DCI), color guard (WGI), marching band or related activities.
Detailed knowledge of financial management, accounting and reporting processes.
Previous exposure to staffing processes and general HR procedures.
Experience managing cross-functional teams to develop and implement systems and processes
to increase the effectiveness and efficiency of a growing organization.
Desired Qualifications
 MBA or Masters equivalent
Salary
 Commensurate with experience
All qualified applicants will receive consideration for employment without regard to race,
color, religion, sex, sexual orientation, age, national origin, disability, or protected veteran
status. At Inspire Arts and Music we embrace a culture of diversity and inclusion with equal
access to opportunities based on individual merit by creating an environment which
encourages employees to contribute their unique capabilities and perspectives.
How to apply
To apply, please upload a cover letter and resume in PDF or Word format, to
applicants@iaminspired.org.
We encourage all applicants to review www.inspirearts.org, www.bostoncrusaders.org, and
greateastmusicfestivals.org to familiarize themselves with our primary programs before applying.
About Inspire Arts & Music
Our primary programs:
Boston Crusaders Drum & Bugle Corps –An internationally known, world class elite touring
performing ensemble consisting of 150 young men and women between the ages of 16 and 22,
grouped into approximately 80 brass players, 30 percussionists, and 40 color guard members. The
world of competitive drum and bugle corps is an intense, choreographed musical educational
experience staged on football stadium fields by students who strive to achieve high levels of
excellence in performance through competition in the Drum Corps International summer tour.
Great East Music Festivals - Great East Music Festivals is the premier scholastic educational music
festival series in New England, serving over 20,000 each spring. GEF events are non-competitive
elementary, middle, and high school music festivals, geared to musical organizations of all sizes,
grades and ability levels.
The ED/COO will join Inspire Arts & Music (IAM) at a crucial time in our history. IAM has grown and
matured as an organization over the last 75 years. Much of our growth has occurred the past two
years, during which IAM grew from an organization with an $850,000 budget and two FTEs to a
$2.4 million organization with five FTEs, more than 50 part-time employees, and hundreds of
volunteers. We have deep roots in the Boston community, which date back to 1940.
As IAM looks to the future, the ED/COO will be intimately involved in developing the music
instrument sales and rental business, while exploring opportunities to scale its successful festival
business. Finally, as part of the executive team, the ED/COO will be a key player in other
organizational priorities such as our new home in central Boston, program growth, and increasing
visibility in the community.