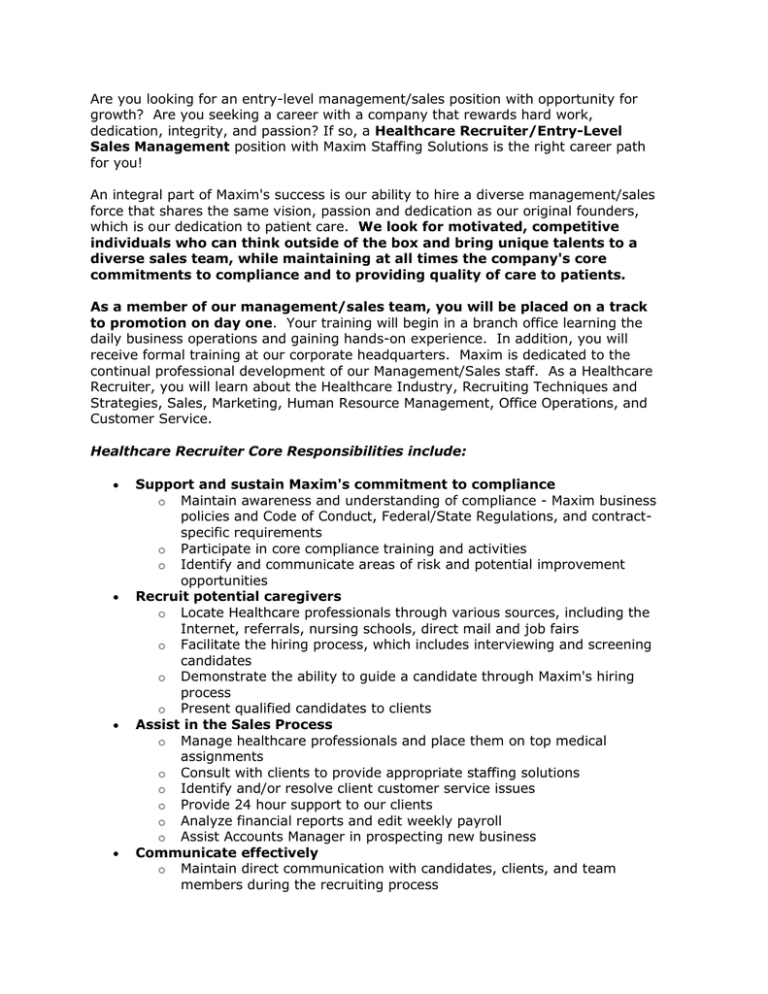 Are you looking for an entry-level management/sales position with opportunity for
growth? Are you seeking a career with a company that rewards hard work,
dedication, integrity, and passion? If so, a Healthcare Recruiter/Entry-Level
Sales Management position with Maxim Staffing Solutions is the right career path
for you!
An integral part of Maxim's success is our ability to hire a diverse management/sales
force that shares the same vision, passion and dedication as our original founders,
which is our dedication to patient care. We look for motivated, competitive
individuals who can think outside of the box and bring unique talents to a
diverse sales team, while maintaining at all times the company's core
commitments to compliance and to providing quality of care to patients.
As a member of our management/sales team, you will be placed on a track
to promotion on day one. Your training will begin in a branch office learning the
daily business operations and gaining hands-on experience. In addition, you will
receive formal training at our corporate headquarters. Maxim is dedicated to the
continual professional development of our Management/Sales staff. As a Healthcare
Recruiter, you will learn about the Healthcare Industry, Recruiting Techniques and
Strategies, Sales, Marketing, Human Resource Management, Office Operations, and
Customer Service.
Healthcare Recruiter Core Responsibilities include:




Support and sustain Maxim's commitment to compliance
o Maintain awareness and understanding of compliance - Maxim business
policies and Code of Conduct, Federal/State Regulations, and contractspecific requirements
o Participate in core compliance training and activities
o Identify and communicate areas of risk and potential improvement
opportunities
Recruit potential caregivers
o Locate Healthcare professionals through various sources, including the
Internet, referrals, nursing schools, direct mail and job fairs
o Facilitate the hiring process, which includes interviewing and screening
candidates
o Demonstrate the ability to guide a candidate through Maxim's hiring
process
o Present qualified candidates to clients
Assist in the Sales Process
o Manage healthcare professionals and place them on top medical
assignments
o Consult with clients to provide appropriate staffing solutions
o Identify and/or resolve client customer service issues
o Provide 24 hour support to our clients
o Analyze financial reports and edit weekly payroll
o Assist Accounts Manager in prospecting new business
Communicate effectively
o Maintain direct communication with candidates, clients, and team
members during the recruiting process

o Resolve client customer service issues
perform all other duties as assigned
Qualifications
Position Requirements:











Bachelor of Arts/Bachelor of Science preferred but not required
Entry-level position
Dedicated self-starter
Ability to meet deadlines
Ability to excel in a fast-paced, team environment
Organized with attention to detail
Time management
Leadership
Public relations skills, interpersonal skills, and professional telephone manner
Customer service
Desire to pursue a career in management and sales.
What Maxim Can Offer You
Maxim offers its management/sales team the opportunity to work in a fast paced, team
oriented environment with a commitment to quality service. Maxim offers its
employees an extensive list of trainings that will help you continue to grow as
management/sales professionals. Maxim is also pleased to offer a comprehensive
benefits package that includes:






Competitive pay
Full benefits including medical, dental and vision coverage
401(k)
529 college savings plan
Basic life insurance with the option of supplemental
17 days paid time off (*) in addition to holidays
Possibility of relocation upon promotion with proven successful performance
Learn more about becoming a Maxim Healthcare Recruiter by visiting
www.joinmaxim.com.
Maxim Staffing Solutions is a division of Maxim Healthcare Services, the largest
privately held healthcare staffing company in the nation. Established in 1988 to respond
to the nursing shortage, Maxim Healthcare Services has a solid history of providing
superior service in medical staffing and job placement in medical professions. Maxim
Staffing Solutions has grown from a small team of eager healthcare recruiters to a
company with satisfied clients in nearly every corner of the nation.