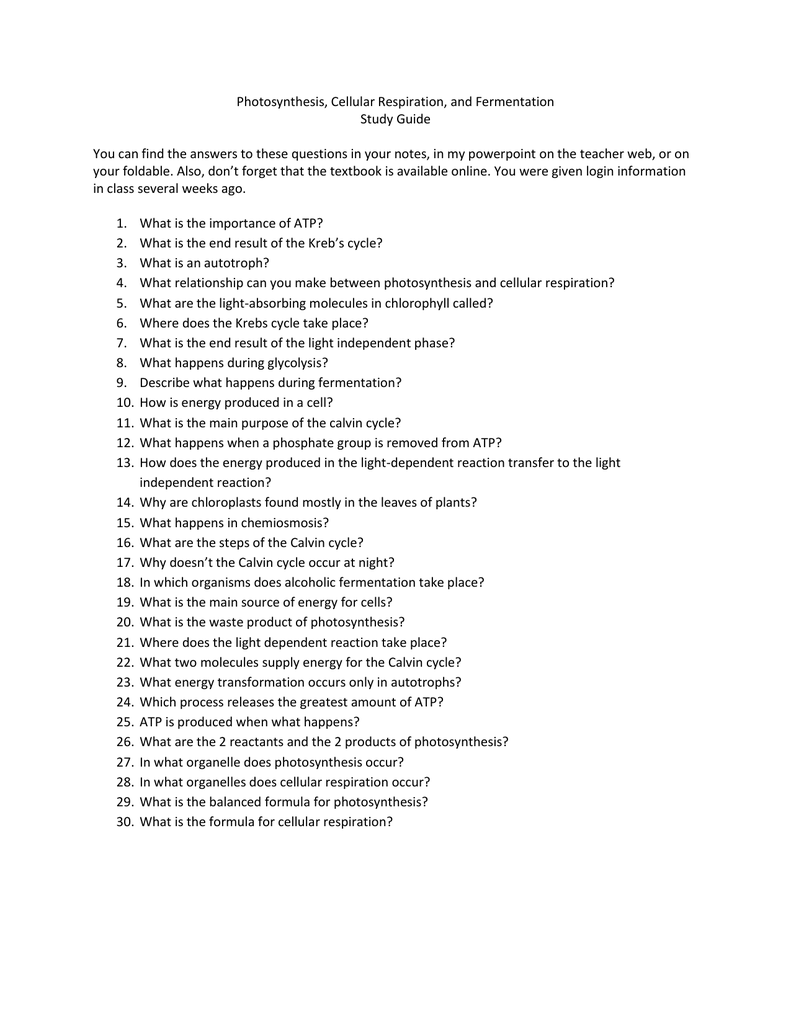 Photosynthesis, Cellular Respiration, and Fermentation
Study Guide
You can find the answers to these questions in your notes, in my powerpoint on the teacher web, or on
your foldable. Also, don't forget that the textbook is available online. You were given login information
in class several weeks ago.
1.
2.
3.
4.
5.
6.
7.
8.
9.
10.
11.
12.
13.
14.
15.
16.
17.
18.
19.
20.
21.
22.
23.
24.
25.
26.
27.
28.
29.
30.
What is the importance of ATP?
What is the end result of the Kreb's cycle?
What is an autotroph?
What relationship can you make between photosynthesis and cellular respiration?
What are the light-absorbing molecules in chlorophyll called?
Where does the Krebs cycle take place?
What is the end result of the light independent phase?
What happens during glycolysis?
Describe what happens during fermentation?
How is energy produced in a cell?
What is the main purpose of the calvin cycle?
What happens when a phosphate group is removed from ATP?
How does the energy produced in the light-dependent reaction transfer to the light
independent reaction?
Why are chloroplasts found mostly in the leaves of plants?
What happens in chemiosmosis?
What are the steps of the Calvin cycle?
Why doesn't the Calvin cycle occur at night?
In which organisms does alcoholic fermentation take place?
What is the main source of energy for cells?
What is the waste product of photosynthesis?
Where does the light dependent reaction take place?
What two molecules supply energy for the Calvin cycle?
What energy transformation occurs only in autotrophs?
Which process releases the greatest amount of ATP?
ATP is produced when what happens?
What are the 2 reactants and the 2 products of photosynthesis?
In what organelle does photosynthesis occur?
In what organelles does cellular respiration occur?
What is the balanced formula for photosynthesis?
What is the formula for cellular respiration?