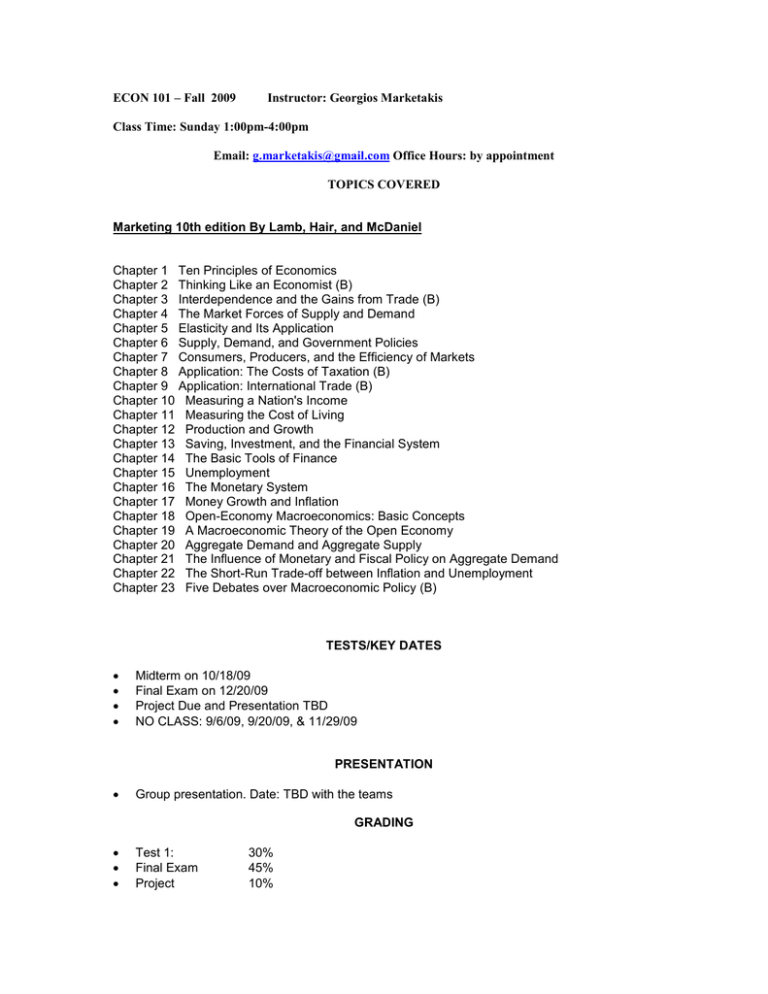 ECON 101 – Fall 2009
Instructor: Georgios Marketakis
Class Time: Sunday 1:00pm-4:00pm
Email: g.marketakis@gmail.com Office Hours: by appointment
TOPICS COVERED
Marketing 10th edition By Lamb, Hair, and McDaniel
Chapter 1 Ten Principles of Economics
Chapter 2 Thinking Like an Economist (B)
Chapter 3 Interdependence and the Gains from Trade (B)
Chapter 4 The Market Forces of Supply and Demand
Chapter 5 Elasticity and Its Application
Chapter 6 Supply, Demand, and Government Policies
Chapter 7 Consumers, Producers, and the Efficiency of Markets
Chapter 8 Application: The Costs of Taxation (B)
Chapter 9 Application: International Trade (B)
Chapter 10 Measuring a Nation's Income
Chapter 11 Measuring the Cost of Living
Chapter 12 Production and Growth
Chapter 13 Saving, Investment, and the Financial System
Chapter 14 The Basic Tools of Finance
Chapter 15 Unemployment
Chapter 16 The Monetary System
Chapter 17 Money Growth and Inflation
Chapter 18 Open-Economy Macroeconomics: Basic Concepts
Chapter 19 A Macroeconomic Theory of the Open Economy
Chapter 20 Aggregate Demand and Aggregate Supply
Chapter 21 The Influence of Monetary and Fiscal Policy on Aggregate Demand
Chapter 22 The Short-Run Trade-off between Inflation and Unemployment
Chapter 23 Five Debates over Macroeconomic Policy (B)
TESTS/KEY DATES




Midterm on 10/18/09
Final Exam on 12/20/09
Project Due and Presentation TBD
NO CLASS: 9/6/09, 9/20/09, & 11/29/09
PRESENTATION

Group presentation. Date: TBD with the teams
GRADING



Test 1:
Final Exam
Project
30%
45%
10%


Homework
Presentation
10%
5%
CLASS MATERIAL



The class will be based on the Aplia site, articles, case studies, hand outs, and PPT
presented in class.
All class material will be handed out in class and posted on the professor's page:
http://www.qc-econ-bba.org/faculty_profile.ihtml?user_Instructor_ID=89
All material must be read prior to the class to improve class discussions. Extra credit will be
given for valuable participation.