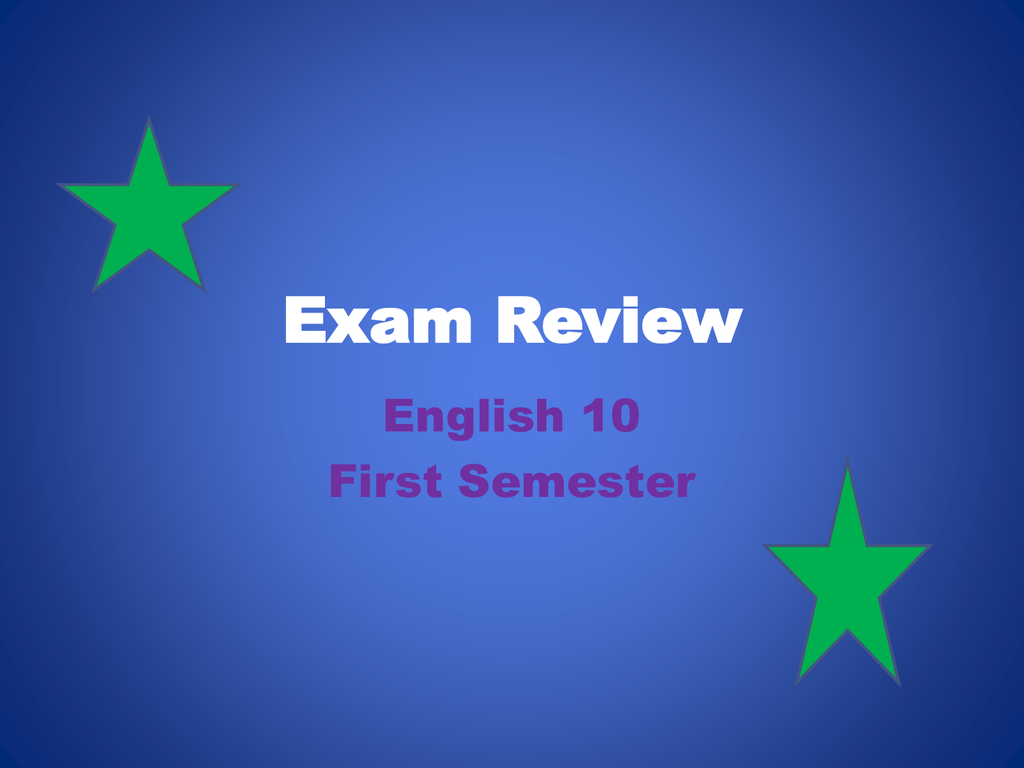 Exam Review
English 10
First Semester
Symbols
Beetle
• refers to the color and shape of
the fireman's helmet
• refers to the cars in this society
• the beetle is often connected
with dark or black feelings
Sieve
• relates to a cruel childhood
prank suffered by Montag
• refers to a sense of hopelessness
• is a perforated metal utensil
used for straining
Hearth
• maintains a warming rather
than destructive flamedifferent from the large fires
that destroy books
• is a nostalgic symbol of family
life
Python
• is a snakelike hose
• spews kerosene
• resembles a great serpent
451
• is the number which appears
on Montag's helmet
• links Montag with his job
• is the temperature at which
book paper catches fire
Phoenix
• emblem on the disc worn on Montag's
uniform
• a first cousin to humankind
(according to Granger)
• mythical bird which consumes itself in
fire
• reborn from its ashes
Salamander
• endures flames without burning
• a visual representation of fire
• an emblem worn on Montag's
uniform
• the name of the fire truck
Moonstones
• refer to the glazed look of
Mildred's sedated eyes
• gems valued for their pearl
appearance
• suggest something of value
Kerosene
• smells like perfume to
Montag
• identifies Montag as a
fireman
Dandelions
• represents Clarisse's natural
innocence
• sometimes leave a yellow
mark when rubbed under
one's chin (love)
Writing Concepts
ABSOLUTES
• An absolute is a noun plus a verb
form.
• Noun + Verb (ing), Noun + Verb (ed)
• Eyes shutting,
• Teeth clenched,
APPOSITIVES
• An appositive is a descriptive
phrase describing a noun.
An appositive is usually a nonessential clause.
The eyes, brown and wide, closed slowly as
the boy became tired.
The shooting star, quick as lightning, darted
across the night sky.
PREPOSITION
• A preposition tells the relationship
between a noun (or pronoun) and
another word in a sentence.
• A trick to help you remember
prepositions is the following:
A preposition is "Anywhere a
mouse can go."
Prepositional Phrase
• To create a prepositional
phrase, take a PREPOSITION
and START your sentence
with it.
Prepositional Phrase
• Above the goal, the shot soared.
We lost the game!
• Into the net, the ball was drilled.
We won the game!
Notice the placement of the comma (after the end
of the introductory phrase).
Participial Phrases
PRESENT PARTICIPLE
• A present participle is a verb in the present tense,
happening right now.
• The verb has an --ING ending.
Tapping the marker on the desk,
Frank annoyed me.
PAST PARTICIPLE
• A past participle is a verb in the past
tense, it happened in the past.
• The verb has an --ED ending.
Warmed up, the team ran onto
the field.
Personification
• Gives non-human objects
human characteristics
The shoes speak to me
about her travels.
Imagery
• Imagery uses the five senses to
aid in descriptive writing.
Sight
Smell Touch Taste
(Movement)
Sound
• He slithered through the room,
moving sleek and slow so as to
go unnoticed by his parents.
Simile
• Compares two unlike things
using "like" or "as"
Her cheeks are like red
apples.
Metaphor
• Compares two unlike things
(sometimes uses "is" or "are")
Her cheeks are red apples.
Adverb
• An adverb describes a verb.
• The adverb can also describe an
adjective, another adverb, a
phrase, or a clause.
Typically, most adverbs end in –ly.
Ex: Ironically, honestly, presently,
brilliantly, etc.
ADJECTIVES
• An adjective describes a
noun or pronoun by
describing, identifying, or
quantifying words.
o The mighty Bees won the game.
BE VERBS (Forms of be)
• NOT active = they do NOT show
the actions of the sentence
is were
am be
are being
was been
Speech and
Communication Concepts
Why Study Public Speaking?
o Public speaking is valued
because it is necessary if we are
to live in a civilized world.
 You will gain a high degree of
self-satisfaction.
Why Study Public Speaking?
o
You will become more sensitive to
other people and other ideas.
– A number of skills taught in public
speaking courses are transferable to
other academic areas.
•
You will learn active listening skills.
Communication
Communication is the
process of sending
and receiving
messages in order to
share meaning.
Communication Model
Sender
Receiver
Message
Hi baby!
Feedback
Hi cutie pie!
Want to go to the
game with me?
Interference
Two types of interference
• External
–Blocks the sender's message from
reaching the receiver ( something in the
environment).
• Internal
–Exists within the communicators.
Vocal Characteristics
• Pitch
–The highness or lowness of a voice.
• Rate
–How quickly or slowly you speak.
• Volume
–The loudness or softness of your voice.
• Quality
–The overall sound of your voice.
Vocalized Pauses
This is a common problem among
speakers.
People fill in periods of silence with •
•
•
•
•
"ah"
"um"
"you know"
"okay"
"like"
Steps of the Voice Process
Phonation
2. Resonation
3. Articulation
1.
 Humans
speak on a stream of
exhaled air.
Articulation:
• Making each word clear.
Inflection:
• Varying the tone of your voice during
words and sentences. This allows
your voice to be expressive and
interesting.
• Stage fright is the anxiety, fear, or nervousness which
may occur in an individual when he/she is required to
perform in front of an audience.
• Stage fright may cause physical
reactions such as trembling,
blushing, cold hands, perspiring,
and stuttering.
Terms to Know
• Feedback
The receiver tells you in some way
how accurately he or she received
your message.
RESPONSE
• Channel
The means through which a message
is transmitted.
Terms to Know
• Encoding
–Selecting the best message and
channel to make your point.
• Decoding
–The receiver's filtering process.
Types of Speeches
• Impromptu
– Speaking on the spur of the moment (without formal
presentation or preparation).
• Manuscript
– Written out word for word.
• Memorized
– Requires you to memorize the speech and deliver it word
for word without notes.
• Extemporaneous
– You prepare, outline, and practice then deliver using a
few notes.
Speech Anxiety
•
Speech anxiety is getting
nervous when you speak in
public.
The biggest fear of
42%
of Americans is public
speaking.
STUDY!