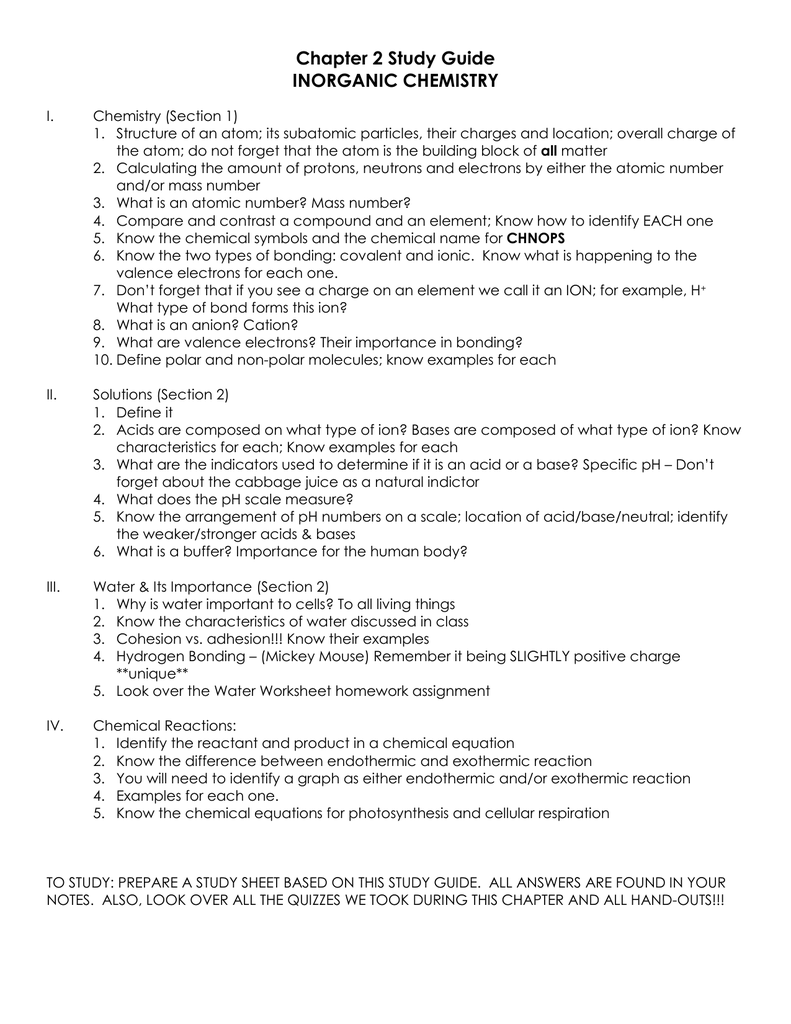 Chapter 2 Study Guide
INORGANIC CHEMISTRY
I.
Chemistry (Section 1)
1. Structure of an atom; its subatomic particles, their charges and location; overall charge of
the atom; do not forget that the atom is the building block of all matter
2. Calculating the amount of protons, neutrons and electrons by either the atomic number
and/or mass number
3. What is an atomic number? Mass number?
4. Compare and contrast a compound and an element; Know how to identify EACH one
5. Know the chemical symbols and the chemical name for CHNOPS
6. Know the two types of bonding: covalent and ionic. Know what is happening to the
valence electrons for each one.
7. Don't forget that if you see a charge on an element we call it an ION; for example, H+
What type of bond forms this ion?
8. What is an anion? Cation?
9. What are valence electrons? Their importance in bonding?
10. Define polar and non-polar molecules; know examples for each
II.
Solutions (Section 2)
1. Define it
2. Acids are composed on what type of ion? Bases are composed of what type of ion? Know
characteristics for each; Know examples for each
3. What are the indicators used to determine if it is an acid or a base? Specific pH – Don't
forget about the cabbage juice as a natural indictor
4. What does the pH scale measure?
5. Know the arrangement of pH numbers on a scale; location of acid/base/neutral; identify
the weaker/stronger acids & bases
6. What is a buffer? Importance for the human body?
III.
Water & Its Importance (Section 2)
1. Why is water important to cells? To all living things
2. Know the characteristics of water discussed in class
3. Cohesion vs. adhesion!!! Know their examples
4. Hydrogen Bonding – (Mickey Mouse) Remember it being SLIGHTLY positive charge
**unique**
5. Look over the Water Worksheet homework assignment
IV.
Chemical Reactions:
1. Identify the reactant and product in a chemical equation
2. Know the difference between endothermic and exothermic reaction
3. You will need to identify a graph as either endothermic and/or exothermic reaction
4. Examples for each one.
5. Know the chemical equations for photosynthesis and cellular respiration
TO STUDY: PREPARE A STUDY SHEET BASED ON THIS STUDY GUIDE. ALL ANSWERS ARE FOUND IN YOUR
NOTES. ALSO, LOOK OVER ALL THE QUIZZES WE TOOK DURING THIS CHAPTER AND ALL HAND-OUTS!!!