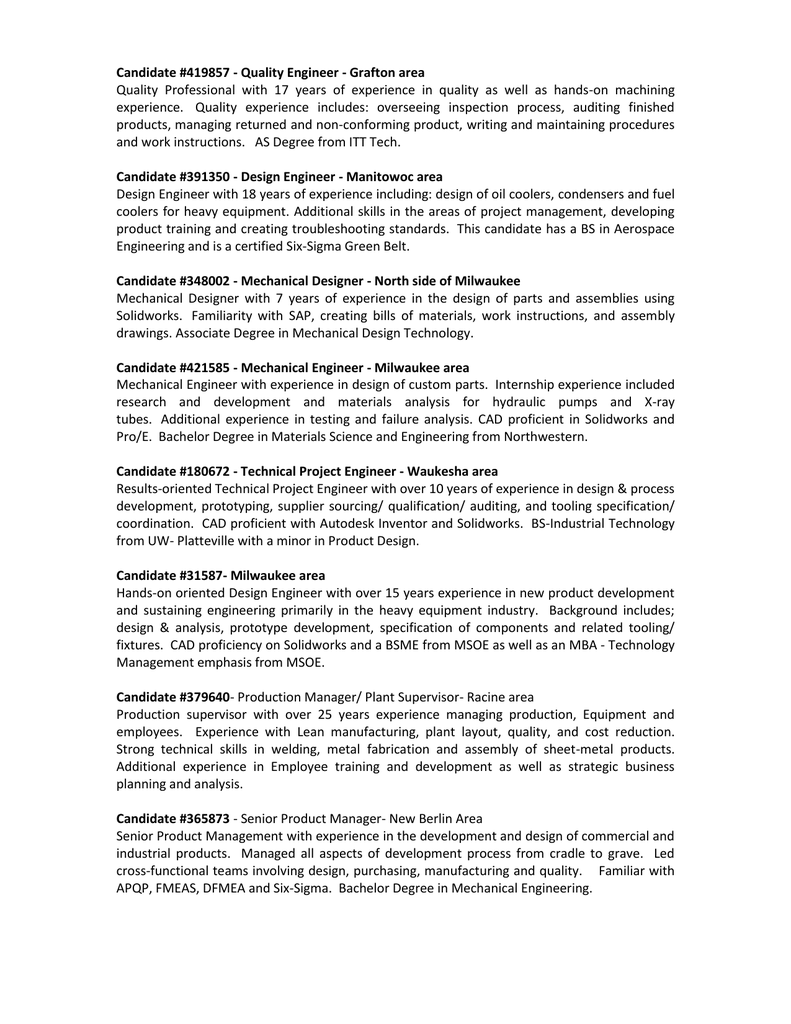 Candidate #419857 - Quality Engineer - Grafton area
Quality Professional with 17 years of experience in quality as well as hands-on machining
experience. Quality experience includes: overseeing inspection process, auditing finished
products, managing returned and non-conforming product, writing and maintaining procedures
and work instructions. AS Degree from ITT Tech.
Candidate #391350 - Design Engineer - Manitowoc area
Design Engineer with 18 years of experience including: design of oil coolers, condensers and fuel
coolers for heavy equipment. Additional skills in the areas of project management, developing
product training and creating troubleshooting standards. This candidate has a BS in Aerospace
Engineering and is a certified Six-Sigma Green Belt.
Candidate #348002 - Mechanical Designer - North side of Milwaukee
Mechanical Designer with 7 years of experience in the design of parts and assemblies using
Solidworks. Familiarity with SAP, creating bills of materials, work instructions, and assembly
drawings. Associate Degree in Mechanical Design Technology.
Candidate #421585 - Mechanical Engineer - Milwaukee area
Mechanical Engineer with experience in design of custom parts. Internship experience included
research and development and materials analysis for hydraulic pumps and X-ray
tubes. Additional experience in testing and failure analysis. CAD proficient in Solidworks and
Pro/E. Bachelor Degree in Materials Science and Engineering from Northwestern.
Candidate #180672 - Technical Project Engineer - Waukesha area
Results-oriented Technical Project Engineer with over 10 years of experience in design & process
development, prototyping, supplier sourcing/ qualification/ auditing, and tooling specification/
coordination. CAD proficient with Autodesk Inventor and Solidworks. BS-Industrial Technology
from UW- Platteville with a minor in Product Design.
Candidate #31587- Milwaukee area
Hands-on oriented Design Engineer with over 15 years experience in new product development
and sustaining engineering primarily in the heavy equipment industry. Background includes;
design & analysis, prototype development, specification of components and related tooling/
fixtures. CAD proficiency on Solidworks and a BSME from MSOE as well as an MBA - Technology
Management emphasis from MSOE.
Candidate #379640- Production Manager/ Plant Supervisor- Racine area
Production supervisor with over 25 years experience managing production, Equipment and
employees. Experience with Lean manufacturing, plant layout, quality, and cost reduction.
Strong technical skills in welding, metal fabrication and assembly of sheet-metal products.
Additional experience in Employee training and development as well as strategic business
planning and analysis.
Candidate #365873 - Senior Product Manager- New Berlin Area
Senior Product Management with experience in the development and design of commercial and
industrial products. Managed all aspects of development process from cradle to grave. Led
cross-functional teams involving design, purchasing, manufacturing and quality. Familiar with
APQP, FMEAS, DFMEA and Six-Sigma. Bachelor Degree in Mechanical Engineering.