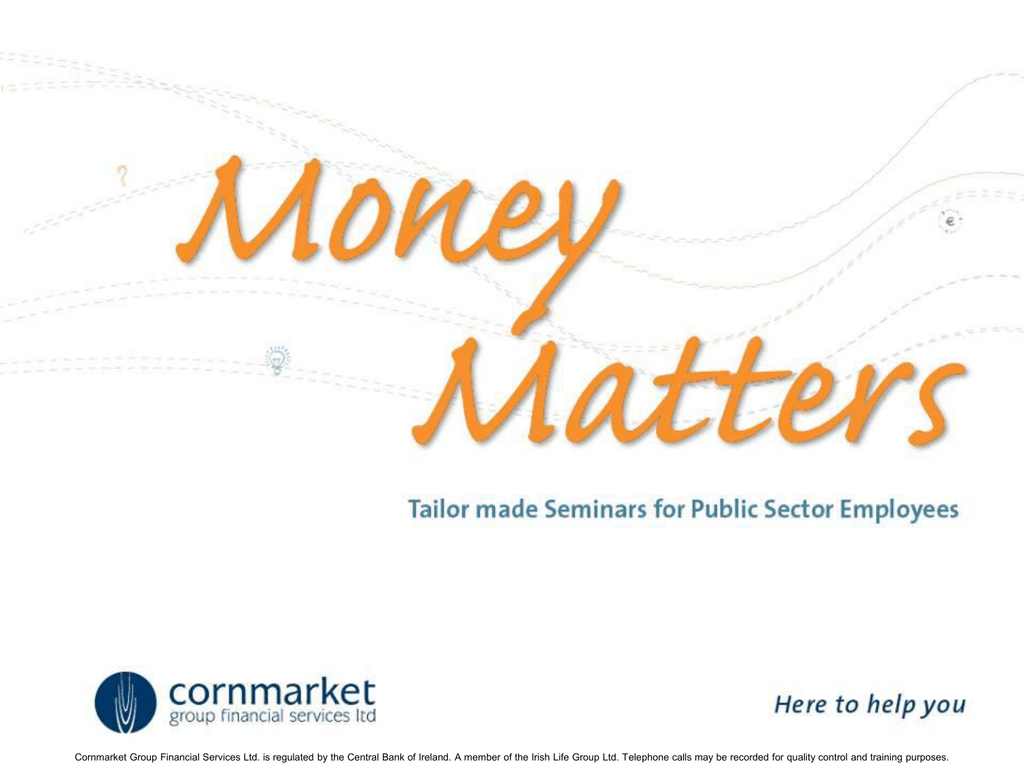 Cornmarket Group Financial Services Ltd. is regulated by the Central Bank of Ireland. A member of the Irish Life Group Ltd. Telephone calls may be recorded for quality control and training purposes.
Our History
 Over 50 union endorsed Schemes
 Customer feedback 2013
Out of 1,203 Questionnaires returned:
• 94% rated service as Excellent or Very Good
• 98% would recommend the service to others
Agenda
1. Build your Budget
2. Money Saving Tips
3. Savings
4. Other Tips…
1. Build your Budget
Where do I start?
• Keep a spending diary
• Calculate how much you are actually
spending
• What is an absolute necessity?
• What isn't an absolute necessity?
e.g. cosmetics/weekend trips/eating out, etc
• Manage your debt.
Get your finances on track
• Identify and write down your financial
goals
• List your expenses in order of priority e.g.
debt payments first
• Use a budget planner
• Print it, keep it in a place that's easily
visible, e.g. fridge/wallet.
• Regularly check you are still on track.
Build your budget
…know your every cent
Specific
Measurable
Setting your financial
goals
How much you want to save?
Attainable
Realistic
Time-bound
How long it will take?
Setting your financial goals
Short-term
< 1 year
Mid-term
1 to 3 years
Long-term
3 years +
Keep your finances under review as your circumstances change.
Managing Debt
• List your debts in order of priority
• Know the APR and how much you have left to pay
on all debts e.g. mortgage, utility bills, medical costs,
credit cards, overdraft, personal loans.
• The highest APR loans should be paid after your
mortgage, utility bills and medical costs.
• Know your facts and figures - devise a realistic
monthly budget of what you can repay
• Contact your lender/bank to discuss your options if
you are finding it difficult to meet repayments, e.g. debt
consolidation, payment breaks, extending your loan
term, etc.
don't bury your
head in the sand!
2. Money Saving Tips
Savings can be made
without affecting your lifestyle
Use the following savings towards:
 Your child's education
 Paying off some debt
 A gym membership
 A holiday.
Potential Savings
•
•
•
•
•
•
Review your life cover
Review electricity providers
Implement energy saving tips
File your tax returns
Review your health insurance
Grocery savings
€1,143
€209
€650
€1,090
€865
€3,550
€7,507
see the following slides for source details
Review your Life Cover
If you have a young family
Why do I need
Life Insurance?
If you have a mortgage or loans
If your partner does not have
independent or employment-related
cover
If you are not in the Spouses' and
Children's Scheme
If you are not in the
Superannuation Scheme.
Why should you review
your Life Insurance?




To ensure you are not under-insured
To ensure you are not over-insured
To ensure you are not over-paying for the level of
cover required
Your life constantly changes and moves forward, so
your life insurance must be reviewed &change as well
Shop Around
Potential savings on your Life Cover
Source: Adviser Plus, figures on 04/06/14. Life cover savings compares the lowest &
highest price available. Quote is for a male, aged 54 & a female aged 53, both nonsmoking with Life cover of €250,000 & Specified Illness Cover of €50,000 for a 20 year
term with benefits & premiums increasing.
Life Cover
Typical Example:
Public Sector Employee
Private Sector Employee
Death in
Service
Salary
Protection
Spouses' &
Children's
Mortgage
Protection /
Life Cover
Mortgage
Protection /
Life Cover
Life Cover – DOs & DONTs
•
DO carefully consider what you
can pay in and need out
•
DON'T assume joint cover is the
same as two singles - get
quotes for both
•DON'T over- or under-cover yourself
•DON'T take out a critical illness policy
without good advice
•DO consider writing in trust
•
•
•
DO live a healthier life, it makes
things cheaper
DO answer questions
accurately - insurers must ask
what they need to know
DO quit smoking - and requote.
•DON'T think you're stuck with old,
expensive insurance
•DO only get cover for as long as it's
needed - and no longer.
General Insurance Tips
Over-estimating - increases your premium and will not benefit
you if you go to make a claim.
Underestimating - will make it difficult to cover costs if you
need to claim.
Review all your insurance policies - you could save
hundreds of Euro in car, home & health insurance.
Check if you are over insured - some individuals have too
many layers of cover e.g. travel cover under health insurance.
The policy offering the lowest premium is not always the best.
Always compare the policy features & benefits - see if you are
getting the best value for money.
Car Insurance Tips
Get the right level of cover - comprehensive/third-party.
Build up your no-claims discount.
Avoid driving convictions and penalty points.
Before adding named drivers to your policy – know their age,
job, the type of licence they hold, driving experience and previous
claims history.
Home Insurance Tips
Insure your home for the amount it would cost to rebuild it, not its
market value if you sold it. See http://www.scsi.ie/.
Insure your contents for the amount it would cost you to replace them
if they were stolen or damaged.
Check if you can get better value by combining buildings and contents
cover into one policy.
If someone is working on your home e.g. tradesmen, check if they
have their own public liability insurance. If they damage your home, it
might not be covered by your own insurance (check your policy for
liability insurance details).
Check for discounts
Discounts may be available if:
• If you have had no previous claims or have been claims
free within the past three years.
• The house has a security alarm (you may get an extra discount
if it is monitored)
• Your house has smoke alarms
• Your home is occupied during the day.
Drive home a better deal…
Get a great price and first class benefits
on your Car and Home Insurance.
Call us on 01 408 4040
Review your health
insurance

Costs are spiralling

Annual contracts now in place

'Restricted illnesses' on many mid-range
plans

Review at your renewal date
01) 477 5101
By availing of our FREE comparison service,
*Savings based on price comparison from the Health Insurance Authority effective as at 23/3/14 by
you
could save up to €865* per adult!
switching from VHI Health Plus Extra to the Aviva Nurses & Teachers Choice (€865) or to the GloHealth Best Plan (€775).
File your tax returns
82%
of PAYE workers
overpaid in tax
last year
The average tax
refund for PAYE
workers was
€1,090 last year!
Source: Midas customer statistics 2013. Midas is a tax based service and not a regulated financial product. Cornmarket Retail Trading is a wholly-owned subsidiary of
Cornmarket Group Financial Services Ltd.
Why Public Sector Employees Overpay
Tax
Factors
Repercussions
x
Not sharing credits and cut off
points in a tax efficient manner
x
Not claiming the appropriate tax
credits, reliefs, rate bands, etc
x
Not availing of all allowances &
entitlements
 Birth of child
x
Tax Credit Certificate details
incorrect
 Human error when calculating and
deducting tax.
x
Incorrect allocations accumulate
year on year.
 Married
 Change Job
 Agency Work
 Income changes
Tax reliefs/allowances available
Employment
expenses
€€
Salary Protection €€
Pension €€
Tax Bands incorrect €€
Mortgage Interest Relief €€
Rent Credit €€
You can claim back tax for a period of up to 4 years!
3. Savings
Build a savings nest egg, and maximise the return
4 steps to a brighter financial
future
1. Review your finances
2. Identify your savings need
3. Tailor a savings plan to your own particular circumstances
4. Start your savings plan
Why do you need to save?
Deposit for house purchase, holiday, education expenses, weddings etc.
10% Deposit required
Build a savings record
Will you get credit?
How much will it cost you?
Would you be better off if you saved?
Maximise your savings
Deposit rates very low so its
vital to get your money
working for you.
Tailored savings plans for
public sector employees
 Educational Saving
 House Deposit
 New Car
Sources: The Sunday Business Post 29/01/13 & 10/03/13
4. Other Tips
Groceries…your second biggest bill
after your mortgage!
Over half of us make
"Quick trips" to the
supermarket 3-4 times
per week overspending
€10 more on each trip.
Do one big weekly shop
Potential savings €2,080*
Bring your lunch to work
Potential savings €1,170**
Buy generic food brands
Potential savings €300***
*Marketing Science Institute Research, Sunday business post, 13/01/2013. **based on spending €6.50 per day
over 52 weeks. €2 to make a sandwich vs. €5 - €8 to buy. ***Source: Sunday business post, 13/01/13.
Generic food brand saving based on saving €5.60 per week.
Review your Home Phone, Broadband & Mobile.
- it's the new buzz word!
Allows you to watch films, TV series & documentaries
anytime, anywhere, on a laptop or ipad/tablet
Could help you save money on DVD rentals and reduce
the need to use your on demand
It tracks what you watch and makes suggestions on your
next visit
 They offer a 1-month free trial
 Thereafter, costs €7.99 per month.
Visit www.netflix.com for more information.
Price correct as at 05.06.14
Review Gas/Electricity Provider
 Market constantly changing
 Check if you are locked into a contract
 If not, review your provider
 Gas and Electricity from separate suppliers
 Choose Direct Debit
 Switch to an Online Bill
Only trust price comparison sites accredited by the
Commission of Energy Regulation (CER).
Log on to Bonkers.ie
Example of Savings Available €209.99
Savings based on switching from Airtricity's dual saver option (Electricity bill €130 bi-monthly/Gas bill €180 bi-monthly) to Energia SmartChoice Dual Fuel and Energia
SmartChoice Dual Fuel. Source: bonkers.ie 06/03/14.
Service your Boiler
Save €150 per annum
Energy Saving Tips
Potential Savings €650
Source: www.seai.ie, 05.06.14
www.consumerconnect.ie
this tool gives you advice and tips on
how to cut your household spending
Cut down your Mobile Phone Bill
1.
2.
3.
4.
www.skype.ie - free National &
International calls
Apps on IPhone/Smartphone –
Viber/Whatsapp - free calls &
sms worldwide
Free sms messaging online with
your provider e.g. O2
Be careful with contracts – can
tie you in for 12, 18 or even 24
months!
Citizens Information Resources
Some other resources at your
Fingertips
comparison sites
money saving websites
www.bonkers.ie
www.moneyguideireland.com
www.hia.ie
www.menupages.ie
www.callcosts.ie
www.parksmart.ie
www.nca.ie
www.mydealpage.ie
Thank you for your attention
Questions?
Awards
for our partnership with
for our Breast Cancer Initative
Please be advised that while Cornmarket has referenced websites in this presentations, we cannot be held responsible for the content of
these websites. Cornmarket Group Financial Services Ltd. is regulated by the Central Bank of Ireland. A member of the Irish Life Group Ltd.