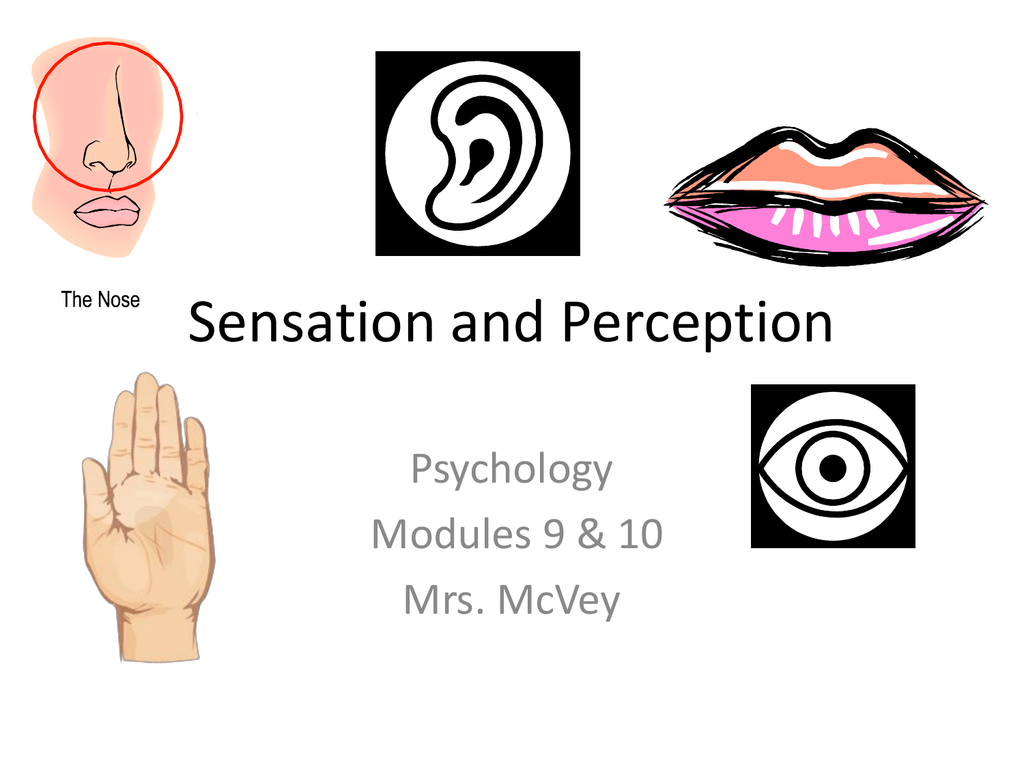 Sensation and Perception
Psychology
Modules 9 & 10
Mrs. McVey
• If its underlined, bolded, italicized you need to
know it for the test
• Take notes on the provided graphic organizers
• Open books to page 157----its important to
look at pictures in this chapter
What Is Sensation?
• It occurs when a stimulus
activates a sensory
receptor
• A stimulus is measured by
the following: size,
intensity, duration,
wavelength
Slide # 3
What Is Perception?
• The organization of sensory information into
meaningful experiences
Slide # 4
What is sensation?
What is perception?
• Perception
– Process of organizing and interpreting sensory
information
• Sensation
– The process by which sensory systems (ears, eyes,
etc.) and nervous system receive stimulus from
the environment
S E N S A T IO N
Book Definition:
The stimulation of sensory receptors and the transmission of sensory
information into the central nervous system
O u r s e n s e s h a v e p ic k e d u p a m e s s a g e fro m th e
e n v iro n m e n t – v e r y s im p ly " T a k in g it a ll in "
P E R C E P T IO N
Book Definition:
The process by which sensations are organized into an inner
representation of the world
In te rp re tin g w h a t w e s e n s e – M a k in g s e n s e
o u t o f s e n s a tio n s
Making Sense of Complexity
Our sensory and perceptual processes work
together to help us sort out complex images.
"The Forest Has Eyes," Bev Doolittle
7
Sensation & Perception
How do we construct our representations of the
external world?
To represent the world, we must detect physical
energy (a stimulus) from the environment and
convert it into neural signals. This is a process
called sensation.
When we select, organize, and interpret our
sensations, the process is called perception.
8
Processing
• Bottom-up processing (sensation)
– Focuses on the raw material entering through our
eyes, ears, and other organs of sensation
• Top-down processing (perception)
– Focuses on our expectations and experiences in
interpreting incoming sensory information
Bottom-up Processing
Analysis of the stimulus begins with the sense
receptors and works up to the level of the brain
and mind.
Letter "A" is really a black blotch broken down into
features by the brain that we perceive as an "A."
10
Top-Down Processing
Information processing guided by higher-level
mental processes as we construct perceptions,
drawing on our experience and expectations.
THE CHT
11
Thresholds
• Absolute
– The minimum stimulation needed to detect a
particular stimulus
• Can't hear sounds at low level=below absolute
threshold
• Difference (jnd—just noticeable difference)
– Minimum difference that a person can detect
between two stimuli
Absolute Thresholds
• Vision: a flame from a
single candle 30 miles
away
• Hearing: ticking of a watch
20 feet away
• Taste: one teaspoon of
sugar in two gallons of
water
• Smell: one drop of
perfume in a small house
• Touch: the wing of a bee
brushing your cheek
Slide # 13
Signal-Detection Theory
• The study of people's
tendencies to make
correct judgments in
detecting the
presence of stimuli
Slide # 14
Signal Detection Theory
• Set of formulas and principles that predict when we
will detect the presence of a faint stimulus ("signal")
amid background stimulation ("noise"). Detection
depends on qualities of the stimulus, the
environment, and the person who is detecting.
– Stimulus variables
– Environmental variables
– Organismic variables
Sensory adaptation
• Sensory Adaptation
– Diminished sensitivity as a result of constant
stimulation
• Wearing socks…do you feel them? Probably not
• Failure to realize the bath water is hot at first
• Selective Attention
– Focusing conscious awareness on a particular
stimulus to the exclusion of others
• Listening to the teacher-not the gossip around you
Sensory Adaptation
Diminished sensitivity as a consequence of
constant stimulation.
Put a band aid on your arm and after awhile
you don't sense it.
17
Selective Attention
• Selective Attention
– Focusing conscious awareness on a particular
stimulus to the exclusion of others
• Listening to the teacher-not the gossip around you
The Eye
22
Parts of the eye
1. Cornea: Transparent tissue where light enters
the eye.
2. Iris: Muscle that expands and contracts to
change the size of the opening (pupil) for light.
3. Lens: Focuses the light rays on the retina.
4. Retina: Contains sensory receptors that process
visual information and sends it to the brain.
23
Both Photos: Thomas Eisner
The Stimulus Input: Light Energy
Visible
Spectrum
24
Physical Characteristics of Light
1. Wavelength (hue/color)
2. Intensity (brightness)
25
Wavelength (Hue)
Violet
Indigo
400 nm
Short wavelengths
Blue
Green
Yellow
Orange
Red
700 nm
Long wavelengths
Different wavelengths of light result
in different colors.
26
Intensity (Brightness)
Intensity:
Amount of
energy in a
wave
determined by
the amplitude.
It is related to
perceived
brightness.
27
Intensity (Brightness)
Blue color with varying levels of intensity.
As intensity increases or decreases, blue color
looks more "washed out" or "darkened."
28
The Lens
Lens: Transparent
structure behind the
pupil that changes shape
to focus images on the
retina.
Accommodation: The
process by which the
eye's lens changes shape
to help focus near or far
objects on the retina.
29
Retina
Retina: The lightsensitive inner
surface of the eye,
containing receptor
rods and cones in
addition to layers of
other neurons
(bipolar, ganglion
cells) that process
visual information.
30
Optic Nerve, Blind Spot & Fovea
Optic nerve: Carries neural impulses from the eye to the
brain. Blind Spot: Point where the optic nerve leaves the
eye because there are no receptor cells located there.
Fovea: Central point in the retina around which the eye's
cones cluster.
http://www.bergen.org
31
Test your Blind Spot
Use your textbook. Close your left eye, and fixate
your right eye on the black dot. Move the page
towards your eye and away from your eye. At
some point the car on the right will disappear due
to a blind spot.
32
Photoreceptors
E.R. Lewis, Y.Y. Zeevi, F.S Werblin, 1969
33
Bipolar & Ganglion Cells
Bipolar cells receive messages from
photoreceptors and transmit them to ganglion
cells, which converge to form the optic nerve.
34
Visual Information Processing
Optic nerves connect to the thalamus in the
middle of the brain, and the thalamus connects to
the visual cortex.
35
Slide # 36
Visual system
• The color we perceive light to be is
determined by its wavelength
• Trichromatic color theory—can't see the
color due to an absence (lack of) cones
• Opponent process theory of color vision:
every color has an opposite color
(afterimage)
Color Vision
Trichromatic theory: Young and von Helmholtz
suggested that the eye must contain three receptors
that are sensitive to red, blue and green colors.
Standard stimulus
Comparison stimulus
Max
Medium
Low
Blue
Green
Red
38
VISUAL PROBLEMS
Color Blindness

Color Blind – sensitive to only black & white

Dichromat – only sensitive to certain colors – partially color blind

Trichromat – normal color vision
Link Jay and Maureen Neitz Color Vision Page
Hearing
• Depends on sound waves
or vibrations
• Sound waves pass through
various bones in the inner
ear
• Thin, hair-like cells move
back and forth
Slide # 45
The Path of Sound
• Sound waves are funneled
by the outer ear to the
eardrum, causing it to
vibrate
• Ossicles and oval window,
cochlea
• Basilar membranes, Organ
of Corti, hair-cell receptors
Slide # 46
Hearing
• The vibrations of the eardrum are transmitted to
the oval window by three tiny bones located in
the middle ear.
• Cochlea is fluid-filled tube in which sound waves
trigger nerve impulses
• Hearing loss: damage to your cochlea
• A time lag between the time sound reaches your
left and right ears is important for accurately
locating sounds.
• Semicircular canals are for balance
Loudness of Sound
Richard Kaylin/ Stone/ Getty Images
120dB
48
70dB
The Ear
Dr. Fred Hossler/ Visuals Unlimited
49
Cochlea
Cochlea: Coiled, bony, fluid-filled tube in the
inner ear that transforms sound vibrations to
auditory signals.
50
Localization of Sounds
Because we have two ears, sounds that reach
one ear faster than the other ear cause us to
localize the sound.
51
Skin Senses
Only pressure has identifiable receptors. All other
skin sensations are variations of pressure, warmth,
cold and pain. The four basic sensation are pain,
pressure, warmth, and cold
Pressure
Burning hot
Vibration
Vibration
Cold, warmth and pain
52
Gate-Control Theory
Melzack and Wall (1965, 1983) proposed that our
spinal cord contains neurological "gates" that
either block pain or allow it to be sensed. Gatecontrol theory: other touch sensations close the
gate on pain sensations
Gary Comer/ PhototakeUSA.com
53
Taste
Taste is a chemical sense!
Sweet
Sour
Salty
Bitter
Umami
(Fresh
Chicken)
54
Body Position and Movement
The sense of our body parts' position and
movement is called kinesthesis. The vestibular
sense monitors the head (and body's) position.
Bob Daemmrich/ The Image Works
http://www.heyokamagazine.com
Whirling Dervishes
Wire Walk
55
Kinesthetic
• The sense of
movement and one's
body is
vestibular sense
• Receptors in muscles,
tendons, joints
• Semicircular canals
Slide # 56
Perceptual Organization
You NEED a book. Open to page 183
How do we form meaningful perceptions
from sensory information?
We organize it. Gestalt psychologists
showed that a figure formed a "whole"
different than its surroundings.
57
A Changing Picture
Slide # 58
Defining Perception
• An active process
• The brain pieces together
bits of sensory
information in order to
form orderly impressions
or pictures
• Gestalt
Slide # 59
Gestalt
• The "whole" or the organizational patterns,
that we tend to perceive. The Gestalt
psychologists emphasized that the whole is
greater than the sum of its parts
– The "Big Picture"
Figure-ground relationships
• The organization of the visual field into
objects (figures) that stand out from their
surroundings (ground)
– Airplane=figure……sky=ground
– Island=figure……..ocean=ground
Form Perception
Organization of the visual field into objects
(figures) that stand out from their surroundings
(ground).
Time Savings Suggestion, © 2003 Roger Sheperd.
62
Grouping Principles
• Grouping: placing items into understandable sets
– Similarity
• Items that resemble each other as part of the same group
• Basketball teams wear two different colors of uniforms, two
different groups
– Proximity
• Objects close together belong in a group
– Closure
• Fill in gaps in order to perceive disconnected parts as a whole
object
– Continuity
Grouping
After distinguishing the figure from the ground,
our perception needs to organize the figure into
a meaningful form using grouping rules.
66
Gestalt Principle: Similarity
• When similar and
dissimilar objects are
mingled together, we
see the similar objects
as groups
Slide # 67
Gestalt Principle: Continuity
• We tend to see
continuous patterns,
not disrupted ones
Slide # 68
Gestalt Principle: Closure
• Occurs when people
see a familiar pattern
or shape with some
missing parts
Slide # 69
Grouping & Reality
Although grouping principles usually help us construct
reality, they may occasionally lead us astray.
Both photos by Walter Wick. Reprinted from GAMES
Magazine. .© 1983 PCS Games Limited Partnership
70
Depth Perception
• Ability to see in three dimensions & judge distance
• Binocular
– Require the use of both eyes
• Monocular
– Require the use of only one eye
Retinal Disparity: A binocular depth cue resulting from
slightly different images produced by the separation of the
retinas in the left and right eyes
"somewhat different images are two eyes see of the same
subject"
Camera one, camera two
Depth Perception
Innervisions
Depth perception enables us to judge distances.
Gibson and Walk (1960) suggested that human
infants (crawling age) have depth perception. Even
newborn animals show depth perception.
Visual Cliff
72
Monocular Cues p. 189
• Relative size
• Relative motion
• Interposition
– Object blocks another object is perceived as closer
•
•
•
•
Relative height
Texture gradient
Relative clarity
Linear perspective
– Parallel rows of corn
Binocular Cues
Retinal disparity: Images from the two eyes differ. Try
looking at your two index fingers when pointing them
towards each other half an inch apart and about 5 inches
directly in front of your eyes. You will see a "finger
sausage" as shown in the inset.
74
Monocular Cues
Relative Size: If two objects are similar in size, we
perceive the one that casts a smaller retinal image
to be farther away.
75
Monocular Cues
Interposition: Objects that occlude (block) other
objects tend to be perceived as closer.
Rene Magritte, The Blank Signature, oil on canvas,
National Gallery of Art, Washington. Collection of
Mr. and Mrs. Paul Mellon. Photo by Richard Carafelli.
76
Monocular Cues
Relative Height: We perceive objects that are higher in our
field of vision to be farther away than those that are lower.
Image courtesy of Shaun P. Vecera, Ph. D.,
adapted from stimuli that appered in Vecrera et al., 2002
77
Monocular Cues
Relative motion: Objects closer to a fixation point
move faster and in opposing direction to those
objects that are farther away from a fixation point,
moving slower and in the same direction.
78
Monocular Cues
Linear Perspective: Parallel lines, such as railroad
tracks, appear to converge in the distance. The
more the lines converge, the greater their
perceived distance.
© The New Yorker Collection, 2002, Jack Ziegler
from cartoonbank.com. All rights reserved.
79
http://www.eyetricks.com/pinwheel.htm
DEPTH PERCEPTION
MONOCULAR CUES FOR
DEPTH
PERSPECTIVE
TEXTURE GRADIENT
MONOCULAR CUES FOR
DEPTH
• If two objects make the same size image on
the retina, we will perceive the object that
appears to be closer as larger than the object
that appears to be more distant.
PERCEPTION OF MOVEMENT
• Stroboscopic Motion – rapid sequencing of visual images
• Phi Phenomenon – rapid sequencing of lights
Phi Phenomenon
Motion Perception
• Stroboscopic motion
– Perceive motion when there is none—series of
varying still images
• Flip book
• Animation
• Phi phenomenon
– Movement when lights are turned on and off in
sequence
• Christmas lights
Perceptual Constancy
• Perceptual constancy is perceiving the size,
shape, and lightness of an object as
unchanging, even as the retinal image of the
object changes
– Size Constancy
• Horse galloping towards you is not growing in size
– Shape Constancy
• Know books are rectangular not trapezoid
– Lightness Constancy
PERCEPTUAL CONSTANCIES
SIZE CONSTANCY
PERCEPTUAL CONSTANCIES
SHAPE CONSTANCY
PERCEPTUAL CONSTANCIES
COLOR CONSTANCY
PERCEPTUAL CONSTANCIES
BRIGHTNESS CONSTANCY
Perceptual set, Context, Illusions
• Perceptual set: mental predisposition to
perceive something one way & not the other
• Context: setting or environment in which we
interpret sensory stimuli
• Illusions "tricks" on schemas (mental
frameworks that organize and interpret
information)
Extrasensory Perception (ESP)
• The ability to gain information by some means
other than the normal senses
• Paranormal phenomena and parapsychology
Slide # 93
The "Sixth Sense"
• The major focus includes the following:
Telepathy, clairvoyance, precognition, and
psychokinesis
Slide # 94
Telepathy
• Communication of thoughts from one mind to
another that occurs without the use of our
known senses
Slide # 95
Clairvoyance
• The ability to perceive objects and events
without using the senses
Slide # 96
Precognition and Psychokinesis
• Precognition: the ability to foretell the future
• Psychokinesis: the ability to move objects
through mental effort alone
Slide # 97
ESP
• Psychologists are skeptical about the existence
of ESP because there is case study evidence
that seems to support claims of ESP, but no
experimental evidence.
Is There Extrasensory Perception?
Perception without sensory input is called
extrasensory perception (ESP). A large percentage
of scientists do not believe in ESP.
Claims of ESP:
1. Telepathy: Mind-to-mind communication. One
person sending thoughts and the other
receiving them.
2. Clairvoyance: Perception of remote events,
such as sensing a friend's house on fire.
3. Precognition: Perceiving future events, such as
a political leader's death.
99
http://www.garyfisk.com/anim/index.html
100
• http://www.garyfisk.com/anim/index.html
• http://psych.hanover.edu/Krantz/sen_tut.html
101
http://dogfeathers.com/java/necker.html
102
Perceptual Constancy
Perceiving objects as unchanging even as
illumination and retinal images change.
103
Color Constancy
Perceiving familiar objects as having consistent
color even when changing illumination filters
the light reflected by the object.
Color Constancy
104
Size-Distance Relationship
The distant monster (below, left) and the top red
bar (below, right) appear bigger because of
distance cues.
Alan Choisnet/ The Image Bank
From Shepard, 1990
105
Size-Distance Relationship
Both girls in the room are of similar height.
However, we perceive them to be of different
heights as they stand in the two corners of the
room.
Both photos from S. Schwartzenberg/ The Exploratorium
106
Ames Room
The Ames room is designed to demonstrate the sizedistance illusion.
107
Perceptual Interpretation
Immanuel Kant (1724-1804) maintained that
knowledge comes from our inborn ways of
organizing sensory experiences.
John Locke (1632-1704) argued that we learn to
perceive the world through our experiences.
How important is experience in shaping our
perceptual interpretation?
108
Perceptual Set
A mental predisposition to perceive one thing
and not another. What you see in the center
picture is influenced by flanking pictures.
From Shepard, 1990.
109
Perceptual Set
Other examples of perceptual set.
Dick Ruhl
Frank Searle, photo Adams/ Corbis-Sygma
(a) Loch ness monster or a tree trunk;
(b) Flying saucers or clouds?
110
http://dragon.uml.edu/psych/illusion.html
111
Claim: In the film Aladdin, the hero whispers, "Good teenagers, take off your clothes."
http://www.snopes.com/disney/films/aladdin.htm
1) The Pepsi Cool Can
In 1990, Pepsi actually withdrew one of its "Cool Can" designs after someone protested that Pepsi
was subliminally manipulating people by designing the cans such that when six-packs were stacked
at grocery stores, the word SEX would emerge from the seemingly random design. Critics alleged
that the red and blue lines on the "Cool Can" design were far from random <27>.