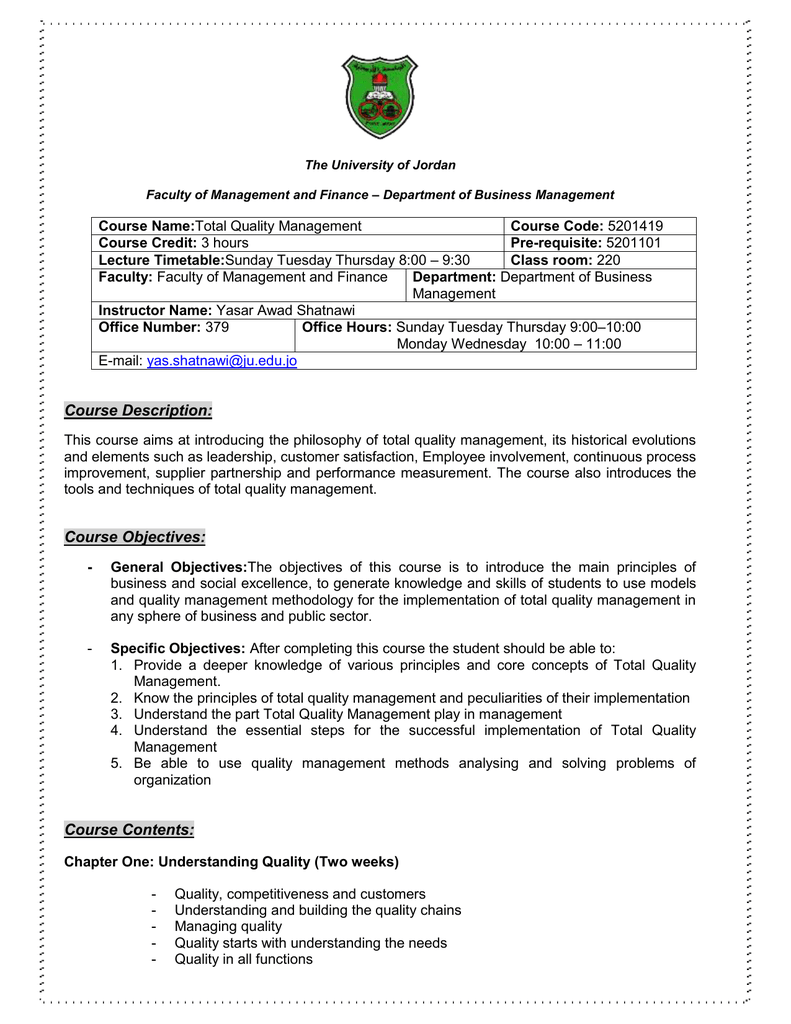 The University of Jordan
Faculty of Management and Finance – Department of Business Management
Course Name:Total Quality Management
Course Code: 5201419
Course Credit: 3 hours
Pre-requisite: 5201101
Lecture Timetable:Sunday Tuesday Thursday 8:00 – 9:30
Class room: 220
Faculty: Faculty of Management and Finance
Department: Department of Business
Management
Instructor Name: Yasar Awad Shatnawi
Office Number: 379
Office Hours: Sunday Tuesday Thursday 9:00–10:00
Monday Wednesday 10:00 – 11:00
E-mail: [email protected]
Course Description:
This course aims at introducing the philosophy of total quality management, its historical evolutions
and elements such as leadership, customer satisfaction, Employee involvement, continuous process
improvement, supplier partnership and performance measurement. The course also introduces the
tools and techniques of total quality management.
Course Objectives:
-
General Objectives:The objectives of this course is to introduce the main principles of
business and social excellence, to generate knowledge and skills of students to use models
and quality management methodology for the implementation of total quality management in
any sphere of business and public sector.
-
Specific Objectives: After completing this course the student should be able to:
1. Provide a deeper knowledge of various principles and core concepts of Total Quality
Management.
2. Know the principles of total quality management and peculiarities of their implementation
3. Understand the part Total Quality Management play in management
4. Understand the essential steps for the successful implementation of Total Quality
Management
5. Be able to use quality management methods analysing and solving problems of
organization
Course Contents:
Chapter One: Understanding Quality (Two weeks)
-
Quality, competitiveness and customers
Understanding and building the quality chains
Managing quality
Quality starts with understanding the needs
Quality in all functions
Chapter Two: Models and frameworks for total quality management(Two weeks)
-
Early TQM frameworks 18
Quality award models 21
The four Ps and three Cs of TQM – a new model for TQM
Chapter Three: Leadership and Commitment (Two weeks)
-
The total quality management approach
Commitment and policy
Creating or changing the culture
Effective leadership
Excellence in leadership
Chapter Five: Partnerships and resources (One week)
-
Partnering
Role of purchasing in partnerships
Just-in-time (JIT) management
Resources
Chapter Six: Design the Quality (Two weeks)
-
Design, innovation and improvement
The design process
Quality function deployment (QFD) – the house of quality
Specifications and standards
Design in the service sector
Failure mode, effect and criticality analysis (FMECA)
The links between good design and managing the business
Chapter Seven: Performance Measurement Frameworks (Two weeks)
-
Performance measurement and the improvement cycle
Costs of quality
The process model for quality costing
A performance measurement framework
The implementation of performance measurement systems
Chapter Nine: Benchmarking (One week)
-
The why and what of benchmarking
The purpose and practice of benchmarking
The role of benchmarking in change
Communicating, managing stakeholders and lowering barriers
Choosing benchmarking-driven change activities wisely
Chapter Ten: Process Management (One week)
-
Process management vision
Process Classification Framework and process modeling
Process flowcharting
Leadership, people and implementation aspects of process management
Chapter Thirteen: Continuous Improvement (Two weeks)
-
A systematic approach
Some basic tools and techniques
Statistical process control
Some additional techniques for process design and improvement
Taguchi methods for process improvement
Six sigma
The 'DRIVE' framework for continuous improvement
Chapter Seventeen: Implementing TQM (One week)
-
TQM and the management of change
Planning the implementation of TQM
Sustained improvement
Assessment Methods:
12345-
Evaluation Tool
Mid-term Examination
Participation
Homework
Short Exam
Final Examination
Grading %
30%
5%
10%
5%
50%
Date
During the semester
During the semester
During the semester
During the semester
Determined by the University
Main Textbook:
-
Oakland, J., S. 2003. Total Quality Management text with cases. 3rd edition. Burlington:
Butterworth-Heinemann
Additional readings:
-
Dahlgaad, J., J ,Kristensem, K., and Kanji, G., K., 2007. Fundamentals of Total Quality
Management, process analysis improvement. UK: Taylor & Francis e-library.
Course Policies:
Attendance
-
Students are expected to attend class. Students may not receive credit for a course if they do
not attend 85 % of the class meetings
Academic Honesty:
-
All the assignments and work submitted by the student should be his or her own.
All actions of academic dishonesty including cheating, plagiarism or helping other students in
such actions will be deal with strictly according to the university regulations.
Assessments Methods:
-
-
All students are expected to attend all exams. Student cannot retake the exam without an
excuse within three days of the exam date and the instructor has the right to accept or refuse
it according to the university rules.
All students must submit home works on time otherwise the instructor will not accept it.