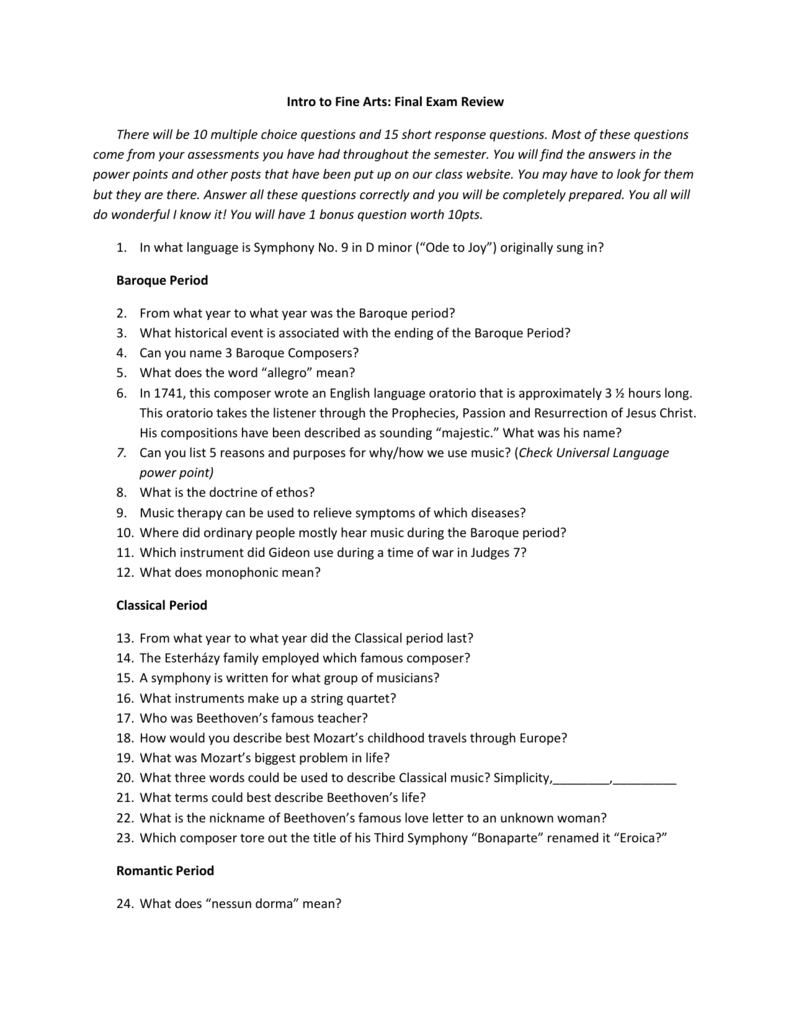 Intro to Fine Arts: Final Exam Review
There will be 10 multiple choice questions and 15 short response questions. Most of these questions
come from your assessments you have had throughout the semester. You will find the answers in the
power points and other posts that have been put up on our class website. You may have to look for them
but they are there. Answer all these questions correctly and you will be completely prepared. You all will
do wonderful I know it! You will have 1 bonus question worth 10pts.
1. In what language is Symphony No. 9 in D minor ("Ode to Joy") originally sung in?
Baroque Period
2.
3.
4.
5.
6.
7.
8.
9.
10.
11.
12.
From what year to what year was the Baroque period?
What historical event is associated with the ending of the Baroque Period?
Can you name 3 Baroque Composers?
What does the word "allegro" mean?
In 1741, this composer wrote an English language oratorio that is approximately 3 ½ hours long.
This oratorio takes the listener through the Prophecies, Passion and Resurrection of Jesus Christ.
His compositions have been described as sounding "majestic." What was his name?
Can you list 5 reasons and purposes for why/how we use music? (Check Universal Language
power point)
What is the doctrine of ethos?
Music therapy can be used to relieve symptoms of which diseases?
Where did ordinary people mostly hear music during the Baroque period?
Which instrument did Gideon use during a time of war in Judges 7?
What does monophonic mean?
Classical Period
13.
14.
15.
16.
17.
18.
19.
20.
21.
22.
23.
From what year to what year did the Classical period last?
The Esterházy family employed which famous composer?
A symphony is written for what group of musicians?
What instruments make up a string quartet?
Who was Beethoven's famous teacher?
How would you describe best Mozart's childhood travels through Europe?
What was Mozart's biggest problem in life?
What three words could be used to describe Classical music? Simplicity,________,_________
What terms could best describe Beethoven's life?
What is the nickname of Beethoven's famous love letter to an unknown woman?
Which composer tore out the title of his Third Symphony "Bonaparte" renamed it "Eroica?"
Romantic Period
24. What does "nessun dorma" mean?
25. From what year to what year was the Romantic period?
26. In Puccini's famous opera "Turandot", what must a suitor do to marry the princess?
Music Theory
27.
28.
29.
30.
What is process of learning a new language? (Check the "I <3 Music Theory" power point)
What is a staff/stave?
What does a clef do?
How are ledger lines and staffs related?