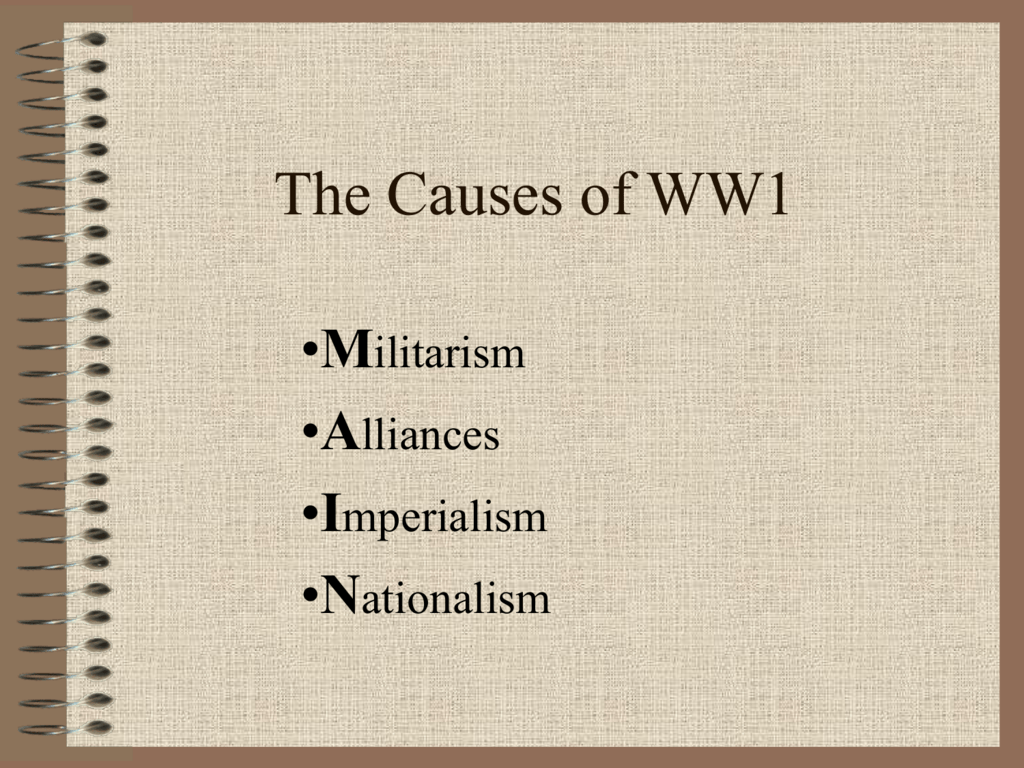 The Causes of WW1
•Militarism
•Alliances
•Imperialism
•Nationalism
Militarism 1.
• belief that a country
needs a large military to
protect its interests.
• Germany was competing
with Great Britain to
build battleships.
Militarism 2.
• Germany was
competing with
Russia and France to
expand their armies
1880
•
•
•
•
1914
Germany 1.3m 5.0m
France
730k 4.0m
Russia
400k 1.2m
U.S.
80k
Alliances 1 (before WWI)
• Triple Entente(1907)-Russia, France & GB
• Triple Alliance(1882)-Germany, A-H, &
Italy
Alliances 2 (during WWI)
• By 1914 all the major
powers were linked by
a system of alliances.
• The alliances made it
more likely that a war
would start.
• Once started, the
alliances made it more
likely to spread.
Imperialism
• All the great powers were competing for
colonies / territory.
• The British feared Germany in Africa.
• The Austrians feared Serbia / Russia in
the Balkans
Nationalism
• This was an age when all nations wanted to
assert their power and independence.
• In Europe Slavs, aided by Serbia and
Russia, wanted to be free of Austrian rule.
Serbia's
national
flag
Serbia's Action
• June 28, 1914
• Heir to Austrian
throne Franz
Ferdinand visits
Sarajevo.
• Capital of Bosnia,
recently grabbed by
Austria.
• Hotbed of Slav
nationalism
Seal of the
Black Hand
group
Serbia's Action 2
• "Black Hand" terrorists
attack the Arch Duke
• Bomb attempt fails in
morning
• Gavrilo Princip shoots
Archduke and wife in
the afternoon.
• Austrians blame Serbia
for supporting
terrorists.
Austria's Action
• Austrians, supported by
Germany, send Serbia a
tough ultimatum. Demand
Serbia apologize and
make a large payment to
A-H
• Serbia agrees to all but
two terms of the
ultimatum.
"Demands must be
put to Serbia that
would be wholly
impossible for them
to accept …"
Russia's Action (Big Brother)
• Russian Czar , Nicholas II warns A-H not
to invade Serbia
• Russia mobilizes her troops to support
Serbia
Germany's Action
• Germany demands that Russia stands her
armies down and not escalate the conflict
by joining Serbia.
• Russia refuses and Germany mobilizes
• Germany declares war on Russia August 1
& France on August 3, 1914
British Action
• Britain now forced to obligate her alliance
(Triple Entente) and declares war against
Central Powers
Please Do Now!!!
• On the next page in your notebook respond
to the following in at least 5 lines.
• If you were President of the United States
how would you react to the events taking
place in Europe? What type of foreign
policy would you use?