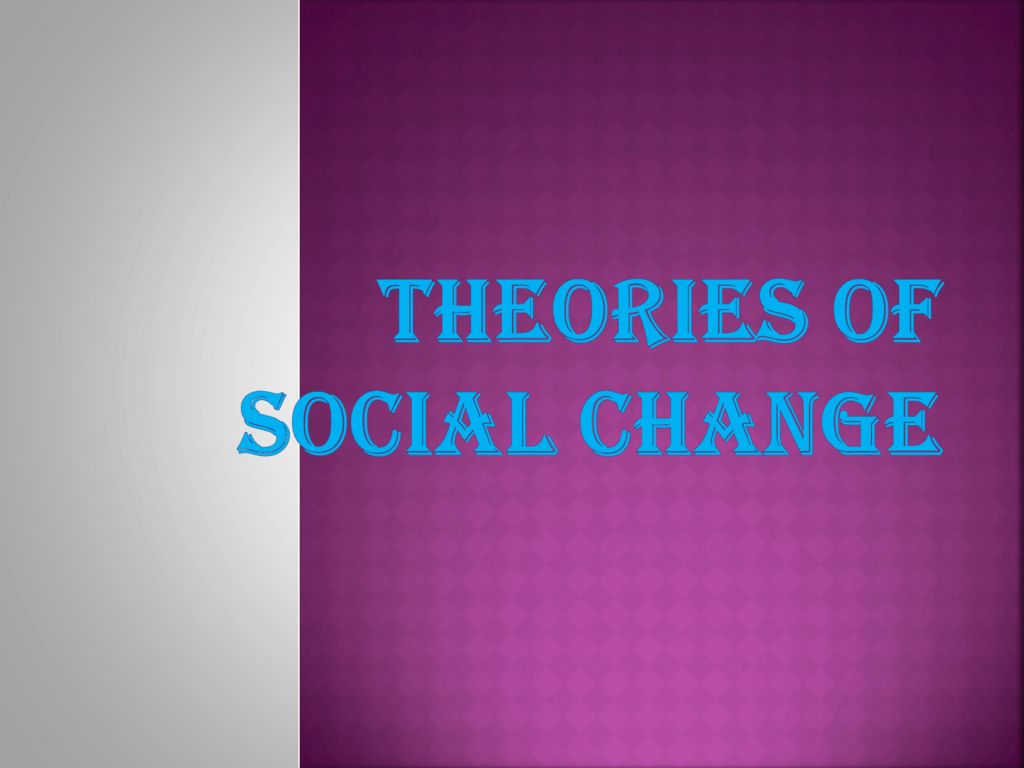  Evolutionism

Societies develop according to one universal order
of cultural evolution

Unilinear appraoch of a universal order (Savagery,
barbarism and civilization)

Human minds share similar characteristics all over
the world

Stimuli of change from within the culture

Western societies are superior to other societies
in the world
 Diffusionism
and
Acculturation

Borrowing of
cultural traits
through many
sources

Change agents from
outside a specific
culture

Concept of bigtradition
 Historical
Particularism

Every culture is a
particular/unique
entity

Cultures cannot be
compared – different
historical entities

Relativism not
ethnocentricism:
Context is important

Functionalism

Main objective of
cultural institutions
is to satisfy needs
of the society

Culture functions
as an interrelated
whole, not a
collection of
isolated traits

Every aspect of
culture has some
specific function

Nothing is
irrelevant or
illogical
 Structuralism

Human mind shares common properties, with
different ways of thinking and processing

Culture is composed of surface and deep
structures

Culture and Personality

Correlation between culture and individual personality

Culture determines the personality or personalities
shape the cultures

Why are people so unique from society to society?

Importance of cognition and childrearing practices

More focused on psychoanalysis of individuals
 Socio-biological
Theory

Explanation of human social behavior from
biological perspectives, especially genes

Nature vs. nurture

Inherited characteristics and learned behavior

Attribution of cultural or ethnic variations to
genetics

Genes are a primary source for shaping our
universal social behaviors.
Causes of
Social Change
 As
many causes as possible; no blueprint
 Materialistic or Marxist perspective:


Changes in means of production
Role of technology: increase in alternatives, new
opportunities, changes in interaction patterns and
social structures, creation and solution of new
problems
 Idealistic

perspective:
Changes in idealistic factors, norms & values,
aesthetics, beliefs, super structure of the society
Invention
 Production of new objects, ideas, and
social patterns
Discovery
 Taking note of certain elements of a
culture
Diffusion
 The spread of products, people, and
information from one culture to
another
(Cont'd)
© 2005 Pearson Education Canada Inc.
 Conflict
and social change: Tensions and
stressors between individuals and groups as
they gain or lose power can bring about
change, e.g., capitalists and workers
 Ideas and change: Ideas can fuel social
movements which bring about social change,
e.g., human rights
(Cont'd)
© 2005 Pearson Education Canada Inc.
 Natural
environment is under great stress
because of our development. The current
patterns of pollution are not sustainable.
 Demographic change: Increases and
decreases in numbers can lead to social
change as society may need to expand
and/or contract housing, education, and
health.
© 2005 Pearson Education Canada Inc.