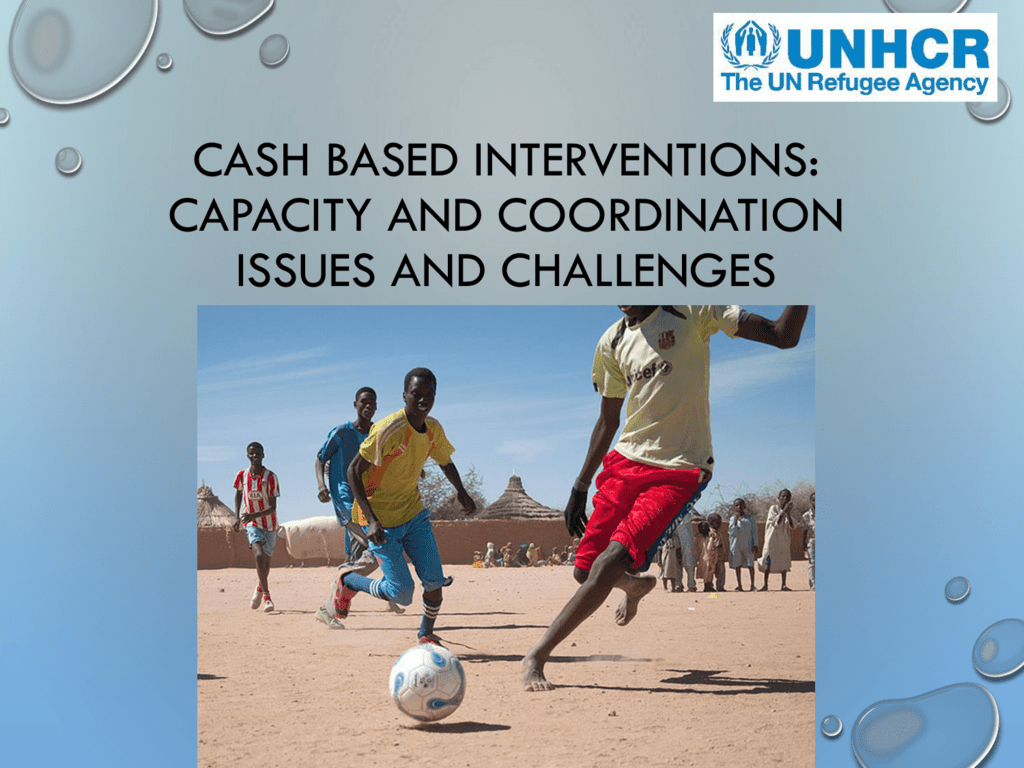 CASH BASED INTERVENTIONS:
CAPACITY AND COORDINATION
ISSUES AND CHALLENGES
CASH BASED INTERVENTIONS IN UNHCR
CBI HAVE BEEN USED IN UNHCR SINCE MANY YEARS… CURRENTLY, UNHCR:
•
PROVIDES CASH ALLOWANCE TO URBAN REFUGEES, CASH GRANTS FOR
INCOME GENERATION, RENT, FUNERAL AND OTHER PURPOSES.
•
AIMS TO DO MORE JOINT WFP-UNHCR FOOD ASSISTANCE PROGRAMMING
THROUGH CASH, VOUCHERS OR COMBINED IN-KIND AND CBI.
•
PROVIDES LIST OF REGISTERED REFUGEES WHICH IS USED IN
BENEFICIARY SELECTION AND VERIFICATION.
•
IS PART OF COMPLAINT MECHANISM AND PARTICIPATES IN JOINT POSTDISTRIBUTION MONITORING (WITH WFP).
CASH BASED INTERVENTIONS IN UNHCR
• CBI FOR FOOD ASSISTANCE MORE VISIBLE COMPARED TO CBI FOR
MORE SPECIFIC PURPOSES OR SMALLER TARGETED GROUPS
CBI STAFFING AND RESOURCES IN UNHCR
• NO DEDICATED CBI STAFF, BUT CBI FOCAL POINTS WERE
APPOINTED AT COUNTRY LEVELS.
• CBI TASK FORCE (REPRESENTATIVES FROM
PROTECTION, WASH AND NUTRITION TEAMS) AT THE
REGIONAL LEVEL.
• DEDICATED CBI UNIT AT HEADQUARTER LEVEL,
DEVELOPED UNHCR GLOBAL OPERATIONAL GUIDANCE
FOR THE USE OF CBI IN DISPLACEMENT SETTINGS.
CBI STAFFING CHALLENGES
• TECHNICAL EXPERTISE WITHIN UNHCR IS LIMITED (E.G.
MARKET ASSESSMENTS, ETC.).
• SECONDMENTS AND CONSULTANCIES ARE NOT A
SUSTAINABLE SOLUTION.
• TOR OF CBI FOCAL POINTS AT THE COUNTRY AND FIELD
OFFICE LEVELS ARE UNCLEAR.
• SOME STAFF VIEW CBI AS A PROJECT ITSELF RATHER THAN
AS A MODALITY FOR ASSISTANCE.
CHALLENGES FOR PROTECTION
• NO SYSTEMATIC DOCUMENTATION OF PROGRESS AND
OUTCOMES WITHIN THE ORGANISATION.
• DATA SHARING ON SPECIFIC PROTECTION CASES TO
INFORM OR UPDATE BENEFICIARY SELECTION.
• IDENTIFICATION OF BENEFICIARIES WITH SPECIFIC
VULNERABILITIES/NEEDS AND ENSURE FOLLOW UP.
• JOINT ANALYSIS BY PROGRAMME AND PROTECTION TEAMS
IS NOT A STANDARD ACTIVITY.
• PROTECTION ASSESSMENT AND MONITORING REPORTS
DO NOT SYSTEMATICALLY INFORM CBI PROGRAM DESIGN.
• COMPREHENSIVE RISK ANALYSIS AND CBI BASELINE
PROTECTION ASSESSMENTS ARE NOT YET STANDARD.
ONGOING MEASURES
• THE REGION IMPLEMENTS PART OF THE ECHO-FUNDED MULTI-AGENCY
COLLABORATION SPECIFICALLY THE CAPACITY BUILDING COMPONENT
• UNHCR REGIONAL CASH AND PROTECTION WORKSHOP AND THIS
INTER-AGENCY WORKSHOP
• ADVOCACY AT REGIONAL LEVEL WITH UNHCR COUNTRY
REPRESENTATIVES.
• JOINT PLANNING AND DEVELOPMENT OF OPERATIONAL PLAN WITH
WFP BASED ON BEST PRACTICES.
• JOINT UNHCR AND WFP CBI BASELINE PROTECTION ASSESSMENTS.
• JOINT UNHCR AND WFP PROGRAM REVIEWS.
• RECRUITMENT OF UNHCR CASH EXPERT FOR THE REGION.
RECOMMENDATIONS
• APPOINT MULTIFUNCTIONAL TEAMS AT COUNTRY LEVEL.
• DEVELOP CLEAR TOR TO DEFINE ROLES AND
RESPONSIBILITIES OF PROGRAMME AND PROTECTION
STAFF, INCLUDING CBI FOCAL POINTS.
• DEVELOP STRATEGIC PARTNERSHIPS WITH NGO PARTNERS
AND OTHER GROUPS ENGAGED IN CBI.
• TAKE ADVANTAGE OF PRACTICAL LEARNING
OPPORTUNITIES SUCH AS JOINING WFP IN MARKET
SURVEYS, PDM, CBI PROJECT DEVELOPMENT.
• ENSURE PARTICIPATION OF THE POC IN ALL STAGES OF THE
CBI PROJECT CYCLE.