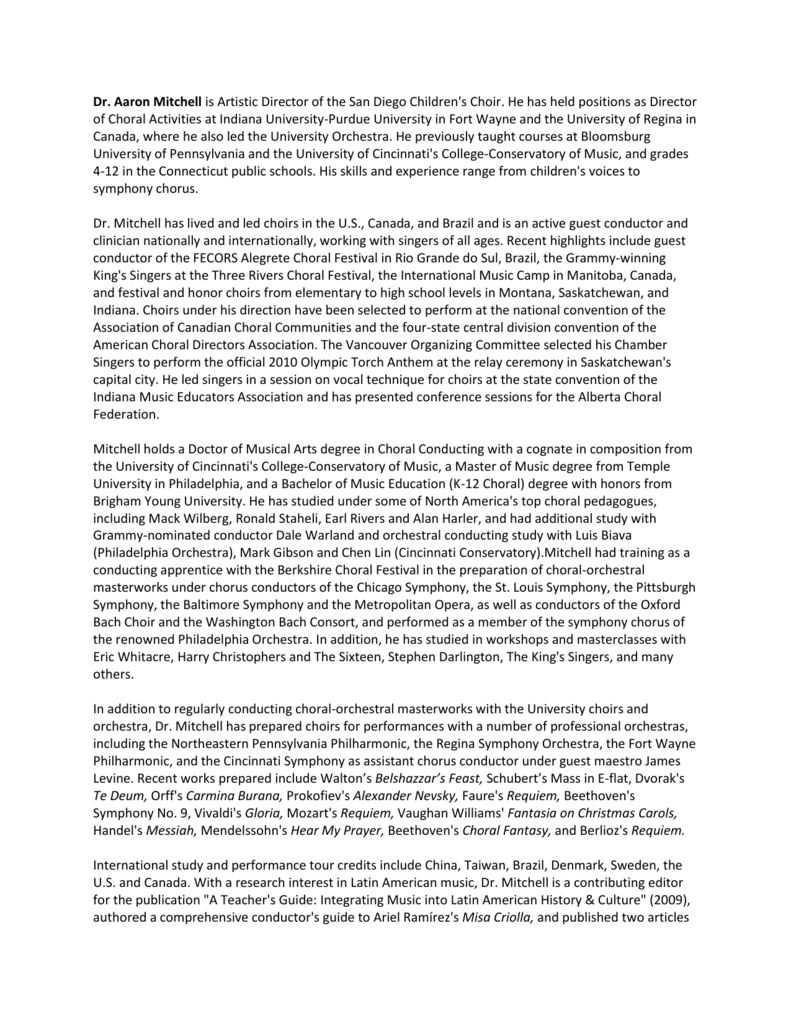 Dr. Aaron Mitchell is Artistic Director of the San Diego Children's Choir. He has held positions as Director
of Choral Activities at Indiana University-Purdue University in Fort Wayne and the University of Regina in
Canada, where he also led the University Orchestra. He previously taught courses at Bloomsburg
University of Pennsylvania and the University of Cincinnati's College-Conservatory of Music, and grades
4-12 in the Connecticut public schools. His skills and experience range from children's voices to
symphony chorus.
Dr. Mitchell has lived and led choirs in the U.S., Canada, and Brazil and is an active guest conductor and
clinician nationally and internationally, working with singers of all ages. Recent highlights include guest
conductor of the FECORS Alegrete Choral Festival in Rio Grande do Sul, Brazil, the Grammy-winning
King's Singers at the Three Rivers Choral Festival, the International Music Camp in Manitoba, Canada,
and festival and honor choirs from elementary to high school levels in Montana, Saskatchewan, and
Indiana. Choirs under his direction have been selected to perform at the national convention of the
Association of Canadian Choral Communities and the four-state central division convention of the
American Choral Directors Association. The Vancouver Organizing Committee selected his Chamber
Singers to perform the official 2010 Olympic Torch Anthem at the relay ceremony in Saskatchewan's
capital city. He led singers in a session on vocal technique for choirs at the state convention of the
Indiana Music Educators Association and has presented conference sessions for the Alberta Choral
Federation.
Mitchell holds a Doctor of Musical Arts degree in Choral Conducting with a cognate in composition from
the University of Cincinnati's College-Conservatory of Music, a Master of Music degree from Temple
University in Philadelphia, and a Bachelor of Music Education (K-12 Choral) degree with honors from
Brigham Young University. He has studied under some of North America's top choral pedagogues,
including Mack Wilberg, Ronald Staheli, Earl Rivers and Alan Harler, and had additional study with
Grammy-nominated conductor Dale Warland and orchestral conducting study with Luis Biava
(Philadelphia Orchestra), Mark Gibson and Chen Lin (Cincinnati Conservatory).Mitchell had training as a
conducting apprentice with the Berkshire Choral Festival in the preparation of choral-orchestral
masterworks under chorus conductors of the Chicago Symphony, the St. Louis Symphony, the Pittsburgh
Symphony, the Baltimore Symphony and the Metropolitan Opera, as well as conductors of the Oxford
Bach Choir and the Washington Bach Consort, and performed as a member of the symphony chorus of
the renowned Philadelphia Orchestra. In addition, he has studied in workshops and masterclasses with
Eric Whitacre, Harry Christophers and The Sixteen, Stephen Darlington, The King's Singers, and many
others.
In addition to regularly conducting choral-orchestral masterworks with the University choirs and
orchestra, Dr. Mitchell has prepared choirs for performances with a number of professional orchestras,
including the Northeastern Pennsylvania Philharmonic, the Regina Symphony Orchestra, the Fort Wayne
Philharmonic, and the Cincinnati Symphony as assistant chorus conductor under guest maestro James
Levine. Recent works prepared include Walton's Belshazzar's Feast, Schubert's Mass in E-flat, Dvorak's
Te Deum, Orff's Carmina Burana, Prokofiev's Alexander Nevsky, Faure's Requiem, Beethoven's
Symphony No. 9, Vivaldi's Gloria, Mozart's Requiem, Vaughan Williams' Fantasia on Christmas Carols,
Handel's Messiah, Mendelssohn's Hear My Prayer, Beethoven's Choral Fantasy, and Berlioz's Requiem.
International study and performance tour credits include China, Taiwan, Brazil, Denmark, Sweden, the
U.S. and Canada. With a research interest in Latin American music, Dr. Mitchell is a contributing editor
for the publication "A Teacher's Guide: Integrating Music into Latin American History & Culture" (2009),
authored a comprehensive conductor's guide to Ariel Ramírez's Misa Criolla, and published two articles
in The Choral Journal, including the featured cover article in October 2008. Dr. Mitchell has served on
the professional choir program national review committee for the Canada Council for the Arts in Ottawa,
ON and as a reviewer for Oxford University Press Canada. He is also active as a composer and arranger.
In his free time, Dr. Mitchell enjoys time with his children and wife Brittani, a pianist who founded
KinderKeys Music (www.kinderkeys.com)--a private studio that introduces music and keyboard skills to
children in a group setting.